INTERNATIONAL AFFAIRS
India to work with China on OPEC's Asian Premium issue
Union Petroleum Minister Dharmendra Pradhan has said that India, China and other Asian countries will work together to voice against the "Asian Premium" being charged by the Organisation of the Petroleum Exporting Countries (OPEC).
Asian Premium charged by OPEC:
i. OPEC sells oil to Asian countries, including India, at a higher price as compared to America and European countries. The price differential is referred to as 'Asian Premium'.
ii. Mr. Pradhan has stated that his Ministry has nominated Indian Oil Corporation Chairman Sanjiv Singh to coordinate with the head of China National Petroleum Corporation (CNPC) and frame a suitable strategy for getting better price for oil exports from OPEC countries.
iii. In context of this news, it is important to note that, India's 86 per cent of crude oil, 75 per cent of natural gas and 95 per cent of LPG requirement is met through imports from OPEC member countries.
Quick Facts about OPEC:
♦ Founded in – 1960
♦ Headquarters – Vienna, Austria
♦ Members – Algeria, Angola, Ecuador, Equatorial Guinea, Gabon, Iran, Iraq, Kuwait, Libya, Nigeria, Qatar, Saudi Arabia, United Arab Emirates and Venezuela
Generalized System of Preferences: US announces eligibility review of India
On April 12, 2018, United States Trade Representative (USTR) announced that it is reviewing the eligibility of India, Indonesia, and Kazakhstan under the Generalized System of Preferences (GSP) in response to concerns that these countries are not complying with the programme criterion.
Eligibility review under US Generalized System of Preferences (GSP):
i. Under GSP, US Government gives preferential treatment (duty free entry of certain goods like chemicals, gems, textiles among others to the US market) to exporters from developing and developed countries.
ii. In 2017, India benefited to the tune of $5.6 billion under GSP.
iii. India's eligibility review for GSP comes in wake of concerns related to its compliance with the GSP market access criterion.
iv. U.S. dairy industry and the U.S. medical device industry exporters are at the forefront in seeking a review of India's GSP benefits as trade barriers imposed by Indian Government are affecting their exports to India.
Quick Facts about United States of America:
♦ Capital – Washington D.C.
♦ Currency – US Dollar
♦ Current President – Donald Trump
♦ Neighbouring Countries – Canada, Mexico
US, Nigeria hold military summit in Abuja
The first African Land Forces Summit (ALFS) began on April 16, 2018 in Nigerian capital, Abuja.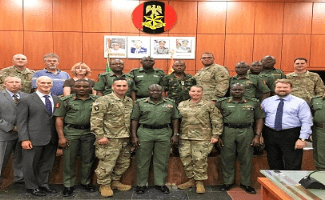 Highlights of African Land Forces Summit (ALFS) 2018:
i. ALFS 2018 is hosted by U.S. Army Africa and Armed Forces Nigeria.
ii. This weeklong Summit brings together land force chiefs from across Africa for candid dialog aimed at improving security and stability across the continent.
iii. Representatives from U.S. Army, NATO allies and military leaders of almost every African country are participating in this Summit.
iv. Discussions at the Summit would also address threat to security posed by militant outfits like Al-Shabaab (in the east Africa) and Boko Haram (in west Africa).
Partnership with New South Wales to enhance Indian startup ecosystem
On April 16, 2018, New South Wales (NSW), a southeastern Australian state, announced a two-year USD 1.58 million partnership with India to enhance Indian startup ecosystem, technology, and advanced manufacturing sectors.
Details about Partnership with New South Wales:
i. Announcement in this regard was made by New South Wales Premier Gladys Berejiklian, who is on an official visit to India from 16th – 19th April, 2018.
ii. Funds allotted under this partnership funds will be used to send NSW young entrepreneurs and startups to India to support commercial connections between startups in NSW and Indiaand for fostering collaboration on advanced technology projects.
iii.NSW entrepreneurs and technology businesses will thereby get access to new markets, talent and knowledge.
iv. In context of this news, it is important to note that NSW is Australia's startup and technology capital.