International Affairs
8th India – Kenya Joint Trade Committee meeting held in Nairobi, Kenya from August 22-25, 2018
From August 22-25, 2018, the 8th meeting of India-Kenya Joint Trade Committee was held in Nairobi, Kenya.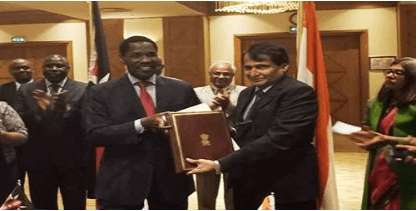 i. The meeting was co-chaired by :
Indian side: Union Minister of Commerce & Industry and Civil Aviation, Mr.Suresh Prabhu and,
Kenya's Side: Cabinet Secretary (Minister) for Industry, Trade and Cooperatives, Government of Kenya Mr. Peter Munya.
ii. The discussions during the meetings covered:
India's role in Kenya's Big Four Agenda– food security, affordable housing, universal healthcare and manufacturing, expansion and diversification of bilateral trade,
Kenya's readiness to join the International Solar Alliance,
implementation of Lines of Credit of over US$ 220 million, by Government of Indiain power transmission, SMEs development, revival of the Rivatex factory and agricultural mechanization,
implementation of decisions taken during the high level exchanges,
cooperation in health,
blue economy,
agro-processing sectors and
WTO related issues; and training & capacity building programmes offered by India.
iii. The last meeting of Joint Trade Committee was held in New Delhi in February 2015.
Other announcements/ news:
i. A meeting of India-Kenya Joint Business Council was held on the side-lines of the Joint Trade Committee meeting.
ii. Emphasis on research and design in products specific to Kenyan needs was discussed.
iii. Indian businesses were told to carry out a market study to identify priority areas for bilateral cooperation.
Background:
India is one of Kenya's largest trade partners and the second largest foreign investor in Kenya. Indians are the third-largest group of tourists to Kenya.
Kenya:
♦ Capital: Nairobi.
♦ Currency: Kenyan Shilling.
♦ President: Uhuru Kenyatta.
2-day G20 Digital Economy Ministerial Meeting held in Salta, Argentina from August 23-24, 2018
From August 23-24, 2018, the G20 Digital Economy Ministerial Meeting was held at Salta's Fine Arts Museum, and Salta Convention Centre in Salta, Argentina.
i. It was chaired by Andrés Ibarra, Argentine Minister of Modernization, and Lino Barañao, Argentine Minister of Science, Technology and Innovative Production.
ii. It is a part of Sherpa Track for the 2018 G20 Leader's Summit, which is to be hosted by Argentina at the end of 2018.
iii. The theme for the 2018 meeting was : 'Building consensus for fair and sustainable development' .
iv. The agenda of the meeting was on 3 issues: the future of work, infrastructure for development, and a sustainable food future.
v. The meeting consisted of 30 heads of delegation from the G20 countries.
vi. Participants also discussed on:
Digital government, digital inclusion,
Digitalization of SMEs and entrepreneurship,
Consumer protection in digital environments,
The adoption of emerging technologies such as artificial intelligence and the Internet of things in sectors like manufacturing and agriculture, and
To bridging all forms of digital divide with special attention to digital gender divide.
vii. The G20 countries agreed on the G20 common goal of promoting universal and affordable access to the internet by all people by 2025.
viii. They agreed on 9 proposals to reduce digital gender divide including building capacity to improve data collection, addressing cyber violence andcontinuing sharing policies and actions through initiatives such as #eskills4girls and EQUALS.
Background:
The G20 is made up of 19 countries and the European Union. The 19 countries are Argentina, Australia, Brazil, Canada, China, Germany, France, India, Indonesia, Italy, Japan, Mexico, Russia, Saudi Arabia, South Africa, South Korea, Turkey, the United Kingdom and the United States.