INTERNATIONAL AFFAIRS
Home Minister Rajnath Singh's Visit to Bangaldesh
Union Home Minister Shri Raj Nath Singh visited Bangladesh on a 3 day visit from July 13-15,2018.
i. On July 14, 2018, Union Home minister Rajnath Singh inaugurated the largest Indian visa centre in the world in Dhaka, Bangladesh.
ii. On July 14,2018, Union Home Minister Rajnath Singh along with Home Minister of Bangladesh, Mr. Asaduzzaman Khan inaugurated Bangladesh-India Friendship Building at the Bangladesh Police Academy, Sardah in Rajshahi, Western Bangladesh.
iii. On July 15,2018, The Union Home Minister Shri Rajnath Singh co-chaired the 6th meeting of the Home Minister level talks with his Bangladesh counterpart, Mr. Asaduzzaman Khan in Dhaka………………………………
External Affairs Minister Smt. Sushma Swaraj's visit to Manama
External Affairs Minister Smt.Sushma Swaraj was on a two-day visit to Bahrain from July 14 to 15,2018.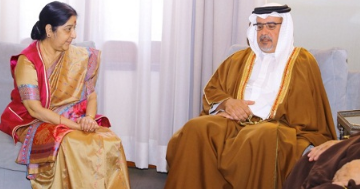 This was External Affairs Minister's 3rd visit to Bahrain.
Sushma Swaraj, Shaikh Khalid bin Ahmed Al Khalifa to co-chair 2nd joint commission meeting in Manama
On July 17,2018, MEA Sushma Swaraj met co-chaired 2nd India-Bahrain High Joint Commission with her counterpart Shaikh Khalid bin Ahmed Al Khalifa at Gudaibiya Palace in Manama.
i. The first meeting of the High Joint Commission (HJC) was held in New Delhi in February 2015.
ii. Issues of trade, investment and counter-terror cooperation were discussed in the joint commission.
Following MoUs were signed :
iii. Agreement on Exemption from Short Stay Visa for Holders of Diplomatic and Official/Special Passports.
iv. MoU on Renewable Energy and on Cooperation in the Field of Healthcare.
v. Agreement on integration of e-Migrate system with the work permit issuance system of Bahrain to work on strengthening coordination on consular issues was made.
vi. Establishment of Confederation of Indian Industries (CII) office in Manama, at the Economic Development Board Headquarters, to promote bilateral trade and investment between the two countries.
vii. Agreement on the third meeting of the Commission to be held in New Delhi was made.
MEA Sushma Swaraj inaugurates new Indian embassy complex
i. She jointly inaugurated impressive Embassy of India Complex in Manama.
ii. It was agreed that the Bahrain Embassy in New Delhi will be allocated a plot of land in the new Diplomatic enclave in Dwarka.
Meeting with Crown Prince Salman bin Hamad Al Khalifa at Gudaibiya Palace in Manama
Discussions on upgrading the partnership across sectors, especially in trade and investment, defence, renewable energy, IT, health and education were held.
MEA's meeting with His Majesty the King of Bahrain Hamad bin Isa Al-Khalifa.
Discussions on cooperation in science & technology, renewable energy and other areas were held.
Other announcements:
i. She gifted a box of books called 'Bharat ek Priychay' to the National Library in Manama.
ii. She also inaugurated the new Chancery-cum-Residential complex.
iii. The two sides agreed to explore collaborative arrangements between National Space Science Agency (NSSA) of Bahrain and Indian Space Research Organization (ISRO) in training, human resource development, use of space technologies and applications for developmental use and to benefit from the low-cost Indian experience in the operation and launch of satellites and other space areas.
iv. MoU between Isa Cultural Center of Bahrain and Indian Council of Cultural Relations (ICCR) to further expand cultural exchanges.
Bahrain:
♦ Capital: Manama.
♦ Currency: Bahraini Dinar.
♦ Prime Minister: Khalifa bin Salman Al Khalifa.
♦ President: Hamad bin Isa Al Khalifa.
8th session of India-Oman Joint Commission Meeting Begins in Muscat
On 16th July 2018, Union Minister of Commerce & Industry and Civil Aviation, Suresh Prabhu, co-chaired the 8th session of India-Oman Joint Commission Meeting (JCM) along with Minister of Industry, Investment, Trade and Digital Economy of Oman,Dr. Ali bin Masoud Al Sunaidy, in Mu scat, Oman.
8th India-Oman Joint Commission Meeting Begins in Muscat:
i.Suresh Prabhu invited Omani companies to invest in India and benefit from 'Make in India' and 'Invest India' programmes that aim to promote manufacturing.
ii. He said that India and Oman are interested to collaborate in energy, health, business, finance and investments, infrastructure, travel and tourism sectors.
iii. Discussions were held on: cooperation in space, renewable energy, start-up, SMEs, food security, including durable foods and packaging, services sector, tourism sector, exchange of ideas and visit of young entrepreneurs.
iii. Suresh Prabhu said that the Sultanate of Oman is a strategic partner of India in the Gulf.
iv. India Oman bilateral trade has recorded a growth from US$4131.69 million in 2014-15 to US$ 6703.76 million in 2017-18.
v. India's export to Oman has increased from US$ 2379.44 million to US$ 2439.46 million in 2017-18.
vi. He said that, remarkable contributions of Indians and People of Indian Origin in Oman have been honored by Indian Government's Pravasi Bharatiya Samman Awards.
vii. Indian financial institutions like State Bank of India, Bank of Baroda, HDFC Ltd and ICICI Securities and Public Sector Undertakings like Air India, Life Insurance Corporation(LIC), New India Assurance Co., Telecommunications Consultants India Ltd.(TCIL), Engineers India Ltd.(EIL), Engineering Projects India Limited (EPIL) and National Building Construction Company (NBCC) operate in Oman.
viii. Indian companies have invested in Oman in iron and steel, cement, fertilizers, textile, cables, chemicals and automotive sectors. The investments are mainly in Sohar and Salalah regions.
ix. India-Oman Joint Investment Fund (OIJIF) is a joint venture of State Bank of India and State General Reserve Fund (SGRF) of Oman.
x. It is a special purpose vehicle to invest in India. It is in operation and the initial corpus of US$ 100 million has been fully used.
xi. OIJIF has raised another $ 220 million for the second tranche that is being invested.
About State Bank of India:
♦ Chairman – Rajnish Kumar
♦ Headquarters – Mumbai
♦ Tag line – With you all the way, Pure Banking Nothing Else, The Nation's banks on us