INTERNATIONAL AFFAIRS
WHO launches 'REPLACE' to eliminate trans fat in foods by 2023
On 15th May, the World Health Organisation (WHO) launched a campaign called 'REPLACE' . It is aimed to eliminate industrially produced trans fat from global foods by 2023.
This campaign has six strategic elements that are to be implemented for it's success.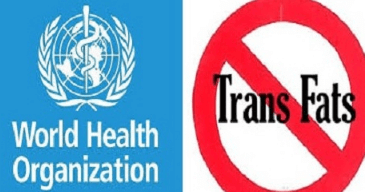 Key Points:
i. Trans fat are used in hardened vegetables fats such as in ghee, margarine and are often present in snacks, baked foods and fried foods. These are mainly used by the manufacturers becausethey have longer shelf life .
ii . Transfat are known to cause5,00,000 death every year worldwide and is the main cause for cardio vascular disease.
iii. In light of the above effects WHO has decided to implement this campaign targeting low and middle income countries where provision for control is often weak.
iv. Denmark was the first countryto implement such restrictions and following its success New York has also eliminated trans fat a decade ago.
WHO:
♦ Headquarters: Geneva, Switzerland.
♦ Head: Tedros Adhanom.
WHO publishes its first essential diagnostics list
World Health Organisation (WHO) has published its first 'essential diagnostics list', a list of tests needed to diagnose the most common conditions as well as a number of global priority diseases.
WHO's first essential diagnostics list:
i. Objective behind publishing this list is to address the problem of people's inability to access diagnostic services.
ii. WHO outlined that an estimated 46 percent of adults with Type 2 diabetes worldwide were undiagnosed, thereby facing serious health risks and complications.
iii. WHO's essential diagnostics list concentrates on in-vitro tests like tests of blood and urine.
iv. tests have been enlisted for detection and diagnosis of a wide range of common conditions while 55 tests are designed for the detection, diagnosis and monitoring of 'priority' diseases such as HIV, malaria, tuberculosis, hepatitis B and C, human papillomavirus and syphilis.
v. As WHO will update the essential diagnostics list on a regular basis, the list will expand significantly over the next few years, and will incorporate other important areas including antimicrobial resistance, neglected tropical diseases and emerging pathogens.
Quick Facts about World Health Organisation (WHO):
♦ Formed in – 1946
♦ Headquarters – Geneva, Switzerland
♦ Current Director General – Tedros Adhanom