INTERNATIONAL EVENTS
C.1. IRAN NUCLEAR DEAL
Iran and the P5+1 group-U.S., U.K., France, Russia, China and Germany-reached an agreement on Tehran's nuclear programme.
C.2. CHINA – PAKISTAN ECONOMIC CORRIDOR (CPEC) PROJECT
 China and Pakistan recently signed 20 more agreements to implement the ambitious China-Pakistan Economic Corridor (CPEC) project.
 It will link the Pakistani city of Gwadar in southwestern to China's northwestern autonomous region of Xinjiang via a vast network of highways and railways.
C.3. SENDAI FRAMEWORK FOR DISASTER RISK REDUCTION
 The "Sendai Framework for Disaster Risk Reduction 2015-2030" was adopted during the Third UN World Conference on Disaster Risk Reduction held in Sendai, Japan in March, 2015.
 The Sendai Framework is the successor instrument to the Hyogo Framework for Action (HFA) 2005-2015 Building the Resilience of Nations and Communities to Disasters.
C.4. DEMOCRATIC TRANSITION IN MYANMAR
Myanmar has sworn in Htin Kyaw as the country's first civilian President in more than 50 years.
 Mr. Htin Kyaw's government would be its most democratic administration since 1962 when the military seized power.
 Ms. Suu Kyi's National League for Democracy (NLD) won 77 per cent of the elected seats in Parliament. She cannot lead the government because of a constitutional provision that bars her since her sons are British and not Myanmar citizens.
 The Union Solidarity and Development Party (USDP), which is dominated by military and civil servants, will be the NLD's biggest opponent.
 As per 2008 constitution, 25 per cent of the seats in the Upper and Lower houses of Hluttaw (House of Representatives) will be nominated by the military.
C.5. NEPAL ADOPTS FIRST DEMOCRATIC CONSTITUTION
Nepal adopted its first democratic Constitution.
 The constitution defines Nepal as a secular country.
 Federal system: It creates seven states.
 Nepal's new constitution has been based on the "entitlement approach" to rights.
Nepal-China
 Nepal and China signed an agreement for supply of petroleum products to the Himalayan nation. The agreement came after shortages caused by the blockade of land routes from India due to unrest over the Nepal's new constitution by Madhesis (Maithili, Bhojpuri, Avadhi and Hindi-speaking Nepali's)
 The agreement on transit through China: China has agreed to provide the Tianjin seaport for transit of Nepali goods imported from third countries.
 At present 98 per cent of Nepal's third country trade goes through India and to the port of Kolkata.
C.6. NANNING-SINGAPORE ECONOMIC CORRIDOR
 "Nanning Consensus" to build the Nanning-Singapore Economic Corridor, more formally dubbed as the China-Indo-China Peninsula International Corridor.
 The core initiative aimed at economic integration, would connect eight major cities-Singapore, Kuala Lampur, Bangkok, Phnom Penh, Ho Chi Minh City, Vientiane, Hanoi and Nanning.
C.7. SUSTAINABLE DEVELOPMENT GOALS
The United Nations officially adopted a new set of global goals to combat poverty, inequality and climate change over the next 15 years in the most comprehensive international effort ever to tackle the world's ills.
 The SDGs are a set of 17 goals and 169 targets aimed at resolving global social, economic and environmental problems.
 To be met over the next 15 years, beginning on Jan. 1, 2016, the SDGs replace the Millennium Development Goals (MDGs) which were adopted in 2000 and expire in 2015.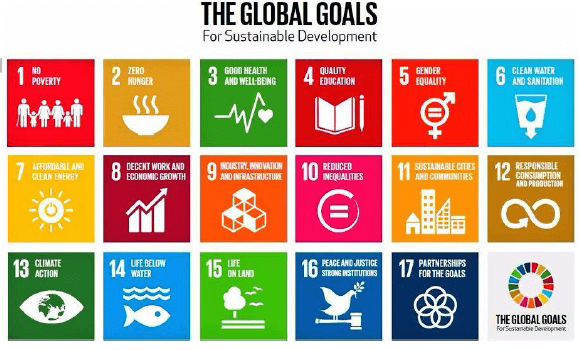 C.8. UNESCO AWARD
India has won the top UNESCO prize 'Award of Excellence' 2015 for the remarkable conservation efforts of the majestic Sree Vadakkunnathan Temple in Kerala.
C.9. WHITE HOUSE MEDAL
US President Barack Obama has presented the prestigious National Humanities Medal to Pulitzer Prize winner, Jhumpa Lahiri, in recognition of her "beautifully wrought narratives of estrangement and belonging" which highlight the "Indian-American experience".
C.10. PARADE TO COMMEMORATE WW II VICTORY
 China held a massive military parade to commemorate the 70th anniversary of the victory against Japan in the World War II at the Tiananmen Square.
 India had played a sterling role in defeating Japanese militarism, by contributing forces and keeping supply lines open to the Chinese resistance through the Assam-Burma Stilwell road during World War II.
C.11. TIBET AUTONOMOUS REPUBLIC (TAR)
 China celebrated the 50th anniversary of the formation of the Tibet Autonomous Republic (TAR) by sending a powerful message of unity, along with an advocacy of fusing religious and socialist values.
 China has been focusing on a cultural renaissance based on the revival of Buddhism, Confucianism and Taoism.
 The Tibet Autonomous Region was founded on September 1, 1965, after the establishment of the regional People's Congress, the local legislature.
C.12. GREEK ELECTION
Alexis Tsipras received the formal mandate to form a government for the second time, after his left-wing Syriza party won Greece's early national elections.
 Left-wing Syriza party won the election on the plank of anti-austerity measures. After winning elections in January, Tsipras' left-wing Syriza party promised to end tough austerity measures.
C.13. ATTACKS ON BLOGGERS IN BANGLADESH
Many bloggers have been attacked by intolerant Islamic fundamentalists affiliated to various militant groups.
 Sheikh Hasina-led Awami League government in 2010 started the long-pending process of indictment of Jamaat-e-Islami leaders for the brutal war crimes during the liberation war.
 When one of the leaders, Abdul Quader Mollah, was convicted, spontaneous agitations erupted in Dhaka culminating in the Shahbag protests in 2013 demanding capital punishment for those convicted for the war crimes of 1971.
C.14. KALADAN MULTI-MODAL TRANSIT TRANSPORT PROJECT
 The Kaladan Multi-Modal Transit Transport Project is a project that will connect the seaport of Kolkata with Sittwe seaport in Myanmar by sea;
 It will then link Sittwe seaport to Lashio in Myanmar via Kaladan river boat route and then from Lashio on to Mizoram in India by road transport.
C.15. UN RESOLUTION AGAINST ISIS
The UN Security Council authorized countries around the world to "take all necessary measures" to fight the Islamic State in a resolution that won unanimous backing.
 This does not constitute an authorization for military action.
 Introduced by France, the Security Council resolution was an attempt to show international unity in the wake of the Paris attacks.
C.16. GLOBAL SOLAR ALLIANCE
India's Prime Minister had launched an International Solar Alliance of over 120 countries with the French president, at the Paris COP21 climate summit.
This new body, which has invited all countries of the world to join, is to function from the National Institute of Solar Energy in India, Gurgaon. The Centre will provide land and $30 million to form a secretariat for the Alliance and also support it for five years.
The alliance envisages the coming together of 122 sunshine countries situated between the Tropics of Cancer and Capricorn as they receive abundant sunshine for around 300 days in a year.
C.17. ISLAMIC MILITARY ALLIANCE
It is an Intergovernmental Military Alliance of 34 countries, led by Saudi Arabia in the Muslim world, united around military intervention against ISIL and other counter-terrorist activities.
C.18. FORUM ON CHINA-AFRICA COOPERATION (FOCAC)
 The Forum on China–Africa Cooperation (FOCAC) is an official forum between the People's Republic of China and the states in Africa.
 The Johannesburg Summit and the 6th Ministerial Conference of the Forum on China-Africa Cooperation (FOCAC) were held in Johannesburg in December 2015.
 It is an official forum which has greatly boosted the political influence of China-Africa relationship and served as an important driver for China-Africa practical cooperation in various.
C.19. CHINA-SRI LANKA
Sri Lanka's Prime Minister Ranil Wickremesinghe paid official visit to china. The visit came in the backdrop of recent decision by Sri Lanka to clear the stalled $1.4 billion Colombo Port City, which had China as a partner.
India's concerns
Observers say that China's growing influence in South Asia poses a challenge to India, which could do well to revamp its neighbourhood policy.
 China has identified development of string of ports in the Indian Ocean including Kyaukphyu in Myanmar, Hambantota in Sri Lanka, Gwadar in Pakistan, Chittagong (Bangladesh), Maldives along with a military logistics base in Djibouti.
 China also attaches centrality to Sri Lanka to amplify its Maritime Silk Road.
C.20. YEMEN CEASEFIRE
A United Nations-backed ceasefire between the Saudi-allied forces and Shia Houthi rebels took effect in Yemen.
Saudi Arabia led Sunni Arab allies
 Saudi Arabia and its allies started bombing Yemen in March 2015 with the goal of reinstating the ousted government of President Hadi and weakening the Shia Houthi rebels who had captured the capital Sanaa.
Impact of conflict on Yemen
 Rise of extremist
 The stateless chaos amid a disastrous war has helped al-Qaeda in the Arabian Peninsula (AQAP) expand its footprint.
 Humanitarian catastrophe
C.21. THE INTERNATIONAL CONFERENCE OF ZERO
The international Conference on Zero was held at UNESCO headquarters to celebrate the rich and remarkable history of mathematics in collaboration with India on 6 April.

Significance
 The event at UNESCO was an addition to the efforts to showcase India's soft power by harnessing the power of zero.
 Earlier, India sponsored International Yoga Day and a Sanskrit conference at the UNESCO.
 India co-partnered with Pierre and Marie Curie University to host this conference.
C.22. UIGHUR LEADER DOLKUN ISA'S VISA ISSUE
Visa granted earlier this year to Chinese dissident leader and Uighur activist Dolkun Isa was cancelled by the government of India.
Background
 Mr. Isa a leader of the Germany based World Uighur Congress (WUC).
 Xinjiang, which has over 10 million Uighur population of Turkik origin Muslims, is on unrest for several years against large-scale settlements of Hans from other part of the country.
 China blames East Turkistan Islamic Movement (ETIM), a militant Islamist group, for terrorist attacks in Xinjiang and other parts of the country.
Chinese response
China aired its concern over World Uighur Congress (WUC) leader Dolkun Isa's reported visit to India, saying he is a "terrorist" on Interpol's Red Corner.
C.23. PARLIAMENTARY ELECTION IN IRAN
Parliamentary election was held in Iran on 26 February 2016 to elect members of the Islamic Consultative Assembly. The election was held as part of a general election which also elected members of the Assembly of Experts.
 The Islamic Consultative Assembly, also called the Iranian Parliament, the Iranian Majlis or the People's House, is the national legislative body of Iran. The Parliament currently has 290 representatives.
 The Assembly of Experts (also Assembly of Experts of the Leadership) of Iran is a deliberative body of eighty eight (88) Mujtahids (Islamic theologians) that is charged with electing and removing the Supreme Leader of Iran and supervising his activities.
Results of elections:
 In the 290-seat Parliament, the reformist allies of President Hassan Rouhani won at least 85 seats, while the moderate conservatives secured 73 seats. Together they will control the House.
 The hardliners, who were persistently opposed to Mr. Rouhani's reform agenda, won only 68 seats.
 In the 88-member Assembly of Experts, the clerics backed by reformists and centrists claimed 52 seats.
C.24. USA PRESIDENT'S VISIT TO CUBA
President Barack Obama paid historic visit to Cuba. President visit has opened a new chapter in U.S. engagement with the island's Communist government after decades of animosity between the former Cold War foes.
 Obama is the first serving U.S. President to visit Cuba after Calvin Coolidge in 1928.
U.S.-Cuba relations since Fidel Castro seized power in a 1959 revolution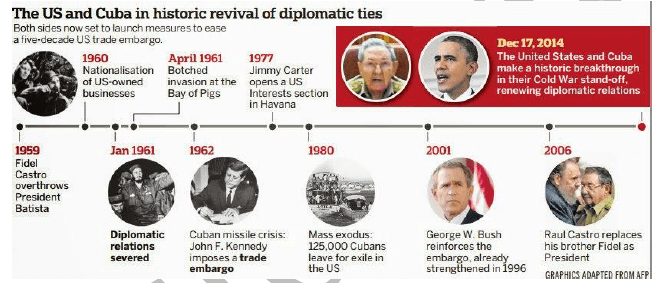 C.25. FOUR-NATION COUNTER-TERROR MECHANISM
China's People's Liberation Army (PLA) has proposed formation of a regional counter-terrorism mechanism to safeguard the 'One Belt One Road (OBOR)' connectivity initiative in Eurasia.
 The proposed counter-terrorism mechanism will include China, Afghanistan, Pakistan and Tajikistan as members.
Why counter-terror mechanism?
 The rise of the Khorasan Province (ISIL-K) - a branch of the Islamic State in Afghanistan is threat to OBOR in Afghanistan.
 China is threatened by terror strikes from the East Turkestan Islamic Movement (ETIM), especially in its Xinjiang province. ETIM have link with terror groups operating in Pakistan and Afghanistan.
C.26. JAPAN-RUSSIA TERRITORIAL DISPUTE
• The Kuril Islands dispute is a dispute between Japan and Russia and also some individuals of the Ainu people over sovereignty of the South Kuril Islands.
• Russia and Japan never signed a peace treaty after World War II because of conflicting claims over islands north of the Japanese island of Hokkaido, which Japan calls its Northern Territories - and Russia refers to as the Southern Kurils.
C.27. NAGORNY KARABAKH REGION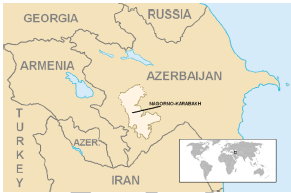 Karabakh is technically part of Azerbaijan but has been run by an ethnic Armenian government ever since the Soviet Union collapsed. Recently, fierce clashes had erupted along the frontline of Nagorny Karabakh between Arch-foes Armenia and Azerbaijan.
C.28. KOKANG REBELS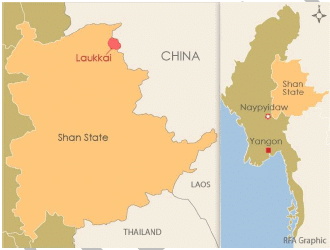  The Kokangpeople ) are an ethnic group of Burma .They are Mandarin-speaking Han Chinese living in Kokang, administered as Kokang Special Region.
C.29. SINAI PENINSULA
 Bomb brought down Russian aircraft over Egypt's Sinai desert.
 Some militants groups operating in Sinai Peninsula have declared their allegiance to IS, with one such group calling itself Sinai Province of the Islamic State.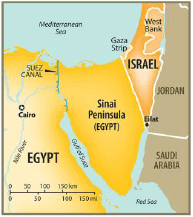 C.30. TRANS-AFGHAN GAS PIPELINE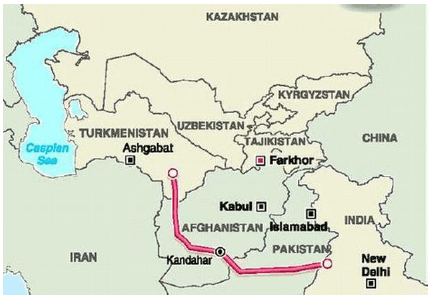  Trans-Afghanistan gas pipeline connecting Turkmenistan, Afghanistan, Pakistan and India.
C.31. MOTOR VEHICLES AGREEMENT (MVA)
 India, Nepal, Bhutan and Bangladesh signed a landmark Motor Vehicles Agreement (MVA) for the Regulation of Passenger, Personnel and Cargo Vehicular Traffic among the four South Asian neighbours.

C.32. GLOBAL APOLLO PROGRAM
The Global Apollo Programme aims to make the cost of clean electricity lower than that from coal-fired power stations across the world within 10 years.

C.33. THE KURDISTAN WORKERS' PARTY
 The Kurdistan Workers' Party (PKK) is a Kurdish militant organization based in Turkey and Iraqi Kurdistan. The group has been fighting Turkey for autonomy since 1984 and is considered a terrorist organisation by Ankara and its allies.
 The PKK is listed as a terrorist organization internationally by several states and organizations, including the North Atlantic Treaty Organisation (NATO) and the European Union. However countries such as India, China, Russia, Switzerland and Egypt have not designated the PKK as a terrorist organization.
C.34. OPERATION CONDOR
 Operation Condor was a campaign of political repression and state terror involving intelligence operations and assassination of opponents, which started in 1968 and was officially implemented in 1975 by the right-wing dictatorships of the Southern Cone of South America.
 Condor's key members were the governments in Argentina, Chile, Uruguay, Paraguay, Bolivia and Brazil. The United States government provided technical support and supplied military aid to the participants until at least 1978, and again after Republican Ronald Reagan became President in 1981.
 Former Argentine Junta leader Reynaldo Bignone has been sentenced to 20 years in prison for crimes committed under Operation Condor - a conspiracy between South America's dictators in the 1970s.

C.35. USA PRESIDENT'S VISIT TO HIROSHIMA
 American airmen launched the world's first atomic strike on Hiroshima on August 6, 1945.The southern city of Nagasaki was hit by a second bomb three days later in one of the final acts of World War-II. Harry Truman was the President of U.S. when atomic bomb was dropped in Japan.
 Barack Obama became the first U.S. siting President to visit Hiroshima, the first target of an atomic bomb, 70 years ago.
 Two other top U.S. politicians have visited the site of bombing, Former President Jimmy Carter, in 1984, visited the site three years after he left office. Richard Nixon went on April 11, 1964, four years before he won the presidential election.
C.36. WORLD HUMANITARIAN SUMMIT (WHS)
 The United Nations World Humanitarian Summit (WHS), was held in Istanbul, Turkey, on May 23 and 24, 2016.The Summit is an initiative of the Secretary-General of the United Nations Ban Ki-moon and is being organized by the United Nations Office for the Coordination of Humanitarian Affairs (UN OCHA).
 The purpose of the summit is to set a forward-looking agenda for humanitarian action to collectively address future humanitarian challenges. The aim is to build a more inclusive and diverse humanitarian system committed to humanitarian principles.
The three main goals of the summit are:
 Reaffirm our commitment to humanity and humanitarian principles.
 Initiate actions and commitments which enable countries and communities to prepare for and respond to crises and be more resilient to shocks.
 Share best practices which help save lives around the world, placing affected people at the centre of humanitarian action and alleviating suffering.
C.37. RESPONSIBILITY TO PROTECT (R2P)
The Responsibility to Protect (R2P or RtoP) is a global political commitment endorsed by all member states of the United Nations at the 2005 World Summit to prevent genocide, war crimes, ethnic cleansing and crimes against humanity.
The three pillars of the responsibility to protect, as stipulated in the Outcome Document of the 2005 United Nations World Summit and formulated in the Secretary-General's 2009 Report on Implementing the Responsibility to Protect are:
 The State carries the primary responsibility for protecting populations from genocide, war crimes, crimes against humanity and ethnic cleansing, and their incitement;
 The international community has a responsibility to encourage and assist States in fulfilling this responsibility;
 The international community has a responsibility to use appropriate diplomatic, humanitarian and other means to protect populations from these crimes. If a State is manifestly failing to protect its populations, the international community must be prepared to take collective action to protect populations, in accordance with the Charter of the United Nations.