Introduction
Petroleum and derivatives such as asphalt have been known and used for almost 6000 years and there is evidence of use of asphalt in building more than 600 years ago. Modern petroleum refining began in 1859 with discovery of petroleum in Pennsylvania and subsequent commercialization. The exploration of petroleum originated in the latter part of the nineteenth century
Crude Oil and Natural Gas Origin, Occurrence, Exploration and Drilling
Oil and natural gas were formed hundred years ago from the prehistoric plant and animals. it is believed that hydrocarbon formed by the thermal maturation of organic matter buried deep in earth. over the millions of years under extreme pressure and high temperature these organic matter converted to hydrocarbons consisting of oil and gas. Hydrocarbons are present in the variety of forms: koregen, asphalt, crude oil, natural gas, condensates, and coal in solid form.
Oil and gas production includes exploration, drilling, extraction, stabilization. The underground traps of oil and gas are called reservoir. Various types of traps are structural traps, stratigraphic traps and combination traps Most reservoir contain water also along with oil and gas. Reserves are classified as proven, probable and possible reserves. Earlier finding of oil and gas was matter of luck and hit and miss process. Tools used for oil and gas exploration are based and dependent on gravity change, magnetic field change, time, change and electrical resistance. However it has become now more challenging and complex. With advent of three dimensional seismic technology which is based on the sound waves, identify the subsurface formation by reflection of sound, there has been much improvement in identification of oil and gas traps and reservoirs. Seismic technology significantly improves the method of estimating the oil and gas deposits. Next step after exploration is the drilling of exploratory well. Drilling may be vertical drilling or horizontal drilling. Drilling may be performed on-shore or off-shore. Horizontal drilling and hydro-fracturing has resulted in economical and more productive drilling of shale gas which was not economical with conventional vertical drilling.
Composition of Petroleum (Crude Oil)
Petroleum (Crude oil) consists of mainly carbon (83-87%) and hydrogen (12-14%) having complex hydrocarbon mixture like paraffins, naphthenes, aromatic hydrocarbons, gaseous hydrocarbons (from CH4 to C4H10). Table M-VI 1.1 gives more details about composition of petroleum. Besides crude oil also contains small amount of non hydrocarbons (sulphur compounds, nitrogen compounds, oxygen compounds) and minerals heavier crudes contains higher sulphur. Depending on predominance of hydrocarbons, petroleum is classified as paraffin base, intermediate base or naphthenic base.
Table M-VI 1.1: Composition of Petroleum
Hydrocarbons
Hydrogen

Family

Distinguishing

characteristics

Major

hydrocarbons

Remarks

Paraffins

(Alkanes)

Straight carbon

chain

Methane, ethane, propane, butane, pentane, hexane

General formula CnH2n+2

Boiling point increases as the number of carbon atom increases. With number of carbon 25-40, paraffin becomes waxy.

Isoparaffins (Iso alkanes)

Branched

carbon chain

Isobutane,

Isopentane,

Neopentane,

Isooctane

The number of possible isomers increases as in geometric

progression as the number of carbon atoms increases.

Olefins

(Alkenes)

One pair of

carbon atoms

Ethylene,

Propylene

General formula CnH2n

Olefins are not present in crude oil, but are formed during process. Undesirable in the finished product because of their high reactivity. Low molecular weight olefins have good antiknock properties.

Naphthenes

5 or 6 carbon atoms in ring

Cyclopentane,

Methyl

cyclopentane,

Dimethyl

cyclopentane,

General formula CnH2n+2-2Rn

Rn is number of naphthenic ring

The average crude oil contains about 50% by weight naphthenes. Naphthenes are modestly good
cyclohexane,

1,2 dimethyl cyclohexane.

components of gasoline.

Aromatics

6 carbon atom in ring with three around linkage.

Benzene,

Toluene, Xylene, Ethyl Benzene, Cumene, Naphthaline

Aromatics are not desirable in kerosene and lubricating oil. Benzene is carcinogenic and hence undesirable part of gasoline.
Non Hydrocarbons
Non-hydrocarbons

Compounds

Remarks

Sulphur compounds

Hydrogen sulphide, Mercaptans

Undesirable due to foul odour

0.5% to 7%

Nitrogen compounds

Quinotine, Pyradine,

pyrrole, indole, carbazole

The presence of nitrogen compounds in gasoline and kerosene degrades the colour of product on exposure to sunlight. They may cause gum formation normally less than 0.2.

Oxygen compounds

Naphthenic acids, phenols

Content traces to 2%. These acids cause corrosion problem at various stages of processing and pollution problem.
Processing Of Petroleum (Crude Oil)
Processing of Petroleum from drilling: when petroleum is drilled and brought to the surface, the pressure drops resulting in separation of gases from the crude oil. Further processing of crude involves separation of water and oil and salt. Associated natural gas is further processed for separation of natural gas, condensate, acid gases. Crude oil varies in appearance from brownish green mobile liquid to black viscous and sometimes semisolid. . Figure M-VI 1.1 illustrates the process of oil and gas processing .
Crude Oil Processed In India
Both indigenous and imported crude oil are processed in India. Various imported sources of crude oil is given in Table M-VI 1.2.There has been continuous changes in the crude oil quality.
Now imported crude oils are being heavier with higher sulphur content. Changing worldwide crude oil scenario is given in Table M-VI 1.3. Indigenous crude oil is also varying in characteristics. Rajasthan crude oil contains high sulphur and may pose serious challenge to Indian petroleum refining industry Typical characteristics of various indigenous crude oil is given in Table M-VI 1.4.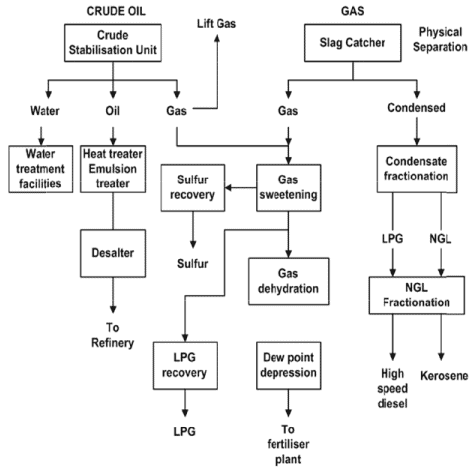 Figure M-VI 1.1: Oil and Gas Processing
Table M-VI 1.2: Imported Crude Sources
Middle East

Kuwait, Dubai, S. Arabia( Arab Mix, Arab medium), Iraq, Abu Dhabi, UAE(upper Zakum,Murban,UM Shaif)

Iran, Kuwait : Ratawai, Egypt( Suez Mix, Zeit mix),

Mediterranean

Libya - Es Sider

West Africa

Nigeria-Bonny Light, Eseravos, Forcados, Penington,

Quaiboe)

Angola, -Cabinda, Palanca, Girassol

Eq. Guinea -Ceiba, Zaffiro

Congo -Nikossa, Kitina

Far East

Malaysia -Labuan, Miri Light

Australia -Barrow Island, Cooper Basin,Chalis

Brunei -Seria Light
Table M-VI 1.3: Worldwide Crude quality
| | | | | | |
| --- | --- | --- | --- | --- | --- |
| Properties | 1985 | 1990 | 1995 | 1999 | 2010 |
| Sulphur,Wt % | 1.14 | 1.12 | 1.31 | 1.41 | 1.51 |
| API gravity | 32.7 | 32.6 | 32.4 | 32.2 | 31.8 |
| Residue in crude ,vol % | 19 | 19.4 | 19.8 | 20.2 | 21.3 |
| 'S' in residue ,Wt % | 3.07 | 3.26 | 3.61 | 3.91 | 4.0 |
| Metals in residue, ppm | 275 | 286 | 297 | 309 | 320 |
Table M-VI 1.4: Characteristics of Various Crude Oil
Sources of indigenous crude

Salient features

Assam Crude Nahorkatia/

Moran

31 oAPI, Sulphur 0.3%, Pour point +30 oC, High aromatics, Total distillate yield 65%.

ONGC, Lawkwa,

Rudrasagar

27 o API, Sulphur 0.3%, High aromatics, Distillate yield 57%.

Ankleshwar Crude

48 oAPI, Sulphur 0.1%, Pour point +18 oC, Distillate
| | |
| --- | --- |
| | yield 80-82% (Light distillates 24%, Middle distillate 47%), Wax content 9.9%, total sulphur 0.02%. |
| North Gujarat Crude | 28 oAPI, Sulphur content 0.1%, Pour point +27 0C, Distillate yield low 33-35%, High organic acidity. |
| Bombay High Crude | 38 oAPI, Sulphur 0.2%, Pour point +30 oC, Distillate yield 65-70% (Light distillate 24%, Middle distillates 46%), High aromatics. |
| Narimanam Crude | 46 oAPI, Sulphur 0.1%, Pour point 3 oC, Distillate yield 80%. |
| KG Basin Ravva Crude | 36 oAPI, Sulphur 0.1%, Pour point +30 oC, Distillate yield 61%. |