36. 1 Definitions and Nomenclature
Polymer: Polymers are large chain molecules having a high molecular weight in the range of 103 to 107. These are made up of a single unit or a molecule, which is repeated several times within the chained structure.
Monomer : A monomer is the single unit or the molecule which is repeated in the polymer chain. It is the basic unit which makes up the polymer.
ThermosettingPolymer: There are some polymers which, when heated, decompose, and hence, cannot be reshaped. Such polymers have a complex 3-D network (cross-linked or branched) and are called Thermosetting Polymers. They are generally insoluble in solvents and have good heat resistance quality. Thermosetting polymers include phenol-formaldehyde, urea-aldehyde, silicones and allyls.
ThermoplasticPolymer: The polymers in this category are composed of monomers which are linear or have moderate branching. They can be melted repeatedly and casted into various shapes and structures. They are soluble in solvents, but do not have appreciable thermal resistance properties. Vinyls, cellulose derivatives, polythene and polypropylene fall into the category of thermoplastic polymers.
36.2 Polymer Classification
Polymers are generally classified on the basis of –
I. Physical and chemical structures.
II. Preparation methods.
III. Physical properties.
IV. Applications.
36.3 Classification According To Physical And Chemical Structures :
1 .On the basis of functionality or degree of polymerization :
The functionality of a monomer or its degree of polymerization determines the final polymer that will be formed due to the combination of the monomers. The number of reactive bonds or groups that are available for coupling will determine whether the monomer will be mono-, bi-, tri-, or
polyfunctional.
a .Monofunctional or unifunctional : When a single reactive group is present in the monomer molecule, then it is termed as monofunctional or unifunctional. However a monofunctional group cannot lead to the propagation of a polymer chain. For example , in carboxylic acid, CH3COOH, the –COOH group is the monofunctional group.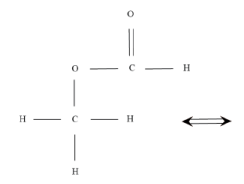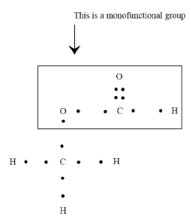 b .Bifunctional: When two reactive groups are present in the monomer molecule, then it is termed as bifunctional. More often than not, polymerization reaction with bifunctinal groups occur when a double bond splits to couple with another double bonded monomer.If a double bonded molecule is present, then the polymer would be –

c .Trifunctional: When a monomer contains three groups that are reactive, then it is termed as trifunctional.It is important to note that a trifunctional polymer may be a mixture of monofunctional and bifunctional monomer structures.Let us consider the reaction of phenol and formaldehyde to form trimethyl
phenol.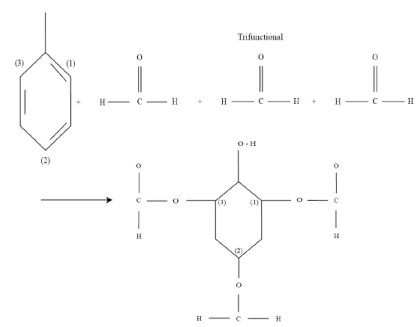 In the figure , the three formaldehyde molecules contain three reactive groups in the form of -OH groups. These reactive groups get attached to the positions 1, 2 and 3 in the phenol molecule.
2.On the basis of physical structure :
a .Linear polymers: These polymers have a linear structure. Only bifunctional monomers can form linear polymers.

They are generally thermoplastic polymers, and except for very high molecular weight materials, they are soluble in solvents.
b .Cross –linked polymers: These polymers have a 3-D network structure. Only bi-functional and tri-functional monomers can form cross-linked polymers. Elastomeric properties are generally endowed in polymers have cross-linkage across the linear chains.

Thermosetting polymers having high thermal resistance and mechanical strength may be formed if the cross-linking among the monomer groups is extensive.
c .Branched –chain polymer : When there is no cross-linking in a polymer molecule , yet, branches arise from the parent polymer chain , then the polymer formed is called a branched – chain polymer.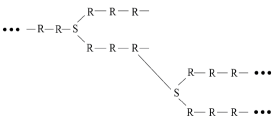 A small amount of trifunctional impurities in a bifunctional monomer may causebranching.Branching may create several physical properties in a polymer such as decrease of solubility in solvents, rise in the softening point and also the reduction in thermoplastic properties.
3.On the basis of chemical reactions : Depending upon the basis on which monomers undergo chemical reactions to form polymers, polymers can be further subdivided.
a .Polycondensation Reaction : It is a stepwise process in which the monomers react by eliminating small molecules like H2O, NH3, CH2O and NaCl in a repetitive manner . Indefinite growth of the polymer occurs at both ends. The condensation reaction terminates when one of the reacting molecules is completely consumed in the reaction. In general, bifunctional monomers with different functional groups undergo such reactions. One common example of a condensation reaction is the esterification reaction. Benzoic acid reacts with ethanol undergoing condensation reaction to give Ethyl benzoate, expelling one molecule of water (H2O). The polymer formed after the reaction (in this case, ethyl benzoate) is called the condensation polymer.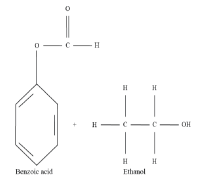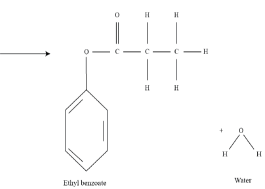 b .Addition Reaction : These reactions occur by the formation of rapid formation of rapid chains and no elimination of small molecules occur. Such reactions generally occur among double or triple-bonded molecules, or oxo-ring compounds.
Addition reactions can be further of three types—
i. Step Reactions ii. Chain Reactions iii. Ionic Reations
i .Step Reactions: In step reactions, a π bond is broken and two new σ bonds are formed. The substrate of an electrophilic addition reaction must have a
double bond or triple bond.
ii .Chain Reactions : In chain addition reactions, the polymer is formed in a single step and within the fraction of a second. The chain kinetics occur in 4 steps – Initiation, Propagation, Transfer and Termination.
Variations of Chain Addition Reaction :
If we consider 'M' and 'N' be two monomeric species, then the chain addition reaction can be of the following types –
Homopolymerization
If only M and N are present,

Copolymerization
If M and N are present together,
Random type
MM MN NNN MM N M MM N N……
Alternating type
M N M N M N M N M ………
Block Polymerization
In this type, multimers resulting from straight polymerization coupled

together in blocks.

Random type

Graft Polymerization
These have a structure which differs from block polymers ; and are formed

from M and N multimers.

In Graft polymerization, β – or X - radiation or chemically reactive functional groups ensue the formation of reactive radicals on the main chain
or on the grafted section.
Reaction Kinetics :
Let,
A – radical source
B – monomer molecule
*- activated
Bm , Bn – growing monomer molecule chain of lengths 'm' and 'n'.
X – any solvent , impurity, etc. which can act as transferable energy species.
Initiation
It is the rate – controlling step in the chain Addition Reaction. This stage is relatively slow and requires energy for breaking and forming the bonds. The energy is supplied as thermal energy or in the form of radiations ( α-, β, or ¥- rays). However , by using a catalyst, the activation energy required can be substantially lowered.
nA

Propagation
These reactions occur between the already formed free radicals and an inactive monomer. With low activation energy, there is more probability of reaction or collision between the species. As a result, rapid reactions occur to attain the given degree of polymerization.

controls the degree of polymerization ]
Chain Transfer Reaction
In this reaction , one radical of the multiplying chain terminates and without the loss of any number of free radicals, a new chain begins. These reactions control the degree of polymerization and the rate of branching of the polymers.
Branching usually occurs at higher temperature, with the reaction of a multimer with a dead chain, followed by lengthening of the branch due to successive monomer
addition.

Chain Termination
A chain terminates with the net loss of one free radical. It may occur by the collision of growing chains with coupling or disproportionation. However , if a growing chain collides with an initiation radical, undesirable impurities or the wall of the reaction vessel, then it might also terminate.

iii .Ionic Reaction :
These are similar to chain addition reaction with free radicals , however ; instead of neutral, unpaired electrons, they have a positive or negative charge. A co-catalyst may be used, which is usually a trace of H2O, which is necessary to produce ionization, as the reaction cannot occur in absolute dry
conditions.
An example of ionic addition reaction is the preparation of polyisobutylene with boron trifluoride catalyst.
Initiation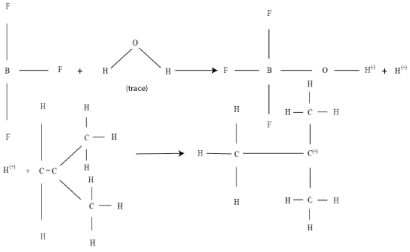 Propagation
Termination