Matter is made up of one or different type of elements. Under normal conditions no other element exists as an independent atom in nature, except noble gases. However, a group of atoms is found to exist together as one species having characteristic properties. Such a group of atoms is called a molecule. Obviously there must be some force which holds these constituent atoms together in the molecules. The attractive force which holds various constituents (atoms, ions, etc.) together in different chemical species is called a chemical bond.
Chemical Bonding
Most of the elements exist as molecules which are a cluster of atoms.
How do atoms combine to form molecules? Why do atoms form bonds? Such doubts will be discussed in this chapter.
Atoms are usually not capable of free existence, therefore a group of atoms of the same or different elements exist together as one spice and having characteristic properties known as Molecules.
A molecule will only be formed if it is more stable and has lower energy than individual atoms.
Chemical Bonding refers to the formation of a chemical bond between two or more atoms, molecules, or ions to give rise to a chemical compound. These chemical bonds are what keep the atoms together in the resulting compound.
Properties of Chemical Bond
A force that acts between two or more atoms to hold them together as a stable molecule.
It is a union of two or more atoms involving the redistribution of electron among them.
This process accompanied by a decrease in energy.
The decrease in energy ∝ Strength of the bond.
Therefore molecules are more stable than atoms.
Cause of Chemical Combination
(a) Tendency to acquire minimum energy
When two atoms approaches to each other. The nucleus of one atom attracts the electron of another atom.
According to the quantum theory when two atoms of an element approach each other then there will be force of attraction as well as force of repulsion between the bonded atoms.
The minimum distance where these forces become equal is called bond formation condition (equilibrium state) and atom of the elements get stabilised by bond formation phenomena by lowering their energy.
If the net result is attraction, the total energy of the system (molecule) decreases and a chemical bond forms. No chemical bonding is possible if the net result is repulsion.
So, Attraction ∝ 1/energy ∝ Stability.
Note:
Bond formation is an exothermic process.
(b) Tendency to acquire noble gas configuration
Inert gas elements do not participate, as they have stable electronic configuration and hence minimum energy. (Stable electronic configuration: 1s2 or ns2np6)
Atom combines to acquire noble gas configuration, i.e., they try to attain either 2 electrons (when only one energy shell) or 8 electrons in their outermost energy level which is of maximum stability and hence of minimum energy.
Only outermost shell's, i.e. ns np and (n -1) d, electrons participate in bond formation.
Lewis Octet Rule
Every atom has a tendency to complete its octet.
Hydrogen has the tendency to complete its duplet.
To acquire inert gas configuration atoms lose or gain electron(s) or share electron(s).
The tendency of atoms to achieve eight electrons in their outermost shell is known as the Lewis octet rule.

H2O obeys Octet rule
Explanation of Kossel Lewis Approach
In 1916, Kossel and Lewis succeeded in giving a successful explanation based upon the concept of an electronic configuration of noble gases about why atoms combine to form molecules.
Atoms of noble gases have little or no tendency to combine with each other or with atoms of other elements. This means that these atoms must be having stable electronic configurations.
Due to the stable configuration, the noble gas atoms neither have any tendency to gain or lose electrons and, therefore, their combining capacity or valency is zero.
They are so inert that they even do not form diatomic molecules and exist as monoatomic gaseous atoms.
Exceptions of Octet Rule
(a) Incomplete Octet Molecules
Also known as Electron deficient molecules or Hypovalent molecules, in which, compound's octet is not complete in the outermost orbit of the central atom.
Examples: Halides of IIIA groups, BF3, AlCl3, BCl3; Hydride of III A/13th group, BeCl2 (4 electrons), ZnCl2 (4 electrons), Ga(CH3)3 (6 electrons) etc.


Boron has only 6 electrons in the outermost shell
(b) Expansion of Octet
Also known as Electron Efficient Molecules or Hypervalent molecules, in which, compound's central atom has more than 8 electrons in outermost orbits.
Examples: PCI5, SF6, IE7, the central atom P, S and I contain 10, 12, and 14 electrons respectively.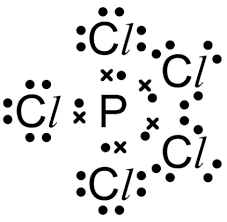 Electron Dot Structure of PCl5(c) Pseudo Inert Gas Configuration
Cations of transition metals, which contains 18 electrons in the outermost orbit.
Examples: Ga+3, Cu+, Ag+, Zn+2, Cd+2, Sn+4, Pb+4 etc.
Electronic configuration of Ga: 1s2, 2s22p6, 3s23p63d10, 4s24p1
Electronic configuration of Ga+3: 1s2, 2s2 2p6, 3s23p63d10 (18 electrons)
(d) Odd Electron Molecules
Central atom has an unpaired electron or odd number (7 electrons, 11 electrons, etc) of electrons in their outermost shell.
Examples: NO, NO2 ClO2, ClO3 etc.

Electron Dot Structure of NO