A financial statement is a formal record of the financial activities, and position of a business, person, or other entity. It is presented in a structured manner and in a form easy to understand.
The Components of a Financial Statement
Broadly, the following make up a part of the financial statements of any firm or organization:
Balance sheet: It shows a statement of financial position, the entity's assets, liabilities, and stockholders' equity as on the report date. However, it does not show information that covers a span of time as it shows figures of assets and liabilities on a particular date.
Income statement: It shows a statement of comprehensive income, statement of revenue and expenses and p/l report. It includes items of revenues, expenses, gains, and losses. It also provides information on operations carried out by the enterprise.
Cash flow statement: It helps in showing the changes in the entity's cash flows including operating, investing and financing activities during the reporting period.
Explanatory notes: These include explanations of various activities, additional detail on some accounts, and other items.
What is the use of a financial statement?
As a whole, financial statements fulfil the following purpose, which makes them indispensable:
First, to scrutinize the ability of a business to generate cash and the sources and utilization of that cash.
Second, to ascertain whether a business has the capability to pay back its debts.
Third, to help track financial results on a trend line to spot any looming profitability issues.
Next, to help derive financial ratios from the statements that can indicate the condition of the business.
Lastly, to investigate the particulars of certain business transactions, as mentioned in the disclosures that accompany along with the statements.
If a business has plans to issue its financial statements to outside users such as investors or creditors, the financial statements should be ideally formatted in accordance with one of the major accounting frameworks. These frameworks allow for some leeway in how financial statements can be structured, so statements issued by different firms even in the same industry are likely to have somewhat different appearances. Financial statements that are being issued to outside parties may be audited to verify their accuracy.

Financial Statement Problems and Solutions
Problem 1:
Prepare Adjustment Entries, Adjusted Trial Balance and three Informal Financial Statements excluding cash flow statement.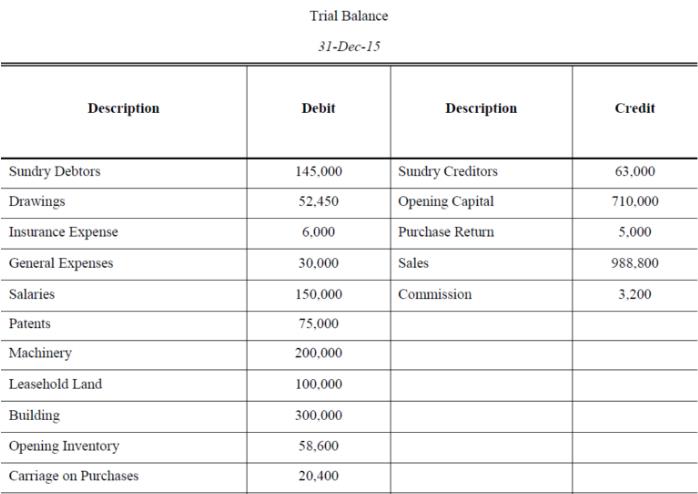 Adjustments
Inventory on 31st, December 2015 was valued at Rs. 68,000.
Depreciation Machinery by 10 % and Amortization of Patents by 20 %.
Unexpired Insurance at the end financial year was Rs. 2,000.
Wages includes Rs. 7,000 paid as advance to employees (Prepaid Wages Debit).
Solution 1. Adjustment Entries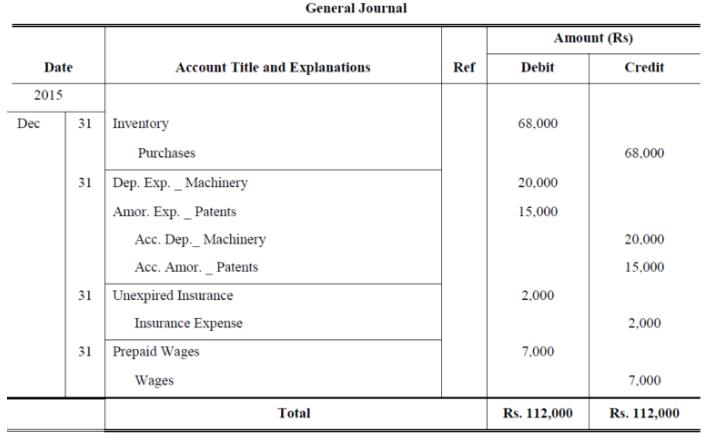 Solution 2. Adjusted Trial Balance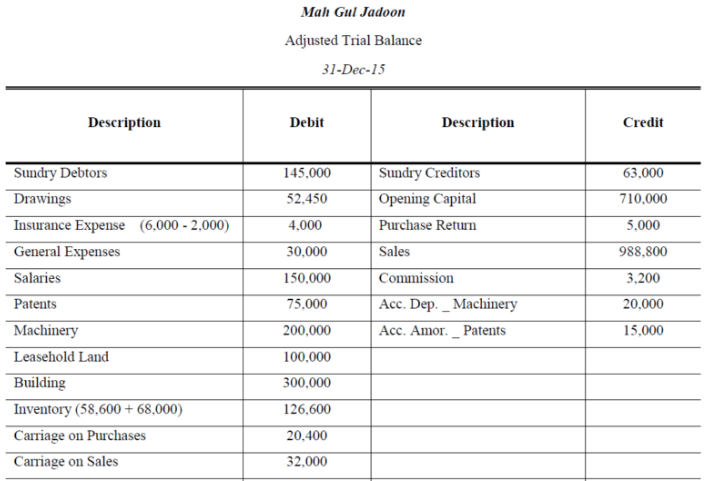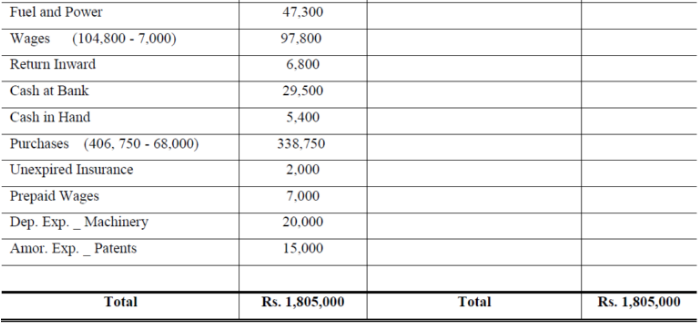 Solution 3. Three Financial Statements (Informal)