Introduction to Pulp and Paper Industry, Raw Material for Paper Industry and Technological Development
The history of paper making goes back to over 2000 years while first official report on the manufacture of paper was reported in China in 105 AD. The knowledge of paper manufacturing spread westward, along with the silk and trade routes, reaching India is round 605 AD. Pulp and paper production has increased globally and will continue to increase in the near future and is one of the largest manufacturing sectors in the world. Per capita consumption of paper is sometimes yardstick for measurement of industrialization. There are about 500 kraft mills and many thousands of other types of pulp and paper mills all over the world. Pulp and paper industry is one of the oldest industries in India.
With a 20 mills and installed capacity of one lakhs tonnes per annum at the time of independence the paper industry have made continuous strides and now there are about 380 mills with a production of 4.0 million tonnes. There are about 6.5 billion people living on planet Earth. Worldwide paper consumption in this century has increased 4 times faster than population. Paper and paperboard worldwide will reach 400 million tones in 2011 and 640 million tones in 2020 with world population of 8000 million people and per capita consumption of paper and paperboard of 80 kg. There are about 500 Kraft mills and many thousands of other types of pulp and paper mills in the world. India is fastest growing pulp and paper market in the world with growth rate of 10% over one year in per capita consumption, which is expected to grow in future.
The Indian paper industry is among the top 15 global players today, with an output of more than six millions tones annually with an estimated turnover of Rs 150,000 millions. Projected demand of 13 million tones by 2020 The growth rate of pulp & paper Industry is around CAGR of 7-8 percent. Total Installed capacity of pulp and paper industry is around 9.18 million tones and is expected to increase to 11.5 million tones by 2010-12. Profile of Indian paper mills and world paper industry is given in Table M-III 1.1.
Early 1970'sthe share of wood, agricultural residues and wastepaper was 84%, 9% and 7% and presently it constitutes 31%, 22% and 47% in comparison to globally 57%, 39% and 4% respectively.Out of about 11million tonnes Paper production in 2011-12 approximately 7.5 million tonnes is produced from agro residue and wastepaper and mainly contributed by medium and small scale paper mills. Itis projected thatconsumption and production of paper in next five years will be 16.5% and 14.8% million tonnes respectively.
Table M-III 1.1: Profile of Indian Paper Mills & Global Competitiveness
Mills

(number)

Capacity

(million

Tonnes)

Kg/A/

Capita

Energy consumption GJ/ t of paper

Water Consump­tion m3 /tof paper

World

6.2 Billion

9000

370

55

32.0-40.9

30-50

India

1.1 Billion

> 660

9.5

8.3

51.6-80.0

80-150
Raw material and energy sources in Indian and European countries are given in Figure M-III 1.1. Specific energy consumption in Indian mills are higher than other developed countries (Table M-III1.2)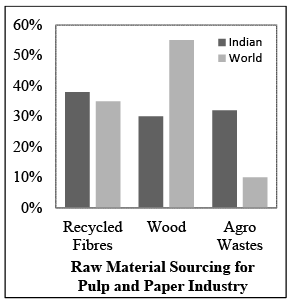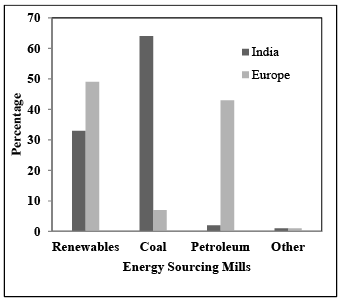 Figure M-III 1.1: Raw material and Energy Sources
Table M-III 1.2: Specific Consumptions: A Comparison
| | | |
| --- | --- | --- |
| Input Per Ton of Product | Indian Mills | European Mills |
| Heat, GJ/t | 15-30 | 4-8 |
| Electricity, Kwh/t | 800-1500 | 400-800 |
| (except pulp mill) | | |
| Water, m3/t | 25-150 | 5-40 |
| Chemical Recovery, % | 88-96 | 95-98 |
Technological turning point in the Indian paper industry is given below:
Efficient management of depleting resources with sustainable forest productivity through improved resource planning, better plantation technique, good harvest management
Conservation of natural resources
Effective waste utilization and recycling of fibre
Improved cleaning efficiency
Better environmental management for reducing or eliminating toxicity
Better fibre properties
Improved runnability
Improved product appeal (Higher Brightness).
Odorless mill
Profile of Paper Industry
Worldwide paper consumption in this century has increased 4 times faster than population.
Paper and paperboard worldwide will reach 400 million tonnes in 2010 and 640 million tonnes in 2020 with world population of 8000 million people and per capita consumption of paper and paperboard of 80 kg.
There are about 500 kraft mills and many thousands of other types of pulp and paper mills in the world.
There are about 500 mills in India with 7percent integrated (capacity more than 100 TPD), 30percent medium (capacity between than 50 to 100 TPD), and 70percent small paper mills with (capacity less than 50 TPD).
The average capacity is as less as 14 tonnes per day.
Advances in Pulp and Paper Industry
Mechanical: Thermo mechanical Pulping, Refiner technology
Biotechnology Application: Bio-pulping, Bio--bleaching, Enzymatic Deinking, Enzymatic Refining
Washing And Screening: Drum Displacer, Pressure Diffuser, Displacement Presses, Combined Deknotting and Fine Screening, High Temperature Screening Before Washing, Reverse Cleaners
Bleaching: Instead Of Dioxin Free Pulp, Now, Pulp Are Classified As Chlorine Free (CGF), Chlorine Chemical Free (CCF), Molecular Chlorine Gas Free (MCGF), Non Chlorine Compound ((NCC), Active Chlorine Free (ACF), Absolutely Chlorine Free (ACF), Almost Chlorine Free (ACF), Elemental Chlorine Free Modified (ECFM), Totally Chlorine Free (TCF).
Evaporation and Recovery: Agro based paper mills require more energy to recovery of chemicals since it has high silica content. Black liquor losses from mils without recovery pose a serious environmental problem and result in energy inefficiencies.
Fibre Modification: Enhancing the opacity of fibre through pigment particles, better fibre loading, pressurized sensitive adhesives (PSAS)
Paper Making: High Speed Machine with Sophisticated Instrumentation and control; closed hood and insulation of dry cylinder end; installation of trinip press.
Major Challenges and Short Comings
Poor infrastructure
Too many administrative hurdles, tedious bureaucratic methods
Poor to non-existent commitment to innovation
High cost of normal method of financing, recent setback from raising capital through equity for new companies/ developing projects
Rising cost of inputs: fibrous raw materials, chemical, labour, energy
Uneconomic size and obsolete technology in many mills
High cost of production
Poor productivity
Poor instrumentation
Low availability of forest raw materials and poor forest management
Poor recycling of waste paper
Recovery of chemicals from agro-based black liquor
Decolourisation and detoxification
Air pollution problem
High energy consumption.
Raw Material:
Paper industry consumes a wide variety of raw materials – cellulosic derived from forest, agricultural residues and waste paper; non-cellulosic coal, chlorine, lime, sodium hydroxide, sodium sulphide, fuel oil, talcum powder etc. Major raw materials used by paper industry is bamboo, wood, bagasse, waste paper and agricultural residue like wheat straw, rice straw, jute sticks, hemp, kenaf, grasses, sea weed etc. Apart from this, paper industry consumes large amount of chemicals like caustic soda, sodium sulphide, sodium carbonate, chlorine, hypochlorite, mineral acid; coal, talcum powder etc.
India has a landmass of 3.29 million square kilometers and 0.629 million sq km of forest i.e. nearly 2.5percent of world's geographical area, only 1percent of the forest area supporting 16percent of world populations. Indian forestry is at a cross road, and actually only 12 percent land area has good forest cover against the official figure of 19 percent . With fast depletion of forest raw material, large integrated mill which accounts for about 38 percent of the total production are facing serious challenges and hardly there is any scope for substantial capacity expansion unless and until they go for secondary fibre utilization. Small and medium mills based on agro-based accounts for nearly 31 percent of India's production. With depleting forest raw material, agricultural residues like bagasse wheat straw, rice straw, jute, grass etc. are likely to play important role in meeting the future demand of raw material for paper industry. Table M-III 1.3 gives the detail of raw material use by Small and Large Integrated Pulp and Paper Mills
Table M-III 1.3: Raw Material Consumption in Small and Large Integrated Pulp and Paper Mills
S. No.

Raw Materials

Requirement per tonne of paper

Small Paper Mills

Integrated Pulp and Paper Mills

1

Cellulosic raw material, Kg9 hardwood, soft wood, agricultural residues etc)

2500 - 3000

2200 - 2500

2

Cooking chemicals, Kg as Na2O

70 - 90

310 - 360

3

Caustic for bleaching

20 - 35

20 - 35

4

Chlorine, Kg

100 - 160

130 - 160

5

Salt cake, Kg

-

60 - 70

6

Lime (available CaO 60%) Kg

70 - 100

70 - 100
for bleaching

7

Lime (available CaO 60%) for causticising section, Kg

-

350 - 450

8

Coal Tonne

1.0 - 1.35

1.5 - 3.0

9

Sulphuric acid, Kg

-

6 - 7

10

Alum, Kg

50 - 60

50 - 60

11

Rosin and Wax Emulsion, Kg

10 - 12

10 - 12

12

Starch, Kg

-

11

13

Hydrochloric acid, Kg

-

2

14

Furnace oil, Kg

-

75

15

3

Water, m

150 - 300

150 - 300

16

Power, kWh

1200 - 1300

1300 - 1800

17

Steam, Tonne

6.0 - 7.0

11 - 16

18

Soda ash as % of Rosin

7 - 8

7 - 8

19

Talcum, Kg

120 - 150

150 - 180
Problems in Utilization of Hard Wood
Debarking
Chipping problem – high density chips difficult to chip
Higher reject · Problem in washing due to more fines and foam
Bleaching of mixed hardwood and bamboo pulp creates problems due to varying bleach Requirement
Shade variation, darker shade
Problem in evaporator
Higher percentage of hard wood affects readability of machine lower strength
Secondary Fibre in Paper Making
Increased use of recycled fibre/paper is the current trend in the paper industry globally as it is one of survival routes for the paper industry against dwindling fibre resources and environmental related issues. Collection of domestic secondary fibre" an initiative as corporate social responsibility; shift in the raw material consumption pattern in India and Global paper recycling pattern is given in Table M-III 1.4 and Table M-III 1.5 respectively .
Potential source of waste paper are domestic refuse, industrial refuse, office refuse, trade refuse. In India around 65percent of paper industry requirement of waste paper is met through imports which is on increase year by year
Table M-III 1.4: Raw Material Consumption Pattern in India
Year

% share

Wood

Agro residue

Waste paper

1970

8.4

9

7

2000

39

31

30

2011

31

22

47
Table M-III 1.5: Paper Recycling in different Countries
| | |
| --- | --- |
| USA | 65% |
| Europe | 70% |
| UK | 40% |
| China | 30% |
| India | 20% |
Technological Development in Pulping & Bleaching
Technological development in the area of pulping are- extended delignification using poly sulfide, anthraquinone, oxygen, Super batch, Rapid displacement heating, Enerbatch, Modified continuous cooking, Extended modified continuous cooking, Isothermal cooking, Black liquor impregnation isothermal cooking, organosolv pulping, steam explosion pulping, Bio-pulping, Explosion pulping etc . Although anthraquinone and polysulfide pulping has been tested at laboratory as well plant level, however, because of economic reason it is not in common use in India.
Modified Pulping
As the residual lignin present in the pulp before chlorination is important factor affecting toxicity of bleach plant effluent, lowering the kappa number of pulp before entering bleach plant by extended delignification is the recommended option for reducing toxicity. Reduction in lignin content of pulp potentially results in reduction of chlorinated organic matter in the effluent. Some of the options for reducing kappa number of pulp before bleaching are extended delignification using polysulphide, oxygen, anthraquinone.
Some of the option for delignification is based on either system design modification or chemical process modification. Extended delignification based on system design modification in batch digester are – Super batch, Rapid displacement heating, Enerbatch. Extended delignification in continuous digester based on system design modification are - Extended modified continuous cooking, (ITC) Isothermal cooking . Some of the benefits to the extended delignification approach include lower bleaching chemical costs, the possibility for eliminating some elemental chlorine and an improved energy balance. Another option for extended delignification is by using chemical additives, oxygen delignification, bio-pulping, explosion pulping. Extensive work has been done on use of anthraquinone and polysulfide pulping. The use of chemical additive anthraquinone and polysulphide has been reported as low capital investment option for decreasing the kappa number and minimizing the impact on recovery boiler with higher bleached pulp yield .The development of oxygen delignification or brown stock oxygen bleaching has been derived by environmental, economic and energy related considerations.
Oxygen delignification offers many advantages over the conventional delignification processes and there is steady growth in worldwide production of oxygen delignified pulp. These process are now capable of producing pulp with kappa number 30-50percent lower than conventional kraft cooking methods without significant yield or strength loss. In India some of the other mills have also switched over to oxygen delignification. Some of the advantages of oxygen delignification are – lower demand of bleaching chemicals; shorter bleaching sequences; reduction in bleach plant effluent BOD, COD, colour, toxicity and AOX; high yield; improved cleanliness of pulp by brightening shives, saving in equipment cost, reduced energy consumption, increase in efficiency of brown stock washing. Several other processes which are either in developmental or implementation stage are Alkalisulfate-anthraquinone method (ASAM), Organo-cell-water, methanol reinforced kraft pulping, bio-pulping .
Advances in Bleaching
Pulp and paper market forces are driving the development of pulp bleaching technology and there have been unprecedented changes in the bleaching technology for reducing toxicity and improving the quality of bleached pulp. Now the pulp instead of dioxin free pulp today they are classified as chlorine free (CGF), Chlorine chemical free (CCF), Molecular chlorine gas free (MCGF), Non chlorine compound (NCC), Active chlorine free (ACF), Absolutely chlorine free (ACF), Almost chlorine free (ACF), Elemental chlorine free modified (ECFM), Totally chlorine free (TCF), Totally effluent free (TEF)
Innovation in Technology for Waste Management
There have been significant innovation and developments in technology in pulp and paper manufacture to improve quality, minimize the energy consumption, reduce the toxicity of bleach plant effluent, waste water generation and reduce the colour in the effluent to improve better recycle. Pulping and bleaching is one of the major areas where major technological development has taken place in the pulp and paper industry. Some of the technological development in pulping and bleaching for reducing toxicity and waste generation are:
Process modification Delignification of pulp as much as possible before chlorination stage to decrease residual lignin, improved brown stock washing and screen, improvement in bleaching sequence to reduce or use of eliminate the elemental chlorine
Control of outside Elimination of use of defoamer containing dioxin
Contamination precursors
External control measures Stabilization ponds, activated sludge, aerated lagoons, membrane process, adsorption, electrochemical process
Process Technology in the Manufacture of Pulp and Paper
Acquisition of Raw Material: Hard wood, soft wood, bagasse, wheat and Rice straw, sabai grass etc.
Raw Material Preparation : Debarking, Chipping, Cutting, Screening
Pulping
Chemical: Sulphate (Kraft), Soda Pulping, Sulphate Pulping
Semi Chemical: NSSC
Mechanical Pulping: Stone Ground Wood (SGW) Thermo Mecha nical Pulp (T MP) Refiner Mecha nical Pulp (R MP) Cold Soda Refiner Mechanical Pulp (CRMP)
Sulfite: Acid Sulfite higher % of free SO2 (Ca, Mg, Na, Ammonia base) Bisulfite: (little or no free SO2 (Ca, Mg, Na, Ammonia base)
Washing and Screening: 3-4 stage washing, screening and cenricleaning
Bleaching: CEHH, CEH, CEHD for chemical pulp Hydrogen peroxide, Sodium peroxide, Hydrosulfite for mechanical
Stock preparation: Beating and refining for imparting suitable properties by making paper, addition of sizing chemicals, colour and additives
Paper Making: Conversion of pulp from stock preparation into a sheet of paper using Fourdrinier Machine or Mould machine
Chemical Recovery: Concentration of spent liquor, burning, causticising and classification of liquors
Power generation
Waste paper processing: sorting, ,screening, hydro pulping, screening and centricleaning
Chlorine generation and Bleach liquor Preparation