Usually, Students feel very uncomfortable with physical chemistry, due to calculations involved and tough concept-based numericals asked from it in the exam.
One should not be afraid of it and should welcome it heartily, it would start behaving properly! Here's a step-by-step strategy that will help you out in understanding Physical Chemistry for IIT JAM Chemistry and get a high rank.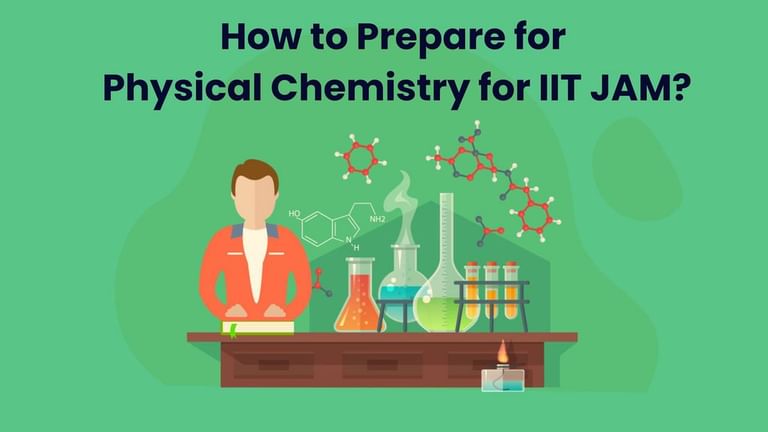 Step-1: Unit Conversion
Start your preparation of Physical Chemistry for JAM by practicing Unit Conversions. This is the most important thing and one must begin with this only.

Take a paper and write all the unit conversions in it. Be it of Length, Mass, Volume, or Energy. Paste that paper on the wall and daily see them, so that they get fixed in your mind and you do not face any problems in doing conversions.

If you are weak in unit conversions, then you won't be able to attempt the question about which you know everything else.
Step-2: Start From Mole Concept and Redox Reactions
Step- 3: High Weightage Topics
After completing Step 1 and Step 2. Go for high-weightage topics.

Some of the important topics that carry a good amount of marks are Electrochemistry and Conductance, Chemical Kinetics, Thermodynamics & Thermochemistry, and Solid State.

Do not leave any topic but the sequence of covering physical chemistry should be: Starting from the Mole concept and redox reaction to high weightage topics.

Do not leave easy topics like Solutions and Colligative properties as they are easy to understand and questions come from them too.
Step- 4: Follow limited study material and spend the rest of your time in practicing questions
If you are studying in any coaching then follow the coaching material only. Spend rest of the time practicing questions.
You can refer to EduRev's content of Physical Chemistry to crack JAM too.

If you are doing self-study then you can refer the books:
- KL Kapoor
- Puri Sharma Pathania

The more and more questions you solve of physical chemistry the more you get command over the subject. You speed and accuracy will be improved if you practice physical rather than studying or cramming it. Practice values a lot in Physical Chemistry
Step-5: Virtual Calculator
After one month of starting your preparation for physical chemistry, you should start practicing with the help of a virtual calculator so that you get a proper estimate of time and you can modify your solving speed accordingly.

Practicing Virtual Calculator is a step that should not be missed out.
Step-6: Formula List
Make a formula list of all the chapters you have covered, and revise the formulas daily so that they get engraved in your mind. Some direct formula-based questions are asked every year in the exam.

While solving numerical, it is suggested that you put the given values with units in the formula, so that you do not miss out on unit conversions which is required in between the question. Putting units together with values will be very beneficial.
Step-7: Practice Questions
You need to solve more and more questions for practice. Go for N Awasthi's book. Examples of K L Kapoor. Previous Year Questions of JAM, JEE Advance, and GATE.
Hope this information is helpful for you!