Dzukou Valley
The two-week-long forest fire in Dzukou valley on the Nagaland-Manipur border has been doused.
The 90-sq km green valley has been prone to forest fires for decades - in 2015, 2012, 2010 and 2006.
Key Points
➤ Location: The Dzukou Valley, popularly known as the 'valley of flower', is located at the border of Nagaland and Manipur.
➤ Features:
Situated at an altitude of 2,438 metres behind the Japfu mountain range, it is one of the most popular trekking spots in the North East.
Dzukou valley and Japfu peak are located adjacent to the Pulie Badze Wildlife Sanctuary (Nagaland).
There are no human habitations within the forests, but they are home to rare and 'vulnerable' (as per the IUCN Red List) birds - Blyth's Tragopan (Nagaland's state bird), the Rufous-necked Hornbill and the Dark-rumped Swift, among many others. Also found in the forests are endangered Western Hoolock Gibbons.
It is covered with bamboo and other grass species. The valley harbours many flowering plants, including the endemic Dzukou Lily Lilium chitrangada.
The valley is a source of conflict for ownership between local tribes and the state governments of Manipur/Nagaland.
It is home to the Angami people.
Forest Fires
➤ Description:
Wildfire, also called forest, bush or vegetation fire, can be described as any uncontrolled and non-prescribed combustion or burning of plants in a natural setting such as a forest, grassland, brushland or tundra, which consumes the natural fuels and spreads based on environmental conditions (e.g., wind, topography).
➤ Causes:
Wildfire can be incited by human actions, such as land clearing, extreme drought or in rare cases by lightning.
One of the significant reasons for forest fires in the north-east is slash-and-burn cultivation, commonly called jhoom or jhum cultivation.
The fires happen between January and March. The north-east has tropical evergreen forests and, unlike the dry deciduous forests of central India, these are not likely to catch fire easily.
➤ Impact:
Globally, forest fires release billions of tons of CO2 into the atmosphere. At the same time, hundreds of thousands of people are believed to die due to illnesses caused by exposure to smoke from forest fires and other landscape fires.
➤ Some Findings from the 2019 Report by the Forest Survey of India (FSI):
About 21.40% of forest cover in India is prone to fires, with forests in the north-eastern region and central India being the most vulnerable.
While the overall green cover has increased in the country, the forest cover in the north-east — particularly in Mizoram, Arunachal Pradesh and Nagaland — has decreased. Forest Fires could be one of the causes.
➤ Measures Taken:
National Action Plan on Forest Fires (NAPFF) 2018
Forest Fire Prevention and Management Scheme.
CAFE-2 Regulations and BS-VI Stage II Norms

Given the lockdown measures' impact, the auto industry has asked the government to postpone implementing the Corporate Average Fuel Efficiency (CAFE-2) regulations and BS-VI stage II standards until April 2024.
As of now, the CAFE-2 norms and BS-VI stage II norms are set to come into effect in 2022 and April 2023, respectively.
Key Points
Corporate Average Fuel Efficiency (CAFE-2) Regulations:
➤ About:
CAFE or Corporate Average Fuel Efficiency/Economic regulations are in force in many advanced and developing nations, including India.
They aim to lower fuel consumption (or improve fuel efficiency) of vehicles by lowering Carbon dioxide (CO2) emissions, thus serving the twin purposes of reducing oil dependence for fuel and controlling pollution.
Corporate Average refers to the sales-volume weighted average for every auto manufacturer. The idea of CAFE is to push manufacturers to achieve fuel efficiency targets by producing and selling more fuel-efficient models, including electric vehicles
➤ Launch in India:
The CAFE standards were first notified in 2017 by the Union Ministry of Power (MoP) under Energy Conservation Act, 2001.
The regulation follows the fuel consumption standards of 2015 that aim to increase the fuel efficiency of vehicles road by 35% by 2030.
The Ministry of Road Transport and Highways (MoRTH) is the nodal agency responsible for monitoring and reporting a summary of annual fuel consumption by automobile manufacturers at the end of each fiscal year.
The regulation was introduced in two target phases: Carbon dioxide emission target of 130 gram/kilometre by 2022-23 and 113 g/ km 2022-23 onwards.
➤ Applicability:
The norms are applicable for petrol, diesel, Liquefied Petroleum Gas (LPG) and Compressed Natural Gas (CNG) passenger vehicles.
➤ BS-VI Stage II Norms:
The government lays down the Bharat Stage (BS) emission standards to regulate air pollutants' output from the internal combustion engine and spark-ignition engine equipment, including motor vehicles.
These standards are targeted at making improvements in three areas - emission control, fuel efficiency and engine design.
The central government has mandated that vehicle makers manufacture, sell and register only BS-VI (BS6) vehicles from 1st April 2020.
BS-VI is equivalent to Euro-VI norms currently in place across countries in Europe.
As per BS-VI emission norms, petrol vehicles will have to effect a 25% reduction in their NOx, or nitrogen oxide emissions. Diesel engines will have to reduce their HC+NOx (hydrocarbon + nitrogen oxides) by 43%, their NOx levels by 68% and particulate matter levels by 82%.
Sulphur content in fuel is a major cause for concern. BS-VI fuel's sulphur content is much lower than BS-IV fuel. It is reduced to 10 mg/kg max in BS-VI from 50 mg/kg under BS-IV.
Some of the measures to be introduced from 2023 onwards include deciding the confirmatory factor for in-service compliance, market surveillance and independent verification testing of in-use vehicles by regulatory authorities, adoption of the more stringent driving cycle for emissions testing, public disclosure of emissions data by the manufacturers on publicly accessible websites, and on-board fuel consumption meters among others.
Advisory for Management of Human-Wildlife Conflicts
At its 60th meeting, the Standing Committee of the National Board of Wildlife (SC-NBWL) recently approved its Human-Wildlife Conflict (HWC) Management Advisory.
In the meeting, approval was given for including Caracal, a medium-sized wildcat, into the list of critically endangered species for taking up conservation efforts with financial support under the centrally sponsored scheme Integrated Development of Wildlife Habitat.
Key Points

➤ The Advisory:
Empower Gram Panchayats: The advisory envisages empowering gram panchayats in dealing with the problematic wild animals as per the Wildlife (Protection) Act, 1972.
Provide Insurance: Utilizing add-on coverage under the Pradhan Mantri Fasal Bima Yojna for crop compensation against crop damage due to HWC.
Augmenting Fodder: It also envisages augmenting fodder and water sources within the forest areas.
Take Proactive Measures: The advisory prescribes inter-departmental committees at local/state level, adoption of early warning systems, creation of barriers, dedicated circle wise Control Rooms with toll-free hotline numbers which could be operated on a 24X7 basis, Identification of hotspots and formulation and implementation of special plans for improved stall-fed farm animal etc.
Provide Instant Relief: Payment of a portion of ex-gratia as interim relief within 24 hours of the incident to the victim/family.
➤ Human-Wildlife/Animal Conflict
About:
It refers to the interaction between wild animals and humans, which negatively impacts people, animals, resources, and habitats.
➤ Causes:
Urbanization: In modern times rapid urbanization and industrialization have led to the diversion of forest land to non-forest purposes, as a result, the wildlife habitat is shrinking.
Caracal Cat
➤ About:
The caracal wild cat (Caracal caracal) is a rare species in India. They are slender, medium-sized cats with long powerful legs and tufted ears.

The black tufted ears of this cat are among its most distinguishing features.
It is shy, nocturnal, elusive and difficult to spot in the wild.

Habitat: In India, the presence of these Cats have been reported from only three states which are Madhya Pradesh, Gujarat and Rajasthan.

In Madhya Pradesh it is locally called Shea- gosh or siyah-gush.
In Gujarat, Caracals are locally referred to as Hornotro which means killer of a Blackbuck.
In Rajasthan it is known as Junglee Bilao or Wildcat.

Threats: Caracals are mostly killed for livestock predation however in some areas of the world it is hunted for its meat and flesh.

Conservation Status:
(i) IUCN Red List: Least Concern
(ii) Wildlife Protection Act, 1972: Schedule
(iii) CITES: Appendix I

Transport Network: The expansion of road and rail network through forest ranges has resulted in animals getting killed or injured in accidents on roads or railway tracks.
Population: The increasing population has also led to many human settlements coming up near the peripheries of protected areas and encroachment in the forest lands by local people for cultivation and collection of food and fodder etc., therefore, increasing pressure on limited natural resources in the forests.
➤ Recent Initiatives/Developments:
Recently, the Supreme Court (SC) affirmed the right of passage of the Elephants and the closure of resorts in the Nilgiris elephant corridor. It held that it was the State's duty to protect a "keystone species" like elephants.
The Odisha Government has started casting seed balls (or bombs) inside different reserve forest areas to enrich food stock for wild elephants. o The Uttarakhand government carried out bio-fencing by growing various species of plants in the areas to reduce the man-animal conflict, prevent wild animals from entering residential areas, and protect crops and livestock in areas adjoining the forests.
In 2018, the Uttar Pradesh government has given its in-principle approval to bring man-animal conflict under-listed disasters in the State Disaster Response Fund to ensure better coordination and relief during such incidents.
In the Western Ghats of India, a new conservation initiative has utilized texting as an early warning system to prevent human-elephant encounters. Elephant tracking collars embedded with SMS chips automatically text nearby residents, warning them of recent elephant movements.
Umed Paoni Karhandla Wildlife Sanctuary
A tigress and her two cubs were found dead in the Umed Paoni Karhandla Wildlife Sanctuary, Nagpur, Maharashtra.
Key Points
➤ About the Sanctuary:
Umed Paoni Karhandla Wildlife Sanctuary has a connection with Tadoba Andhari Tiger Reserve through the forest along Wainganga river (a tributary of Godavari).
The sanctuary is home to resident breeding tigers, herds of Gaur, wild dogs, and rare animals like flying squirrels, pangolins, and honey badgers.
➤ Other Protected Sites of Maharashtra:
Tadoba National Park
Gugamal National Park
Pench National Park
Navegaon National Park
Sanjay Gandhi National Park
Melghat Tiger Reserve
Sahyadri Tiger Reserve
Bor Tiger Reserve
Indian Pangolin
Recently, the Odisha Forest Department has stressed the need for stricter monitoring of social media platforms to check pangolin poaching and trading.
Key Points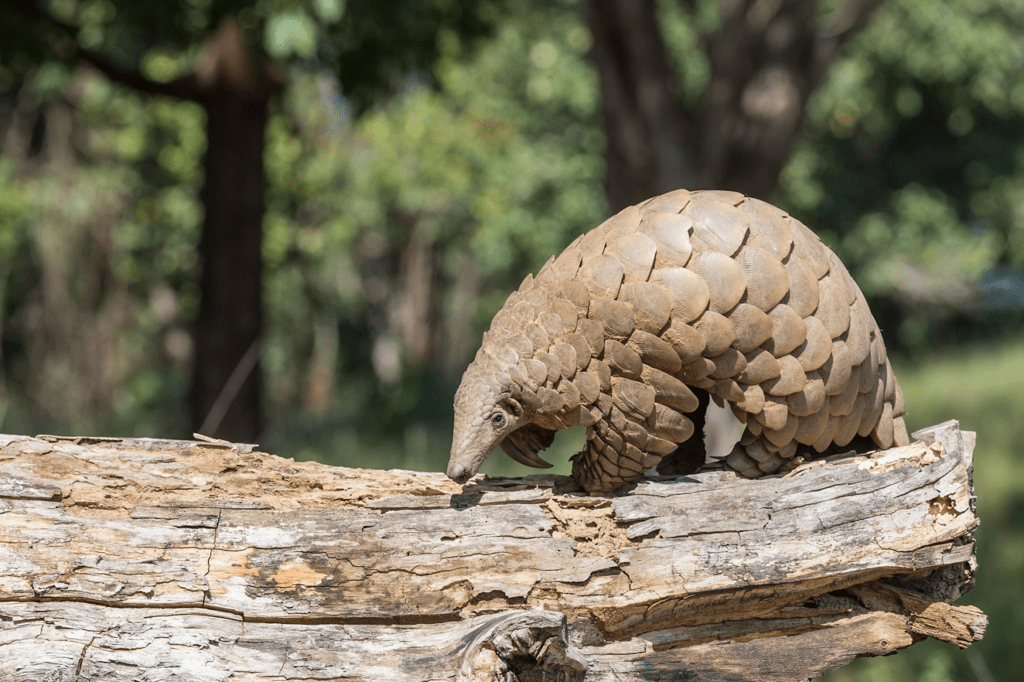 ➤ About:
Pangolins are scaly anteater mammals and they have large, protective keratin scales covering their skin. They are the only known mammals with
➤ Diet:
Insectivore- Pangolins are nocturnal, and their diet consists of mainly ants and termites, which they capture using their long tongues.
➤ Types:
Out of the eight species of pangolin, the Indian Pangolin (Manis crassicaudata) and the Chinese Pangolin (Manispentadactyla) are found in India.
Difference:
(i) Indian Pangolin is a large anteater covered by 11-13 rows of scales on the back.
(ii) A terminal scale is also present on the lower side of the tail of the Indian Pangolin, which is absent in the Chinese Pangolin.
➤ Habitat:
Indian Pangolin:

It is widely distributed in India, except the arid region, high Himalayas and the North-East.
The species is also found in Bangladesh, Pakistan, Nepal and Sri Lanka.

Chinese Pangolin:

It is found in the Himalayan foothills in Eastern Nepal, Bhutan, Northern India, North-East Bangladesh, and Southern China.

Threats to Pangolins in India:

Hunting and poaching for local consumptive use (e.g. as a protein source and traditional medicine) and international trade for its meat and scales in East and South-East Asian countries, particularly China and Vietnam.
They are believed to be the world's most trafficked mammal.

Conservation Status:

Wildlife Protection Act, 1972: Schedule I
IUCN Red List: Endangered
CITES: Appendix I
Asian Waterbird Census
The two-day Asian Waterbird Census-2020 has commenced in Andhra Pradesh under experts from the Bombay Natural History Society (BNHS).
Key Points
➤ About:
Every January, thousands of volunteers across Asia and Australasia visit wetlands in their country and count waterbirds. This citizen science programme is the Asian Waterbird Census (AWC).
The AWC is an integral part of the global waterbird monitoring programme, the International Waterbird Census (IWC), coordinated by Wetlands International.
The IWC is a monitoring programme operating in 143 countries to collect information on the numbers of waterbirds at wetland sites.
Wetlands International is a global not-for-profit organization dedicated to the conservation and restoration of wetlands.
It runs in parallel with other regional programmes of the International Waterbird Census in Africa, Europe, West Asia, the Neotropics and the Caribbean.
➤ Scope:
It was initiated in 1987 in the Indian subcontinent and has increased to cover Asia's major regions, from Afghanistan eastwards to Japan, Southeast Asia and Australasia.
The census covers the entire East Asian -

Australasian Flyway and a large part of the Central Asian Flyway.
East Asia - Australasia Flyway extends from Arctic Russia and North America to Australia and New Zealand's southern limits. It encompasses large parts of East Asia, all of Southeast Asia, and eastern India and the Andaman and Nicobar Islands.

The Central Asian Flyway (CAF) covers a large continental area of Eurasia between the Arctic and Indian Oceans and the associated island chains.
➤ Benefits:
The count gives an idea of the birds at the wetland and the health of the wetland - a good number of waterbirds indicates that it has adequate feeding, resting, roosting, and foraging spots.
The information collected helps to promote the designation and management of internationally essential sites such as nationally protected areas, Ramsar Sites, East Asian - Australasian Flyway Network Sites, Important Bird and Biodiversity Areas (IBAs).
It also helps in the implementation of the Convention on Migratory Species (CMS) and the Convention on Biological Diversity's (CBD).
➤ AWC in India:
The AWC is jointly coordinated by the Bombay Natural History Society (BNHS) and Wetlands International.
BNHS is a pan-India wildlife research organization, which has been promoting the cause of nature conservation since 1883.
A reference list of internationally important AWC sites and wetland IBAs in India has been prepared.
India has 42 Ramsar sites; the latest one is the Tso Kar Wetland Complex of Ladakh.
BirdLife's Important Bird and Biodiversity Area (IBA) Programme identifies, monitors and protects a global network of priority sites to the conservation of birds and other wildlife. India has more than 450 sites.
The 13th Meeting of the Conference of the Parties to the Convention on the Conservation of Migratory Species of Wild Animals (CMS COP13) concluded in Gandhinagar, Gujarat in February 2020.
Ten new species were added to CMS Appendices at COP13. Seven species were added to Appendix I (which provides the strictest protection) including the Asian Elephant, Jaguar, Great Indian Bustard, Bengal Florican, etc.
India submitted its Sixth National Report (NR6) to the Convention on Biological Diversity (CBD) in December 2018.
Sultanpur National Park

The forest department has also stepped up vigilance at Sultanpur National Park in Haryana's Gurgaon district following confirmed bird flu cases reported from Delhi.
Key Points
➤ About:
Sultanpur National Park is a bird paradise for bird watchers. It is famous for its migratory as well as resident birds.
Migratory birds start arriving in the Park in September. Birds use the Park as a resting place till the following March-April.
During summer and monsoon months, the Park is inhabited by many local bird species.
In April 1971, the Sultanpur Jheel inside the Park (an area of 1.21 sq. km.) was accorded Sanctuary status under section 8 of the Punjab Wildlife Preservation Act of 1959.
The Park's status was upgraded to National Park under the Wildlife (Protection) Act, 1972 in July 1991.
➤ Important Fauna at the Park:
Mammals: Blackbuck, Nilgai, Hog deer, Sambar, Leopard etc.
Birds: Siberian Cranes, Greater Flamingo, Demoiselle Crane, etc.
Other National Park in Haryana: Kalesar National Park, District Yamunanagar.