Elections take place regularly in any democracy. There are more than 100 countries in the world in which elections take place to choose people's representatives. The mechanism by which people can choose their representatives at regular intervals and change them whenever they want to is called an election.
Why Elections?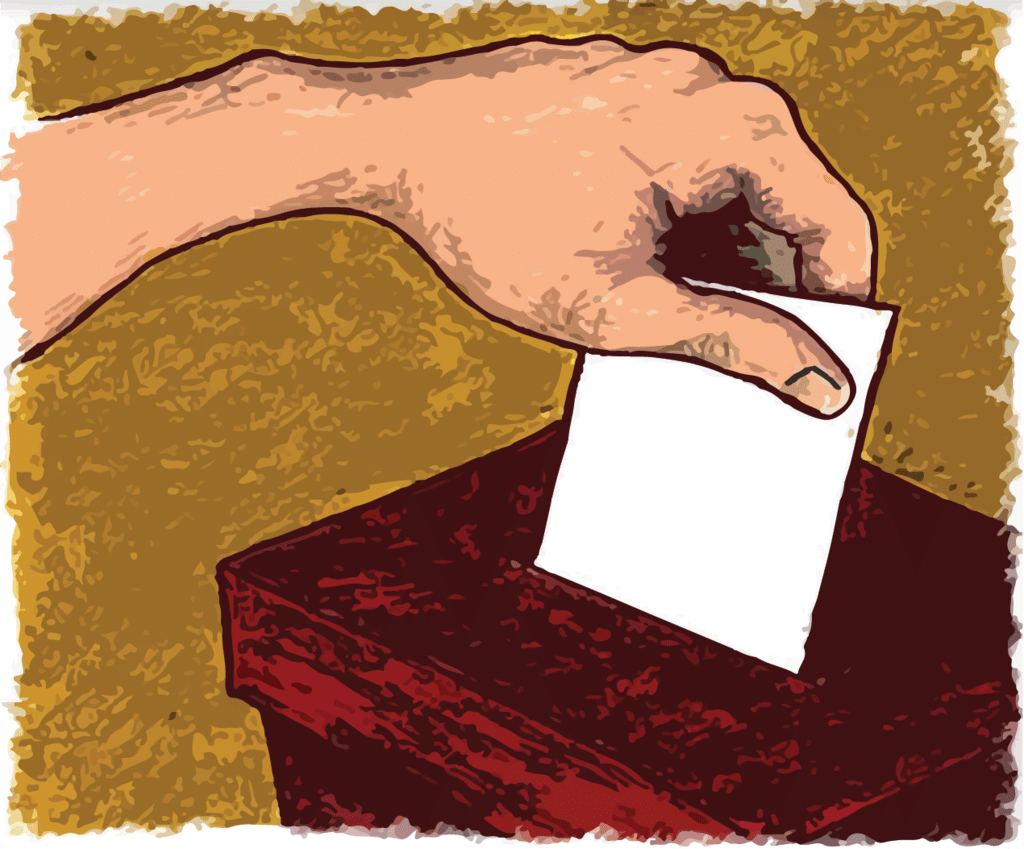 Assembly Election in Haryana

Formation of New Party 'Lok Dal' Haryana had been ruled by Congress party since 1982. At that time, Chaudhary Devi Lal was an opposition leader. He led a movement called Nyaya Yudh (struggle for justice) and formed a new party 'Lok Dal'.

Election Campaign of Devi Lal. In the election campaign of the 1987 Assembly election, Devi Lal promised voters that if his party win, he would give loans to farmers and small businessmen.

Voters favoured Lok Dal As people were unhappy with the existing government, they were attracted by Devi Lal's promise.

They voted in favour of Lok Dal and its partners won 76 out of 90 seats.

Results Announced Lok Dal won 60 seats that's why it had a clear majority in the – Assembly.

The party with a clear majority is invited by the governor to form the government. Congress got only 5 seats.

As the election result was announced, the existing Chief Minister of Congress resigned.

Devi Lai became Chief Minister The newly elected Members of Legislative Assembly (MLAs) of Lok Dal chose Devi Lal as their leader.

The Governor invited' Devi Lal to be the new Chief Minister. After three days of the election result, he took the oath.

Then his government issued a government order to give loans to small farmers, agricultural labourers and small businessmen.

Congress again forms Government Lok Dal ruled die state for 4 years. In the 1991 election, the party did not win people's support. This time Congress won the election and formed the government.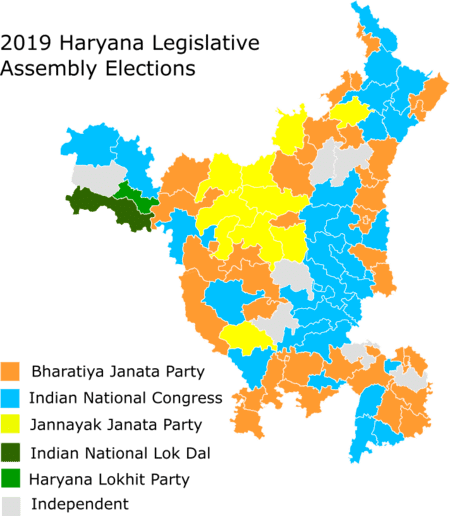 Why do we need elections?
Elections are a democratic way of selecting representatives.

They ensure that the representatives rule as per the wishes of the people.

Elections help voters to choose representatives who will make laws for them, form the government and take major decisions.

The voters can choose the party whose policies will guide the government and lawmaking.
Thus election is a mechanism by which people can choose their representatives at regular intervals and change them if they wish to.
What Makes an Election Democratic?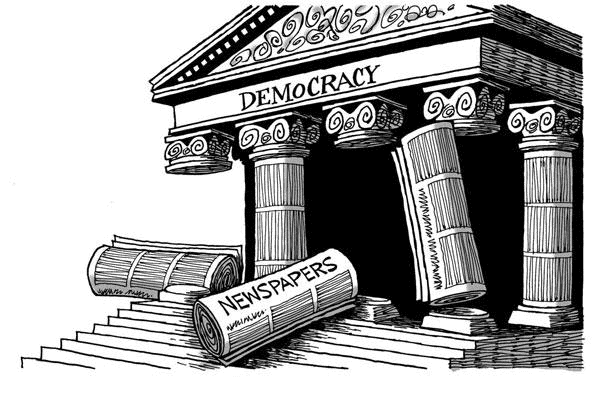 Everyone should be able to choose, i.e. everyone should have one vote and every vote should have equal value, Universal Adult Franchise.

There should be parties and candidates to choose from, freedom to contest and a wide choice for people.

Elections must be held at regular intervals.

Candidates preferred by the people should be elected.

Elections should be held in a fair and free atmosphere to be democratic.
Is it good to have Political Competition?
Demerits

Creates a sense of disunity and 'party politics'.
Parties level allegations against each other of using dirty tricks to win elections.

Long-term policies cannot be formulated.

Good people do not enter politics.
Merits
What is our system of Elections?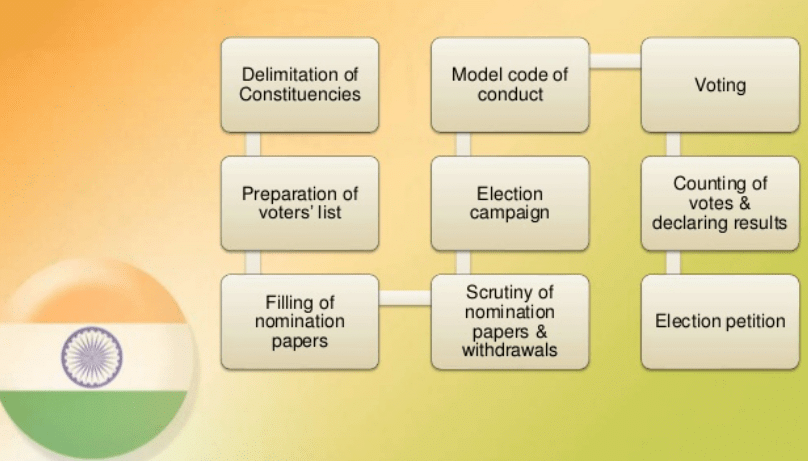 Election Procedure in India
Firstly a voters list is compiled.

Then the election date is announced.

The country is divided into constituencies for the purpose of elections.
The voters have to elect one representative for the Lok Sabha from each constituency (Lok Sabha has 543 constituencies), called Members of Parliament. The constituencies are formed based on population.
Similarly, each state is divided into constituencies and a specific number of members called Members of the Legislative Assembly are elected.

The dates of General Elections are announced.

Each party declares its Manifesto and prepares a list of nominations.
Electoral Constituencies
India follows an area-based system of representation. For this purpose, the country is divided into different areas for the purposes of elections. These are called electoral constituencies.
Voters who live in a constituency elect a representative for their area. For elections to Lok Sabha, the country is divided into 543 constituencies. Therefore, 543 MPs get elected to Lok Sabha as the people's representative.
One of the features of a democratic election is that every vote should have equal value. to ensure this, an effort has been made that each constituency should have roughly the same number of voters. In practice, however, it has not been possible to maintain this balance.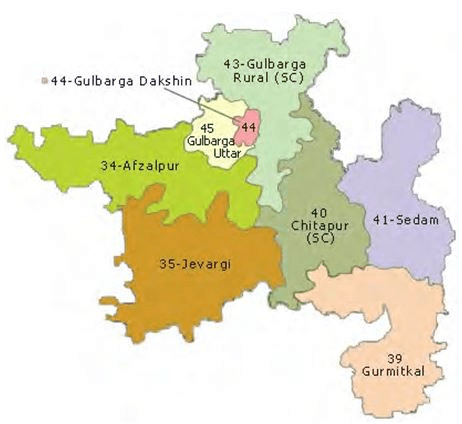 Gulbarga Lok Sabha Constituency
Reserved Constituencies
A true democracy provides equal opportunity to all individuals and sections of society to take part in elections get elected and share in the governance of the economy.
However, due to various historical, social, cultural and economic reasons, a section of the society has remained backwards. It constitutes the weaker section of society.
The weaker section constitutes, by and large, Scheduled Castes (SCs), Scheduled Tribes (STs), Other Backward Castes (OBCs), and women.
The weaker section cannot be expected to play the game of the electoral competition on the same turf as the powerful sections. To be meaningful, a level playing field is to be provided.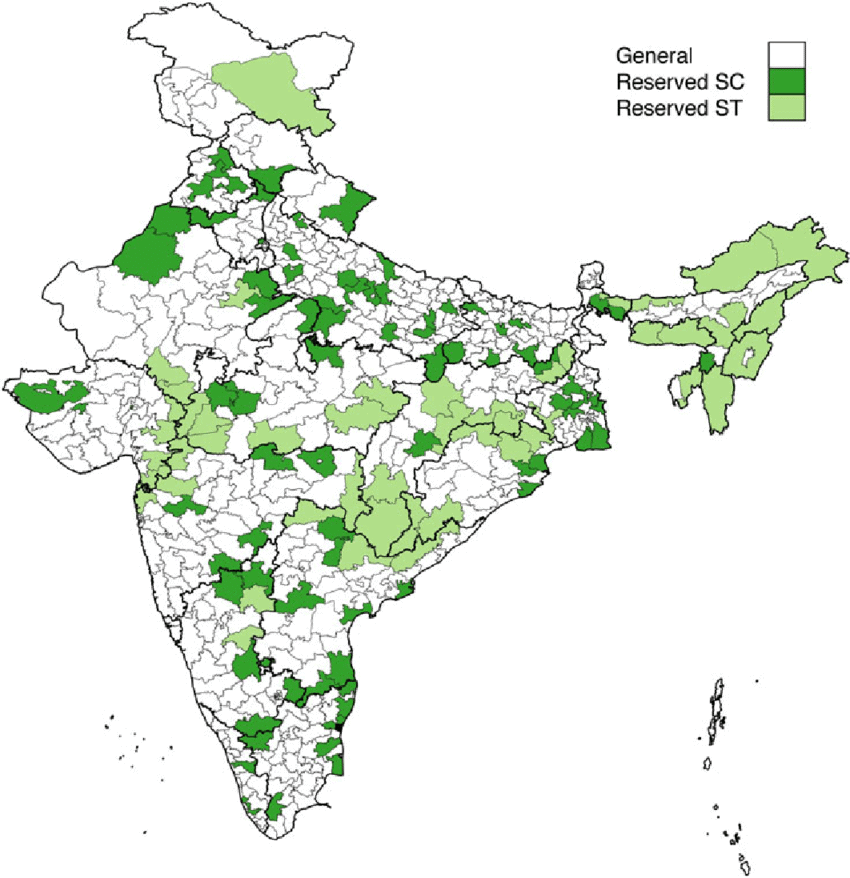 Parliamentary Constituencies reserved for SC- ST since 2008.
Voters' list
The electoral roll is the list of persons who are eligible to vote in an election:-
All the citizens aged 18 years and above are eligible voters.
Every citizen has the right to vote regardless of his or her caste, religion or gender.
Persons with unsound mind and criminals can be denied the right to vote.
Election photo identity Card: Every eligible voter (i.e., whose name appears in the voters 'list) is being issued an identity card by the government. This contains the photograph of the voter. The card serves as a mark of identification at the time of polling of votes.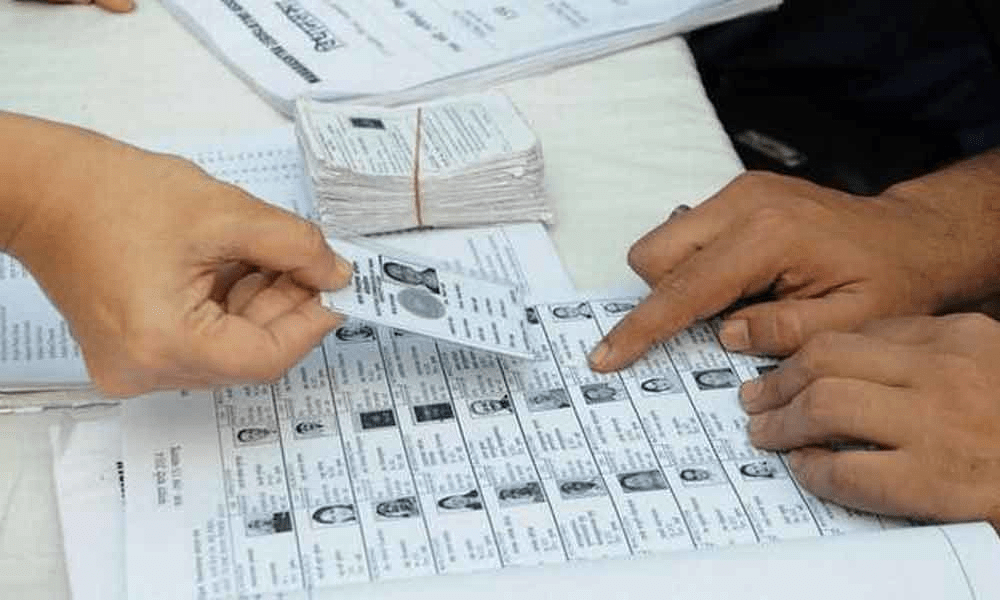 Voter's List at the time of Election
Nomination of Candidates
Any citizen of the minimum age of 5 years can file his nomination. filing the nomination means he can present himself as a candidate.
Every person who wishes to contest an election has to fill a 'nomination form' and give some money as a 'security deposit'.
Recently, a new system of declaration has been introduced on direction from the Supreme Court. Every candidate has to make a legal' declaration, giving full details of:
Serious criminal cases pending against the candidate.
This information has to be made public. this provides an opportunity for the voter to make their decision on the basis of the information provided by the candidates.
Election Campaign
The election campaigns are conducted to have a free and open discussion about who is a better Representative and in turn, which party will make a better government. In India, Election Campaigns take place for a two-week period between the announcement of the final list of candidates and the date of polling. During this period the candidates contact their voters, political leaders address election meetings and political parties mobilise their supporters.
Some of the successful slogans given by different political parties in various elections:
Save Democracy
Land to the Tiller
Protect the Self-Respect of the Telugus
According to India's election law, no party or candidate can:
Bribe or threaten voters
Appeal to them in the name of caste or religion
Use government resources for election campaign
Spend more than 25 lakh in a constituency for a Lok Sabha election or 10 lakh in a constituency in an Assembly election
If any Political Party does so, their election can be rejected by the court. In addition to the laws, all the political parties in our country have agreed to a Model Code of Conduct for election campaigns. According to this, no party or candidate can:
Use any place of worship for election propaganda
Use government vehicles, aircraft and officials for elections
Once elections are announced, Ministers shall not lay foundation stones of any projects, take any big policy decisions or make any promises of providing public facilities
Polling and Counting of Votes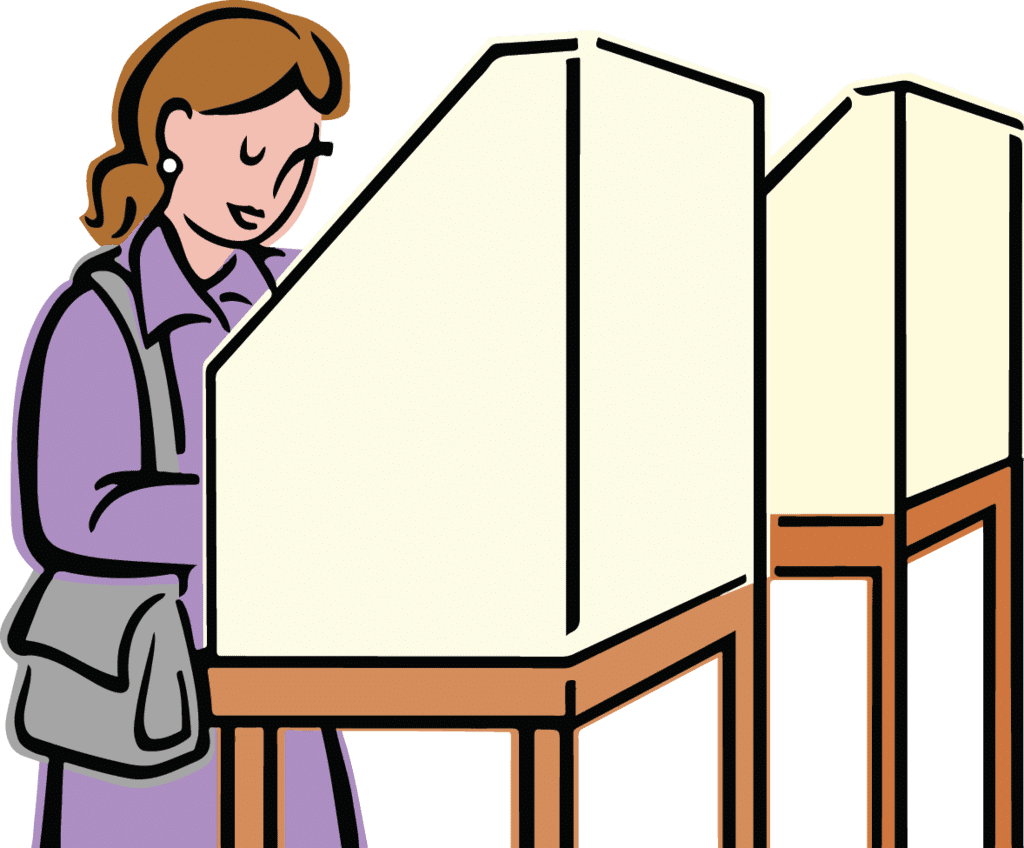 The day when the voters cast or 'poll' their vote is called the election day. The voting is done in the following manner.
Every person whose name is on the voters' list can go to a nearby 'polling booth'.
Once the voter goes inside the booth, the election officials identify her, put a mark on her finger and allow her to cast her vote.
An agent of each candidate is allowed to sit inside the polling booth and ensure that the voting takes place in a fair way
A ballot paper is a sheet of paper on which the names of the contesting candidates along with party names and symbols are listed. The ballot paper was used earlier. Nowadays, electronic voting machines (EVM) are used to record votes.
The machine shows the names of the candidates and the party symbols.
The voter has to just press the button against the name of the candidate she wants to give her vote to.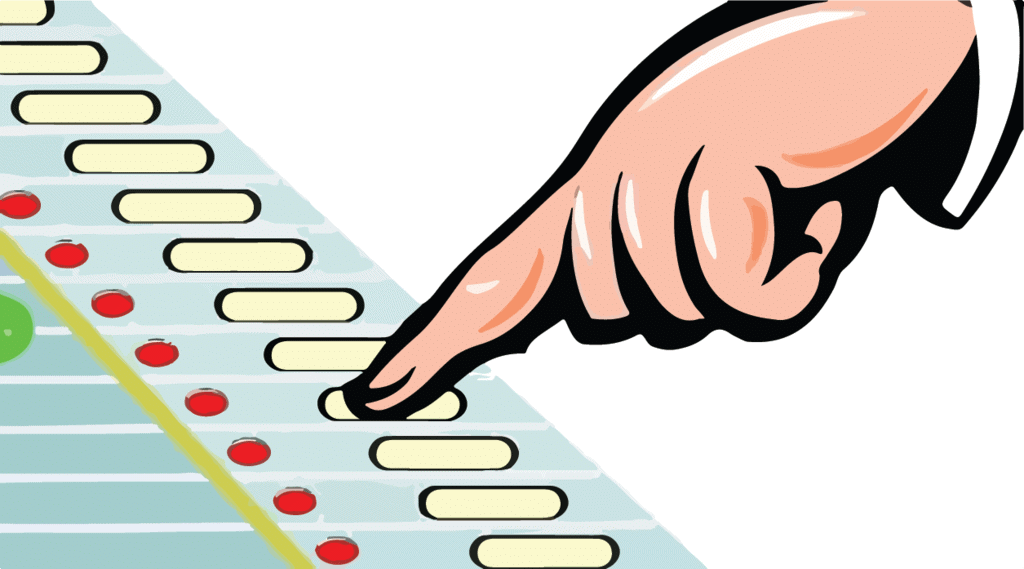 Once the polling is over, all the EVMs are sealed and taken to a secure place.
A few days later, all the EVMs are opened and the votes secured by each candidate are counted.
The candidate who secures the highest number of votes from a constituency is declared elected.
What Makes Election in India Democratic?
Elections are held in all democratic countries and also in most non-democratic countries in many ways. But there is a simple list of the minimum conditions which make an election democratic like
Everyone should have the right to choose a representative. It means everyone has one vote and every vote has equal value.
Political parties and candidates should be free to contest elections and offer some real choices to the voters.
The choices should be offered at regular intervals. For that elections must be held regularly after a certain period.
The candidates preferred by the people only should get elected.
Elections are conducted in a free and fair manner where people choose those representatives whom they really wish.
Independent Election Commission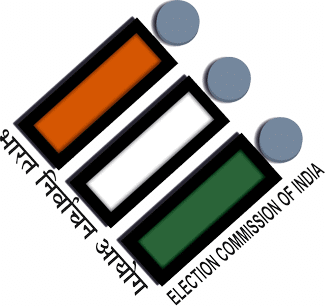 In India, elections are conducted by the Election Commission (EC). The Chief Election Commissioner (CEC) is appointed by the President of India. Election Commission is independent and has a wide range of powers which are:
EC takes decisions on every aspect of conduct and control of elections from the announcement of elections to the declaration of results.
It implements the Code of Conduct and punishes any candidate or party that violates it.
During the election period, the EC can order the government to follow some guidelines, to prevent the use and misuse of governmental power to enhance its chances to win elections, or to transfer some government officials.
When on election duty, government officers work under the control of the EC and not the government.
Popular Participation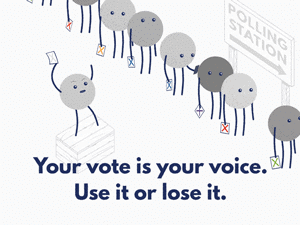 The quality of the election process can also be checked by seeing the participation of people. People's participation in the election is measured by voter turnout figures. Turnout indicates the per cent of eligible voters who actually cast their vote.
In India, the poor, illiterate and underprivileged people vote in larger proportion as compared to the rich and privileged sections.
Common people in India feel that through elections they can bring pressure on political parties to adopt policies and programmes favourable to them.
The interest of voters in election-related activities has been increasing over the years.
Acceptance of Election Outcome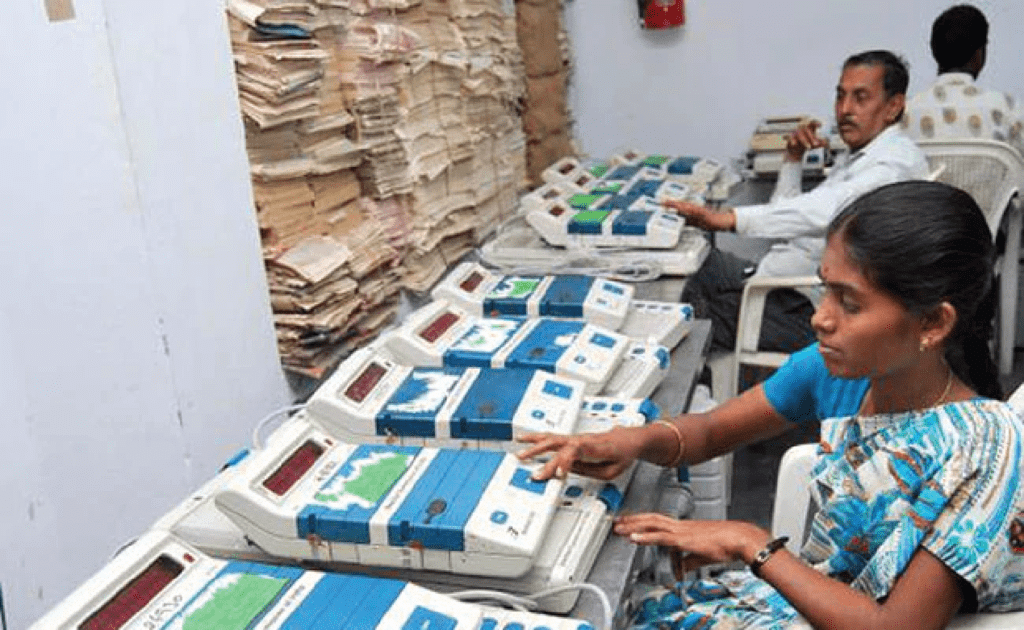 On a fixed date, all the EVMs from each area are opened.
One final test of the free and fairness of the election is the outcome of the election.
The ruling parties routinely lose elections in India both at the national and state level.
In the US, an incumbent or 'sitting' elected representative rarely loses an election. In India, about half of the sitting MPs or MLAs lose elections.
Candidates who are known to have spent a lot of money on 'buying votes' and those with known criminal connections often lose elections.
Barring very few disputed elections, the electoral outcomes are usually accepted as 'people's verdict' by the defeated party.
Challenges to Free and Fair Elections
Elections in India are essentially free and fair. Sometimes this may not be true for every constituency. There are many limitations and challenges to Indian elections. These include:
Candidates and parties with a lot of money enjoy a big and unfair advantage over smaller parties.
Candidates with criminal connections have been able to push others out of the electoral race and to secure a 'ticket' from major parties.
Tickets are distributed to relatives from their families.
Elections offer little choice to ordinary citizens as major parties are quite similar to each other, both in policies and practice.
Smaller parties and independent candidates suffer a huge disadvantage compared to bigger parties.