Labour Turnover
It is a common feature in any concern that some employees leave the concern and others join it. Workers change the job either for personal betterment or for better working conditions or due to compulsion. Labour turnover is the ratio of the number of persons leaving in a period to the average number employed. It is the change in the composition of the labour force in an organisation. It can be measured by relating the engagements and losses in the labour force to the total number employed at the beginning of the period. All the losses must be taken into account regardless of the cause for leaving.
Example
If 20 employees leave an organisation in a year and the average labour force is 400, then the labour turnover is 5%.
An index or norm may be fixed depending on the usual labour turnover in the industry or the labour turnover in the past. The rate of labour turnover depends on a number of factors like the nature of the industry, its size, location, nature of labour etc. A high labour turnover must be investigated. A low labour turnover points out the lack of flexibility or it may be due to inefficient workers not willing to leave the organisation.
Labour turnover reduces the labour productivity and increases costs. Hence, it should be kept at a minimum level.
Causes of Labour Turnover
Causes of labour turnover: The main causes of labour turnover in an organisation/industry can be broadly classified under the following three heads:
a. Personal Causes
b. Unavoidable Causes, and
c. Avoidable Causes
(a) Personal causes are those which induce or compel workers to leave their jobs such causes includes the following:
Change of jobs for betterment.
Premature retirement due to ill health or old age.
Domestic problems and family responsibilities.
Discontentment over the jobs and working environment.
In all the above cases the employee leaves the organisation at his will and, therefore, it is difficult to suggest any possible remedy in the first three cases. But the last one can be overcome by creating conditions leading to a healthy working environment. For this, officers should play a positive role and make sure that their subordinates work under healthy working conditions.
(b) Unavoidable causes are those under which it becomes obligatory on the part of management to ask some or more of their employees to leave the organisation, such causes are summed up as listed below :
Seasonal nature of the business;
Shortage of raw materials, power, slack market for the product etc :
Change in the plant location;
Disability, making a worker unfit for work;
Disciplinary measures;
Marriage (generally in the case of women).
(c) Avoidable causes are those which require the attention of management on a continuous basis so as to keep the labour turnover ratio as low as possible. The main causes under this case are indicated below;
Dissatisfaction with job, remuneration, hours of work, working conditions, etc
Strained relationship with management, supervisors or follow workers;
Lack of training facilities and promotional avenues;
Lack of recreational and medical facilities;
Low wages and allowances.
Proper and timely management actions reduce the labour turnover appreciably so far as avoidable causes are concerned.
Effects of Labour Turnover
It increases cost of production due to the following reasons:
Cost of selecting/replacing workers
Cost of training imparted to new workers
Production planning cannot be properly executed and this results in production loss
Loss due to defectives and wastage
Loss due to mishandling of tools, equipments, breakages, etc.
Measurement of Labour Turnover
| | |
| --- | --- |
| Method | Labour turnover |
| Separation Rate Method | (The average of workers is calculated by taking a simple average of workers at the beginning and end of the period.) |
| Net Labour Turnover Rate Method or Replacement Method | |
| Labour Flux Rate Method | |
Costs of Labour Turnover
The cost of labour turnover can be either preventive costs or replacement costs. Preventive costs are incurred to keep the workers satisfied and discourage them from leaving the concern. Replacement costs are incurred for recruiting and training labour and the loss arising due to wastages, reduced productivity of new labour force.
Examples of Preventive Costs
Costs of providing medical services;
Personnel administration cost;
Cost of labour welfare activities;
Costs incurred for providing pension, provident fund and retirement schemes.
Examples of Replacement costs
Decline in output due to inexperience of new workers.
Decline in quality due to the lack of experience of new workmen.
Loss of output during the time lost while recruiting new workers.
Cost of recruitment/selection.
Cost of training.
Cost of tool, equipment and machine breakages.
Waste, scrap and defectives arising due to lack of experience of new workers.
Cost of accidents, compensation paid, damage to property, assets etc.
Remedial steps to minimise labour turnover
The following steps are useful for minimising labour turnover.
Exit Interview: An interview may be arranged with each outgoing employee to ascertain the reasons of his leaving the organisation.
Job analysis and evaluation: Before recruiting workers, job analysis and evaluation may be carried out to ascertain the requirements of each job.
Scientific system of recruitment, placement and promotion: The organisation should make use of a scientific system of recruitment selection, placement and promotion for employees.
Enlightened attitude of management : The management should introduce the following steps for creating a healthy working atmosphere. Service rules should be framed, discussed and approved among management and workers, before their implementation. Provide facilities for education and training of workers. Introduce a procedure for settling workers grievance.
Use of Committee: Issues like control over workers handing their grievances etc., may be dealt by a committee, comprising of members from management and workers.
Treatment of Labour Turnover
The various methods of treating labour turnover are:
(a) Preventive costs are treated as overhead expenses and apportioned to departments on the basis of number of persons employed in each department.
(b) Replacement costs may arise either due to faults of departments or due to faulty management policy. In the first case the cost is charged as overhead to the concerned department. In the latter case, the overhead cost is apportioned to different departments, on the basis of number of persons employed in each department.
Illustration 1
The cost accountant of Akash Ltd. has computed labour turnover rates for the quarter ended 31st March, 2013 as 20%, 10% and 6% respectively under 'flux method', 'replacement method' and 'separation method'. If the number of workers replaced during that quarter is 80, find out the number of (i) workers left and discharged; and (ii) workers recruited and joined including replacements.
Solution:
Working Note:
Average number of workers on roll:

or

or

(i) Workers left and discharged:

or

Hence the number of workers left and discharged = 48
(ii) No of workers recruited and joined:




No. of workers recruited and joined (including replacement) = 112

Labour Turnover Problem 1:
Calculate the normal and overtime wages payable to a workman from the following data: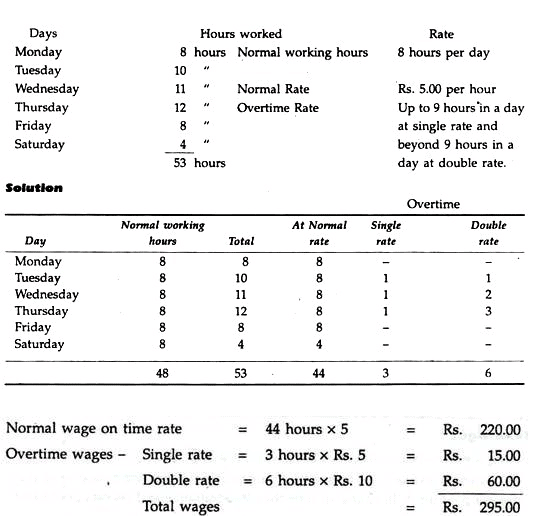 Labour Turnover Problem 2:
From the following particulars calculate the wages of 3 workers Amar, Akbar and Anthony under Merrick's Differential Piece Rate. Piece Rate is 40 paise per unit, standard output 30 units per day of 8 hours. Outputs: Amar – 24 units, Akbar – 27 units and Anthony – 36 units.
Solution:
Efficiency of each worker as a percentage of standard:
Level of efficiency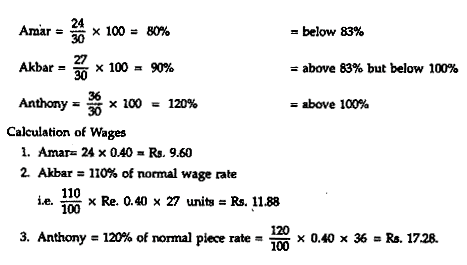 Labour Turnover Problem 3:
Ronalled Limited operates in one of its departments a group incentive scheme. A minimum hourly rate is guaranteed to each of the six employees in the group if actual output for the week is less than the standard output. If actual output .5 greater than the standard output, the hourly rate of each employee is increased by 4% for each additional 600 units of output produced.
The standard output for the group is 12,000 units for a 40 hour week.
During the week ended December 31, 1989 each employee in the group worked 40 hours ; actual output and minimum hourly rates were as follows :



You are required to:
(i) Calculate the earnings of each employee.
(ii) Appraise the effectiveness to the company of this group incentive scheme.
Solution:
Statement showing the earning of each employee in the group during the week ending 31st December, 1989: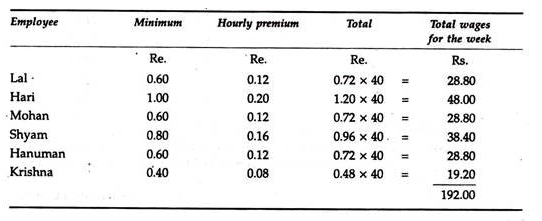 Working Notes : 1. Calculation of percentage increase in the hourly wage rate due to higher efficiency :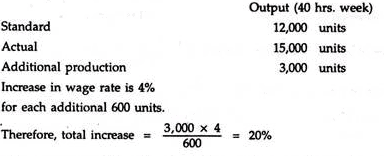 2. There is a saving of Rs. 8 (Standard Wages Rs. 200-Actual Wage Its. 192). This saving has been shared both by the employer and employee.




Labour Turnover Problem 4:
Ten men work as a group. Where the weekly production of the group exceeds standard (200 pieces per hour) each man of the group, is paid a bonus for the excess production in addition to his wages at hourly rates. The bonus is computed thus:
The percentage of production in excess of the standard amount is found and one half of this percentage is considered as the man's share. Each man in the group is paid as a bonus this percentage of wage rate of £ 0.665 per hour. There is no relationship between the individual workman's hourly rate and the bonus rate.
The following is one week's record:



(a) Compute the rate and amount of bonus for the week.
(b) Compute the total pay of Jones who worked 41.5 hours and was paid £ 0.475 per hour basic, and of Smith who worked 44.5 hours and was paid £ 0.525 per hour basic.
Solution