Overview
In India there are 22 scheduled languages, 114 other languages, 216 mother tongues, 96 non specified languages and totally up to 10000 languages spoken by the people in different region and part of India.
In Bihar major language is Hindi that spoken by 80.9% of population and other are Urdu and Santali.
Classification
Indian languages have evolved from different stocks and are closely connected with the different ethnic groups/ people of India.
Broadly the Indian languages can be put into six groups:

Indo-Aryan,
Dravidian,
Sino-Tibetan,
Negroid,
Austric and
Others

These languages have interacted on one another through the centuries and have produced the major linguistic divisions of modern India. The Indo-Aryan and the Dravidian are the dominant groups and together comprises all the major languages of India.
Bihari language belong to first one.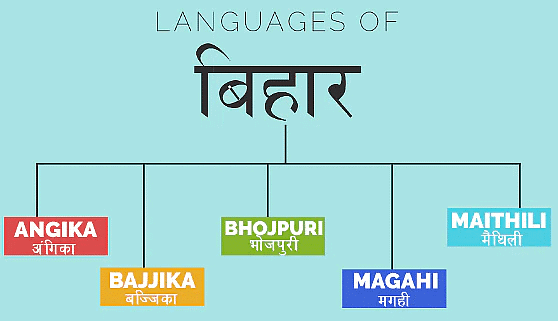 Indo-Aryan
It is part of the Indo-European family of languages, which came to India with the Aryans.
It is the biggest of the language groups in India and accounts for about 74% of the total Indian population.
It comprises of all the principal languages of northern and western India such as Hindi, Bengali, Marathi, Gujarati, Punjabi, Sindhi, Rajasthani, Assamese, Oriya, Pahari, Bihari, Kashmiri, Urdu and Sanskrit.
Linguistic Identities in Bihar
On the basis of language-cum-culture, the present day Bihar can be divided into four distinct categories of subregional identities – Maithili, Bhojpuri, Magadhi and the tribal language(s) of the Jharkhand region.
Grierson has described the language of Bihar as Bihari, 4 which in his scheme of classification belongs to the Eastern group of Hindi, covering an area of 90,000 square miles and is spoken by the 36,000,000 people from the Himalayas on the north to Singhbhum on the South, and from Manbhum on the South-east to Basti on the north-west.
Magadhi
The word 'Maghi' is a deviant of sanskrit word Magadhi. And the region in which this dialect is spoken is referred as Magadha.
The ancient land of Magadha now roughly corresponds to the present districts of Patna and northern half of Gaya district.
Though the Magahi language extends to the other parts of Bihar such as Nalanda, Aurangabad, Nawada, Monghyr, Gir idih, Hazar ibagh, Dhanbad, North-eastern Palamau, Northern Ranchi and the other parts of Bihar, the purest form of Magahi is preserved only in the districts of Patna and Gaya.
This may be referred as a 'core region' of the Magahi language.
Core region preserves not only the purity of dialect and cultural distinctiveness, it also helps in the determination of and sealing in the variation of the dialect or language. Magahi linguistically bordered.
Bhojpuri
Properly speaking Bhojpuri is the language of Bhojpur, "the name of town or pargana in the North-West of the district of Shahabad."
In Bihar, the district in which it is spoken are Bhojpur, Rohtas, Chapra, Gopalganj, Siwan, Champaran, Motihari, Palamau, Ranchi, Hazaribagh, western portion of Vaishali and Muzaffarpur,20 besides in some parts of Santhal Pargana.
Bhojpuri language and culture have always been under the influence of West and Western forms of speech like Brajbhasa, Awadhi and Hindostani.
Further, the history of Bhojpuri language and literature is connected with the social and spiritual movements that were launched in the 9th century by the Siddhas or various spiritual sects of that time in Bihar and Bengal.
The Sant Sahitya produced Bhakti literature and was written in Bhojpuri language.
This tradition continued upto 19th century. Except in this century, no conscious effort was ever made to cultivate this dialect.
It is a folk-language of the rural people who expressed lares and tales through this language.
In folk tales and songs, one comes across the sociocultural, religious and political aspects of Bhojapuri life. Some of these songs are Sohar, Jhumar, Purbi, Janeo-geet, Bahura, Sitala, Ropani ke geet, Parati, Bhajan, Nachari, Kajari etc.
Bihari literature
It has been shaped by a number of writers of Hindi, including Raja Radhika Raman Sinha, Acharya Ramlochan Saran, Acharya Shivpujan Sahay, Divakar Prasad Vidyarthy, Ramdhari Singh 'Dinkar', Phanishwar Nath 'Renu', Gopal Singh "Nepali", Ramesh Chandra Jhaand Baba Nagarjun.
Writer and Buddhistscholar Mahapandit Rahul Sankrityayan was born in Uttar Pradesh but spent his life in the land of Lord Buddha, i.e., Bihar.
Hrishikesh Sulabhis a short story writer, playwright and theatre critic.
Arun Kamal and Aalok Dhanwa are poets.
Historical work on Literature in Bihar
Bihar is one of the most densely populated states of India.
Bihar (erstwhile Magadh) has been the seat of Indian culture, education and power since ancient times.
In the times of Mauryan Empire with Ashoka (269 BC to 232 BC), the great as its ruler where Nalanda University was the major seat of all learning in ancient India.
Bihar has remained a land of culture, education, historical events, and birth place of many people who are admired globally even today.
It was here in Bodhgaya, that Prince Gautama attained supreme knowledge to become Buddha, the enlightened one.
The great religion of Buddhism was born here, and Bodhgaya is one of the most important and sacred Buddhist pilgrimage centers in the world.
Lord Mahavira (the founder of Jainism), Guru Gobind Singh (The tenth and the last guru of the Sikhs), Dr. Rajendra Prasad (1st President of India) and many more were born here.
Nalanda
The world's first seat of higher learning, a Monastic University which flourished from the 5th to the 11th century is in Bihar.
The University had 9 million books and 2000 teachers to impart knowledge to 10,000 students from all over the Buddhist world.
Lord Buddha himself taught here and Hieun Tsang, the 7th century Chinese traveler, was a student here.
Aryabhatta (476-550 A.D.)
He was born in Patliputra in Magadha, modern Patna in Bihar. His greatest contribution has to be ZERO.
His other works include algebra, arithmetic, trigonometry, quadratic equations and the sine table.
He went as far as to explain the eclipse of the moon and the sun, day and night, the contours of the earth, the length of the year exactly as 365 days.
He even computed the circumference of the earth as 24835 miles which is close to modern day calculation of 24900 miles.
At present Bihar stand
Bihar today is an extension of its historic self amalgamating smoothly into the modern technological world.
Despite commercial pressures the state and its people have continued to pursue education and books with the same spirit.
Therefore, it's only in Bihar that an organization like Super 30 works. Super 30 provides training to 30 poor students, free of cost for IIT entrance exam every year (one of the toughest exams in the world) and they all qualify with a ranking in top 100 in all India out of 3.6 million students
More point on Literature of Bihar
Bihar has produced a number of writers and scholars, including Mahamahopadhyaya Pandit Ram Avatar Sharma, R. K. Sinha, Shiva Pujan Sahay, Ramdhari Ram Briksh Benipuri, Pandit Nalin Vilochan Sharma, Mridula Sinha, and Pankaj Rag.
Mahapandit Rahul Sankrityayan, the great writer and Buddhist scholar Hrishikesh Sulabh are the prominent writers of the new generation.
Arun Kamal and Aalok Dhanwa are the well-known poets. Different regional languages also have produced some prominent poets and authors.
Sharat Chandra Chattopadhyay is among the greatest writers in Bangla, lived for some time in Bihar.
The latest Indian writer in English, Upamanyu Chatterjee also hails from Patna in Bihar. Devaki Nandan Khatri, who rose to fame at the beginning of the 20th century on account of his novels such as Chandrakanta and Chandrakanta Santati, was born in Muzaffarpur, Bihar.
Vidyapati Thakur is the most renowned poet of Maithili (c. 14-15th century).
Interestingly, the first Indian author in English was a Bihari, Deen Mohammad. Among the contemporary writers in English Amitava Kumar, Tabish Khair and Sidhharth Chaoudhary are important names.
Sidhharth Chaoudhary has been shortlisted for 2009 Man Asia Literary prize for his book Day Scholar.
Bihar has a rich heritage of reading and writing habits. Because of this, there is a great desire and hunger for books among the general public.
It is said that people here can forgo food for a day but not their daily dose of book reading.
A fact brought out by the numerous personal libraries and the huge number of great writers, authors, poets and students.