Q.1. Why do we use averages? Are there any limitations to their use? Illustrate with your own example related to development.
Ans. We use averages for comparisons across different classes.
Limitations of Using Averages: Averages calculate only the mean availability but they hide the disparities in the process. This is the main limitation of using averages.
Let us consider two countries A and B, each having 4 citizens.
Education Level of Citizens



From the above example, we observe that in country B all citizens have the graduate level of education. There are fewer disparities in this country whereas in country A, half the citizens are illiterate or of primary education level whereas the other half are doctorates or post graduates. Therefore, even though average education level of both A and B is graduate level, yet there are great disparities between them.

Q.2. List a few example of environmental degradation that you may have observed around you.
Ans. Due to advancement in information technology and communication, the whole world has become one. Further, free movement of investment over the greater part of the world has made national economies less and less national. They have become interlinked, interdependent national economies.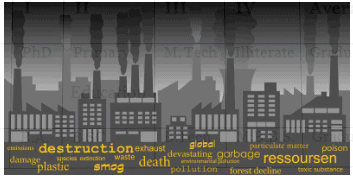 Fig. Environmental Destruction
For example: environmental degradation due to the overuse or misuse of the resources such as fresh water will have a direct impact on the whole world. Evidences suggest that water hunger would be one of the worst problems in near future. Similarly, overuse of mineral wealth.
Example: petrol in one part of the world, has a deep impact on the other parts of the world also.
Generation of domestic, urban and industrial pollution is taking place today beyond the earth's capacity to absorb. Hence, we can say that environmental degradation is not just a national issue.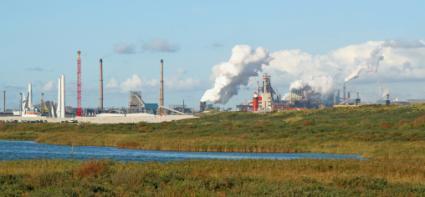 Fig. Environmental Degradation
Q.3. Differentiate between renewable and non-renewable energy resources. Find out present resources of energy in India.
Ans. Renewable energy resources are the resources which are replenished by nature. They could not exhaust because they would continue for year after year. Examples are groundwater, solar energy, wind energy etc.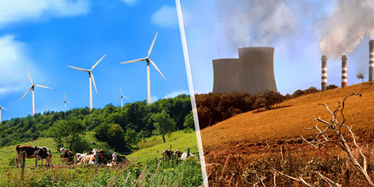 Fig. Renewable vs non-renewable sources of energy
While non-renewable energy resources get exhausted after years of use. These resources cannot be replenished. Crude oil and coal are examples of non-renewable energy resources.
Present resources of energy in India: crude oil, coal, thermal power plants are present resources of energy in India which would run out of stock in 43 years. We have to find out alternative energy resources which do not cause any damage to the environment.

Q.4. What does Human Development Index (HDI) indicate? By whom HDI is prepared?
Ans. Human Development Index (HDI): It makes rating of all countries on a scale of 0 to 1. 0 indicates lowest human development and 1 indicates highest human development. Two important points about HDI are-
(1) It measures relative and not absolute level of human development.
(2) The main emphasis of HDI is on goals, i.e. longevity, knowledge and standard of living (expressed in real per capita income).
Who Prepares HDI: United Nations Development Programme (UNDP) has been preparing the HDI since 1990.

Q.5. "Money cannot buy all the goods and services that one needs to live well." Explain.
Ans. It is true that money cannot buy all the goods and services that one needs in life. A person earning a good income would still need the support of the Government for basic needs of education and health. Money cannot buy respect, peace of mind, equality and freedom and all other ideals of life cherished by all in a society. Money cannot ensure a pollution-free and germ-free environment in the world.

Q.6. Mention any three characteristics of Development.
Ans. Three characteristics of Development are:
(1) The desire to improve one's present situation leads to Development. The process involves thinking about ways in which we can work towards improving our present condition.
(2) Development goals for one may be different from the goals of others. For example, Your sister's career goals may be different from your career goals.
(3) Different development goals may become conflicting development goals. For example, the construction of a dam may be good for the industrialist, however, it may obstruct the development goals of the villagers who were evicted from the area for the construction of the dam.

Q.7. Explain the two basic tools used to compare an underdeveloped country with a developed country?
Ans. The two basic tools used to compare an underdeveloped country with a developed country are:
(1) Per capita income: Countries with per capita income of USD 12616 per annum and above in 2012 are called rich countries or developed countries. Countries with per capita income of USD 1035 or less are called low income or under developed countries. This tool is used by the World Bank for comparison of countries.
(2) Human Development Index: According to this tool of measurement, countries are ranked on the basis of their life expectancy, literacy rate and health status etc. Countries with high life expectancy, literacy rate are considered as developed, whereas, countries with low expectancy rates are called under developed. This tool is used by the United Nations for comparing an under developed country with a developed one.

Q.8. How does the National Development of a country depend on the availability of public facilities?
Ans. To bring equality in the National economy, public facilities are provided by the government especially for those sections of society who are unable to make use of the facilities provided by the private sector. The Government, at times in collaboration with private firms, provides basic health care, education etc at subsidized rates or even free of cost. The Public Distribution System in India provides food grains and other essential items to the people living below the poverty line. Health care which includes free immunization and hospitalization at a subsidized cost are also provided by the Government for the weaker sections of the society for their development.

Q.9. Why do different individuals have different and at times conflicting goals for development?
Ans. Each individual is different with different needs in life. Some development goals important for one person may not be important for the other. There are certain development goals which are common for all such as a good source of income, security of job, freedom and equality. However, certain goals can be different for people.
For example, employment opportunities might be an important goal for an educated unemployed youth. However, improvement in irrigation facilities might be the development goal of a farmer. At times the different development goals become conflicting goals for all.
For example, cutting of forests might be important for the timber industry, however, it would displace the tribals of that region whose livelihood might be depended on that forest.

Q.10. "The Earth has enough for everyone's needs but not for everyone's greed." Explain the need for sustainable development in the context of the above statement.
Ans. The statement, "The Earth has enough for everyone's needs but not for everyone's greed," means that we are overusing the natural resources of the Earth in the name of Development. Sustainable development is when development takes place without degrading the environment. Under sustainable development the needs of the present generation are not compromised. However, at the same time the natural resources are also conserved for the future generation.