Q.1. What are the characteristics of a city?
Ans. The following are some of the features of cities:
(i) Ancient cities mostly emerged as riverine civilisations like Ur, Nippur and Mohenjodaro.
(ii) Cities developed only with the increase in food supply so that it could support non-food producers.
(iii) Cities were often centres of political power with administrative network, trade and industry. In medieval Europe, some towns and cities also emerged in the periphery of religious institutions like Church or important buildings.
(iv) Cities were of different sizes and complexity. It could be a modern day metropolis which combined political and economic functions for an entire region or a smaller town.
Q.2. Discuss how London emerged as the largest city in the world in the nineteenth century.
Ans. The city of London became the largest city in the world by the late nineteenth century. It was the most powerful imperial centre by the beginning of the twentieth century. Various factors were responsible for it, as given below :
Causes :
(i) Increase in population. One out of every nine people of England and Wales lived in London. Industrial revolution started in Britain. The enclosures of farms and abolishment of corn laws made many farmers migrate to towns and cities such as London, Manchester and Leeds. Migrants from rural areas were attracted to the textile mills of Manchester and Leeds in large numbers after the 1850s.
(ii) Colonisation and political dominance in global trade led to great wealth and capital, making London the hub of world trade and commerce.
(iii) The population expanded throughout the nineteenth century from one million in 1810 to 4 million in 1880. They constituted aristocrats, administrators, semi-skilled and skilled artisans, workers, traders, beggars, etc.
(iv) Important industries were the dockyards, clothing, footwear, metallurgy, etc.
(v) During the First World War, London began manufacturing motor cars and electrical goods.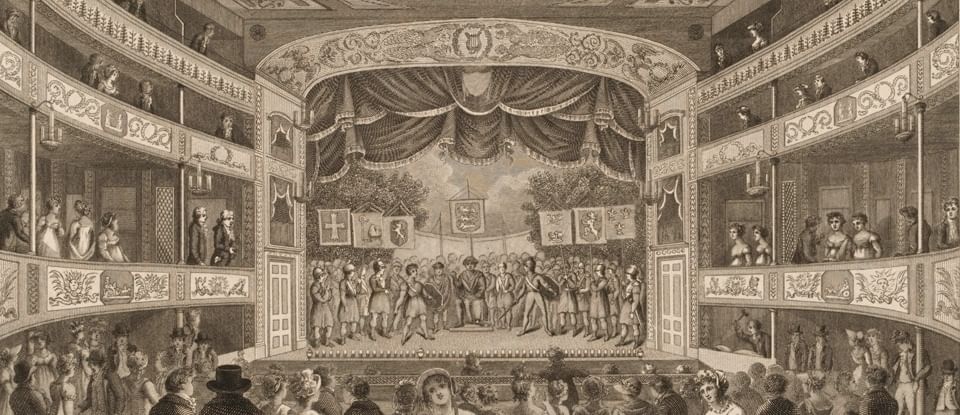 Theatre was a source of entertainment for people in London
Q.3. Describe how industrialisation changed the social status of women.
Ans. The upper and the middle-class women faced higher levels of isolation. However, their lives were made easier by rising number of domestic maids who cooked, cleaned and cared for young children on low wages. An 1861 Census recorded quarter of a million domestic servants in London of whom most were women migrants. On the other hand, women who worked for wages, particularly the lower social classes, had more control of their lives. In cities, individualism replaced the collective value of earlier rural communities. However, men and women did not share the new urban space equally. Later, many women lost their industrial jobs and conservative section managed to force women to withdraw into their homes. Hence, public spaces increasingly became male-dominated.
Q.4. How is a large city a threat and an opportunity? Explain with appropriate examples.
Ans. A large city is a threat and an opportunity. A modern city is also called a metropolis for its complex functions and relations amongst the dwellers. It is a threat to environment and peace because crime rates are high due to the differences between the rich and the poor. A police superintendent would face difficulty in maintaining law and order. A city is a place where the weak are exploited by the powerful and the rich, e.g. women and children were exploited in industrial cities of London, Leeds, Manchester, etc.
On the other hand, it is an opportunity for those who are in power. Landlords benefit by raising the rents as demands for space increase. It is also an opportunity for women who are wage earners as they become economically independent. Social divisions based on class and caste also break down in different ways like travelling in public transport, etc.