Q.1. Mention four demerits of road transportation with reference to India.
OR
'Indian road transportation is confronted with problems.' Describe any four.
Ans. Road transportation is economical in the transportation of smaller amount of goods and few passengers over short and medium distances. Though they are relatively cheap and easy to construct and maintain, road transportation in India is confronted with a number of problems.
(a) On account of its large population, India has large volumes of traffic and passengers which require a large number of vehicles. But the road network is not adequate to meet the requirement of handling heavy traffic.
(b) As most roads are kuccha or unmetalled, their usage is limited during the rainy season. The potholes on roads form muddy pools in the monsoon season and cause accidents.
(c) There are still more national highways to be built to connect the different parts of the country.
(d) The roads in the cities are highly congested and traffic jams are a constant problem. Most of the bridges and culverts are also old and narrow aggravating the problem.
(e) Roadside amenities like emergency medical facilities, telephone booths etc., are lacking.
(f) Police patrolling on the highways in not adequate, so goods and passengers are not safe all the time.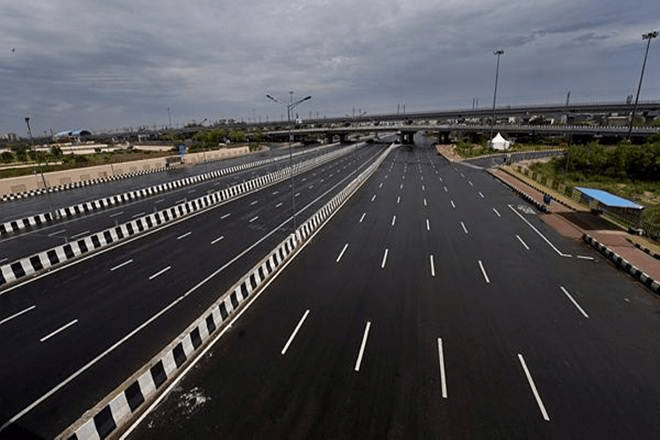 National Highway
Q.2. What is mass communication? What are the different means of mass communication? What is the significance of mass communication in a country like India?
Ans. Mass communication provides entertainment as well as information to a large number of people at the same time. As they are means of communication with the masses, they are known as mass communication.
Press or print media like newspapers, periodicals, magazines and books, and electronic media like radio, television, films and computers are the different means of mass communication. Mass communication covers variety of topics from entertainment, educational, news, sports to business in national, regional and local languages for various categories of people belonging to different age groups. In a vast country like India with huge population, diverse languages and culture, mass communication is an important means of reaching out to the people. They provide information about the various national programmes and policies. They provide knowledge about the various social and economic problems confronted by the country. This creates awareness among the people and helps in forming public opinion. It can also be used as a medium of educating the people. Thus, mass communication has a significant role in a country like India.
Q.3. Discuss the importance of tourism in India.
Ans. Tourism has great importance in the economy and cultural development of India. It promotes national integration. It makes us aware of the beauty and rich cultural heritage of our nation. It promote inter-regional relationship.
Tourism encourages cultural pursuits and provides support to local handicrafts. It helps in development of international understanding.
Tourism is considered to be an invincible trade. India's natural beauty, diversity and glorious past attracts innumerable visitors to India every year. Overseas holidayers and travellers have awarded India the fourth rank among the best holiday destinations of the world. Over 2.6 million foreign tourists visit India every year. Foreign tourists visit India for heritage tourism, cultural tourism, ecotourism, adventure tourism, medical tourism and business tourism. Tourism in India has grown substantially over the last three decades. Foreign tourists arrivals in the country witnessed an increase of 23.5 percent during the year 2004 as against year 2003, thus contributing Rs. 21,828 crores of foreign exchange. The trend is towards increase of foreign tourism and, hence, more foreign exchange earning for the country.
Tourism also plays a major role in employment generation. More than 15 million people are directly engaged in the tourism industry and many more are indirectly connected to it. There is a bright future of the upcoming tourism industry in India.
Q.4. Write a short note on (a) Personal written communication (b) Telecom network of India.
Ans.
(a) Personal written communication is handled by the Indian postal network. Cards and envelopes are considered first-class mail and book packets, registered newspapers and periodicals are called second class mail. The first-class mail is airlifted while the second class mail is carried by surface transport. For quick delivery of mails in cities and large towns, six mail channels have been introduced. They are called Rajdhani Channel, Metro Channel, Green Channel, Business Channel, Bulk Mail Channel and Periodical Channel.
(b) India has one of the largest telecom networks in Asia. It has about 37,565 telephone exchanges spread all over the country. Apart from the towns and cities, more than two-thirds of the villages have already been covered with Subscriber Trunk Dialling (STD) telephone facility. There is uniform rate of STD facility all over India and provisions have been made to extend 24 hours STD facility to all villages. It has been possible by integrating development in Space Technology with Communication Technology. A number of private companies have entered the field of telecommunication and this has resulted in the availability of better facility to the customers.