Q1. Sound cannot travel in vacuum. Describe an experiment to demonstrate this.
Ans. The Bell-Jar Experiment
Objective: To show sound can't propagate through vacuum
Apparatus Required
A glass jar
Electronic Bell
Vacuum pump
Switch (electric connection)
Procedure
An electric bell is taken inside an airtight glass jar.
It is suspended inside the jar.
The jar is connected to a vacuum pump.
The switch is on and air is started to be pumped out.
Observations
At first we can hear the sound of bell clearly.
As soon as air is pumped out, the sound of bell starts to become feeble.
After the air is completely vacated out, no sound is heard.
Conclusion
This means as a vacuum is created in the jar, no sound is heard. This means sound always requires a material medium to travel.
Q2. Explain the structure of the human ear with the help of a diagram.
Ans.
Outer Ear: Pinna, auditory canal and tympanic membrane.

Pinna: It collects the sound from the surroundings.
Auditory Canal: The sound waves collected pass through this canal.
Tympanic Membrane: It is a thin membrane which receives the vibrations of sound. A compression reaches the eardrum, the pressure on the outside of the membrane increases and pushes the eardrum inward, and moves out when the rarefaction reaches.

Middle Ear: Consists of three small bones called hammer, anvil and stirrup.
The vibrations are received by these three bones and the strength of vibrations is increased i.e., the sound is amplified and passed to inner ear.
Inner Ear: It consist of cochlea and auditory nerve. Cochlea receives the amplified vibrations and convert them into electrical signals. These electrical signals are sent to the brain via the auditory nerve and the brain interprets the signals as sound.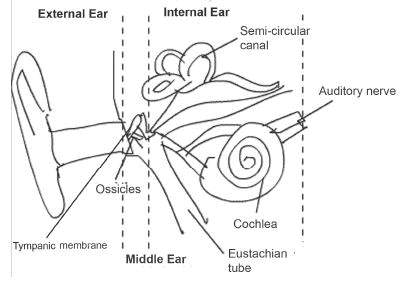 Q3. Given that sound travels in air at 340 m/sec, find the wavelength of the waves in air produced by 20 kHz sound source. If the same source is put in a water tank, what would be the wavelength of the sound waves in water? (Speed of sound in water = 1480 m/s.)
Ans. Speed of sound in air = 340 m/s.
Frequency = 20 kHz = 20 × 103 Hz
Wavelength = ?
∴ Speed = Wavelength × Frequency
v = λ ν
∴

Speed of sound in water = 1480 m/s
Frequency = 20 × 103 Hz
Wavelength = ?
∴ Speed = Wavelength × Frequency



Q4. A child watching Dussehra celebration from a distance sees the effigy of Ravana burst into flames and hears the explosion associated with it 2 sec after that. How far was he from the effigy if the speed of sound in air that night was 335 m/sec?
Ans. Speed of sound in air = 335 m/s.
time required to reach the sound = 2 sec distance of the source of sound =?

∴ Distance = Speed × Time
= 335 × 2 sec
= 670 m.
A child was 670 m away from the spot where effigy burnt.