Q.1. What is the difference between microeconomics and macroeconomics?
Ans. Following points explain the difference between microeconomics and macroeconomics:



Q.2. Describe the four major sectors in an economy according to the macroeconomic point of view.
Ans. Following are the four major sectors in an economy:
(a) Household Sector: By household sector, we mean a group of individuals who purchase goods and services for consumption.
(b) Firm/Production Sector: The production units are called firms. The firm sector includes all the units that buy factors of production from households.
(c) Government Sector: The role of the government sector includes framing laws, enforcing them and delivering justice. The government, in many instances, undertakes production apart from imposing taxes and spending money on building public infrastructure, running schools, colleges, providing health services, etc.
(d) External Sector: The external sector includes exports and imports of goods and services. Capital from foreign countries may also flow into the domestic country, or the domestic country may be ; exporting capital to foreign countries.

Q.3. Describe the Great Depression of 1929.
Ans. The period from 1929 to 1933 is known as the Great Depression. This period witnessed tremendous decline in the level of output and employment in the countries of Europe and North America. It affected other countries of the world as well. The demand for goods in the market was low, many factories were lying idle and workers were thrown out of jobs. During this period, unemployment rate in USA rose from 3 per cent to 25 per cent while aggregate output fell by about 33%.
These events made the economists think about the functioning of the economy in a different way. In other words, we can say that macroeconomics was born as a result of the great depression.

Q.4. Explain 3 phases of circular flow model?
Ans.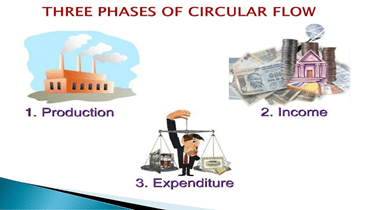 There are three types of phases of Circular flow.
(1) Production phase
(a) In this phase, firms produce goods and services with the help of factor services.
(b) If we study it in term of the quantity of goods and services produced, it is a Real Flow.
(c) But, it is a Money flow, if we study it in terms of the market value of the goods produced.
(2) Distribution Phase:
(a) Income phase. This phase involves the flow of factor income (rent, wages, interest and profits)
(b) It means the flow of income in the form of rent, interest, profit and wages, paid by producer sector to the household sector. It is a Money Flow.
(3) Disposition Phase:
(a) Disposition means expenditure made. This phase deals with expenditure on the purchase of goods and services by households and other sectors.
(b) This is a Money Flow from other sectors to the producer sector. These phases are illustrated in the figure given here.