Seabuckthorn Plantation in the Cold Desert
The Himachal Pradesh government has agreed to begin planting Seabuckthorn in the state's cold desert regions.
Key Points
➤ About Seabuckthorn:
It's a shrub which produces an orange-yellow coloured edible berry.
In India, it is found above the tree line in the Himalayan region, generally in dry areas such as the cold deserts of Ladakh and Spiti.
In Himachal Pradesh, it is locally called chharma and grows in the wild in Lahaul and Spiti and parts of Kinnaur.
A major part is covered by this plant in Himachal Pradesh, Ladakh, Uttarakhand, Sikkim and Arunachal Pradesh.Ecological, Medicinal and Economical benefits.
The Seabuckthorn Plantation has many Ecological Benefits:

Seabuckthorn is a soil-binding plant which prevents soil-erosion, checks siltation in rivers and helps preserve floral biodiversity.
In the Lahaul valley, where willow trees are dying in large numbers due to pest attack, this hardy shrub is a good alternative for protecting the local ecology.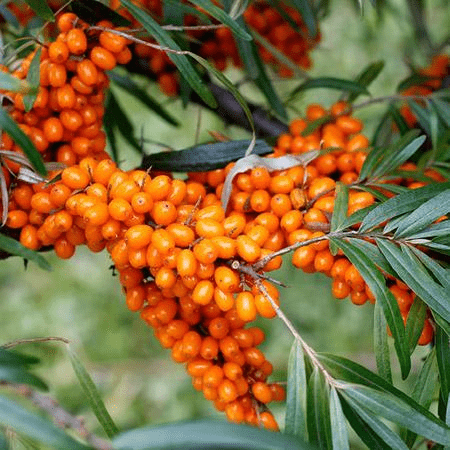 Grows well in dry regions and becomes much more important, especially in reduced water flow from Himalayan glaciers.
➤ Medicinal Benefits:
As a folk medicine, Seabuckthorn has been widely used for treating stomach, heart and skin problems.
Its fruit and leaves are rich in vitamins, carot­enoids and omega fatty acids and it can help troops in acclimatizing to high-altitude.
In the last few decades, scientific research worldwide has backed many of its traditional uses.
➤ Economical Benefits:
Seabuckthorn also has commercial value, as it is used in making juices, jams, nutritional capsules etc.
It is an important source of fuelwood and fodder.
However, wild Seabuckthorn cannot sustainably supply raw material to the industry, and the plant needs to be cultivated on a large scale as is being done in China.
Appeal to Resume Mining in Aravalli Hills
Recently, the Haryana government has appealed to the Supreme Court to permit it to resume mining in the Aravalli Hills because the pandemic had grounded the State's economy to a halt.
Key Points
➤ About the Aravalli Range:
Location:

They stretch for a distance of about 720 km from Him- matnagar in Guja­rat to Delhi, span­ning Haryana, Ra­jasthan, Gujarat, and Delhi.

Formation:

The Aravallis date back to millions of years when a pre-Indian subcontinent collided with the mainland Eurasian Plate.

Age:

Carbon dating has shown that copper and other metals mined in the ranges date back to at least the 5th century BC.

Characteristics:

The Aravallis of Northwestern India, one of the oldest fold mountains of the world, now form residual mountains with an elevation of 300m to 900m.
Guru Shikhar Peak on Mount Abu is the highest peak in the Aravalli Range (1,722 m).
It has been formed primarily of folded crust, when two convergent plates move towards each other by the orogenic movement.

Extension:

The mountains are divided into two main ranges - the Sambhar Sirohi Range and the Sambhar Khetri Range in Rajasthan, where their extension is about 560 km.
The hidden limb of the Aravallis that extends from Delhi to Haridwar creates a divide between the drainage of rivers of the Ganga and the Indus.
➤ Their Significance:
Checks Desertification:

The Aravallis act as a barrier between the fertile plains in the east and the sandy desert in the west.
Historically, it is said that the Aravalli range checked the spread of the Thar desert towards the Indo-Gangetic plains, serving as a catchment of rivers and plains.

Rich in Biodiversity:

Provides habitat to 300 native plant species, 120 bird species and many exclusive animals like the jackal and mongoose.

Impacts Climate:

Aravallis have an impact upon the climate of northwest India and beyond.
During monsoons, it provides a barrier and monsoon clouds move eastwards towards Shimla and Nainital, thus helping nurture the sub-Himalayan rivers and feeding the north Indian plains.
In the winter months, it protects the fertile alluvial river valleys from the cold westerly winds from Central Asia.

Recharges Groundwater:

Aravallis also functions as a groundwater recharge zone for the regions around that absorb rainwater and revive groundwater.

Checks Pollution:

This range is considered the "lungs" for the polluted air of Delhi-National Capital Region (NCR).
For Haryana, having the lowest forest cover at around 3.59% of the total forest cover in India, the Aravalli range is the only saving grace, providing the major portion of its forest cover (2017 Report).
➤Threats:
The Aravalli hills are an ecologically sensitive zone but have for years borne the brunt of quarrying and environmental degradation.
A 2018 report by a Supreme Court-appointed Central Empowered Committee (CEC) found out that 25% of the Aravalli range has been lost due to illegal mining in Rajasthan since 1967-68.
The consequences of the mining has been a destruction of aquifers and deforestation. Many rivers originating in the Aravalli like Banas, Luni, Sahibi and Sakhi, are now dead.
➤ Steps Taken:
Mining in the Aravalli region has been banned since 2002 under the Supreme Court orders, unless expressly permitted by the Union Environment Ministry. However, mining continues illegally.
The green wall is being planned from Porbandar to Panipat which will help restore degraded land through afforestation along the Aravali hill range.
Residents and volunteers from iamgurgaon, a citizen action group involved in the conservation of the Aravallis, were assisted by ecologists to create a self-sustaining Aravalli. This society driven model could be more effective to combat the degradation.
Black-Browed Babbler Rediscovered
Recently, a Black-Browed Babbler (Malacocincla perspicillata) was rediscovered in southeastern Kalimantan, the part of Borneo that Indonesia administers.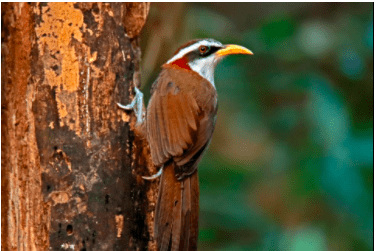 ➤ History:
In the 1840s, a mystery bird was caught on an expedition to the East Indies. It was named as black-browed babbler.
The species was never seen in the wild again, and a stuffed specimen featuring a bright yellow glass eye was the only proof of its existence.

No Asian bird has been missing for as long as Indonesia's Black-browed Babbler. It has been missing for the last 170 years.
This bird is often called 'the biggest enigma in Indonesian ornithology'.
➤ About:
It has a strong bill, chocolate colouring and distinctive black eye-stripe, its iris is of striking maroon colour.
It has brown wings and a black stripe across its brow.
➤ Significance:
Discoveries like this give hope that it's possible to find other species that have been lost to science for decades or longer.
More than 150 species of birds worldwide are considered "lost" with no confirmed sightings in the past decade.
➤ Protection Status:
IUCN Red List: Data Deficient
Similipal Biosphere Reserve: Odisha
A major fire recently erupted in Odisha's Similipal Biosphere Reserve.
The biosphere's heart was unaffected by the fire, but it threatened the biosphere's rich biodiversity.
Key Points
➤ About:
Similipal derives its name from 'Simul' (silk cotton) tree.
It was formally designated a tiger reserve in 1956 and brought under Project Tiger in 1973.
It was declared a biosphere reserve by the Government of India in June, 1994.
It has been part of the UNESCO World Network of Biosphere Reserve since 2009.
It is part of the Similipal-Kuldiha-Hadgarh Elephant Reserve popularly known as Mayurbhanj Elephant Reserve, which includes 3 protected areas i.e. Similipal Tiger Reserve, Hadagarh Wildlife sanctuary and Kuldiha wildlife sanctuary.
➤ Location:
It is situated in the northern part of Odisha's Mayurbhanj district. Geographically, it lies in the eastern end of the eastern ghat.
➤ Coverage:
The biosphere spread over 4,374 sq. km. has 845 sq. km. of core forest (tiger reserve), 2,129 sq km buffer area and 1,400 sq km of transition space.
➤ Vegetation:
Similipal has 1,076 flowering species and 96 species of orchids. It boasts of having tropical semi-evergreen forests, tropical moist deciduous forests, dry deciduous hill forests, high level sal forests and sprawling meadows.
➤ Tribes:
Two tribes, the Erenga Kharias and the Mankirdias, inhabit the reserve's forests and practise traditional agricultural activities (the collection of seeds and timber).
➤ Wildlife:
Similipal is home to a wide range of wild animals including tigers and elephants, besides 304 species of birds, 20 species of amphibians and 62 species of reptiles.
➤ Vulnerability to Forest Fires:
Natural Causes: Lighting or even soaring temperatures can sometimes result in forest fires.
Man Made Factors: Instances of poaching and hunting wherein the poachers set a small patch of forest on fire to divert the wild animals, can lead to forest fires.
➤ Mitigation Strategies:
Forecasting fire-prone days and including community members to mitigate fire incidents, create fire lines, clearing sites of dried biomass, and crackdown on poachers.
The forest fire lines which are strips kept clear of vegetation, could help break the forest into compartments to prevent fires from spreading.
Other Major Protected Areas in Odisha
➤ National Parks:
Bhitarkanika National Park: It is home to the largest congregation of the endangered SaltWater Crocodile in the country.
➤ Wildlife Sanctuaries:
Badrama WLS: The presence of Moist Sal Forests characterizes it.
Chilika (Nalaban island) WLS: Asia's largest and world's second-largest lagoon. Recently, direct sightings of school of Irrawaddy dolphins has been reported here.
Hadgarh WLS: Salandi river passes through it which is home to mugger crocodiles.
Baisipalli WLS: It is a sal dominated forest with a significant number of tigers, leopards, elephants, herbivores like Chousingha.
Kotagarh WLS: It consists of dense deciduous forests with grasslands.
Nandankanan WLS: First in the world to breed White tiger and Melanistic tiger.
Lakhari Valley WLS: It is a dwelling place of many elephants.
Gahirmatha (Marine) WLS: It is a mass nesting spot in Indian Ocean region and the only turtle sanctuary in Odisha. The Olive Ridley turtles travel across the South Pacific to breed on the coast of Gahirmatha.
WWF Conservation Drive on World Wildlife Day
The Worldwide Fund for Nature (WWF) recently called on various stakeholders, including the European Union (EU), to save Europe's last old-growth forests on the occasion of World Wildlife Day (3 March).
WWF was established in 1961 and is headquartered at Gland, Switzerland. Its mission is to conserve nature and reduce the most pressing threats to the diversity of life on Earth.
Key Points
➤ About:
Europe's Old-Growth Forests (OGF) are primitive forests that are dominated by natural processes. They include virgin, near-virgin, long-untouched forests by humans, eg: Biatowieza Forest in Poland.
To date, 3,50,000 hectares (ha) of old-growth and virgin forests had been identified in Central and Southeastern Europe. Of these, only 2,80,000 ha were legally protected.
➤ Location:
The largest areas of surviving OGF and forest habitats in Europe (outside of Russia) were found primarily in Romania, Ukraine, Slovakia and Bulgaria.
➤ Ecological Importance:
They were home to Europe's largest surviving large carnivore populations, as well as thousands of other species of flora and fauna.
These forests rendered important ecosystem services such as filtering and storing freshwater to regulate the climate and were thus essential to people and the economy.
➤ Threats:
Increasing pressure on forests from both unsus­tainable legal and illegal logging, as well as the impacts of climate change.
The fragmentation and destruction of forest habitats meant that both animals and disease vectors were inadvertently coming into more frequent contact and conflict with humans.
➤ Steps that can be Taken:
Developing and promoting sustainable compen­sation mechanisms.
Developing forest-based local green business and investment schemes to support sustainable development of such forests.
World Wildlife Day
It is celebrated every year on the 3rd of March, since 2013. The date chosen coincides with the day the Convention on International Trade in Endangered Species of Wild Fauna and Flora (CITES) was signed in 1973. o The United Nations General Assembly resolution also designated the CITES Secretariat as the facilitator for the global observance of this special day for wildlife on the UN calendar.
➤ Theme:
The theme of World Wildlife Day 2021 is Forests and Livelihoods: Sustaining People and Planet. It is set in alignment with the UN Sustainable Development Goals.
➤ In India:
On this occasion, the Union Environment Ministry declared that it is dedicated for the reintroduction of Cheetah, which went extinct in 1952.
Pench Tiger Reserve: Maharashtra
Recently, a female cub of 'man-eater' tigress Avni has been released into the wild in the Pench Tiger Reserve (PTR) of Maharashtra.
Key Points
➤ About:
It is located in Nagpur District of Maharashtra and named after the pristine Pench River.

The Pench river flows right through the middle of the park.
It descends from north to south, thereby dividing the reserve into equal eastern and western parts.

PTR is the joint pride of both Madhya Pradesh and Maharashtra.

The Reserve is located in the southern reaches of the Satpura hills in the Seoni and Chhindwara districts in Madhya Pradesh. It continues in Nagpur district in Maharashtra as a separate Sanctuary.

It was declared a National Park by the Government of Maharashtra in 1975 and the identity of a tiger reserve was granted to it in the year 1998-1999.

However, PTR Madhya Pradesh was granted the same status in 1992-1993. It is one of the major Protected Areas of Satpura-Maikal ranges of the Central Highlands.

It is among the sites notified as Important Bird Areas (IBA) of India.

The IBA is a programme of Birdlife International which aims to identify, monitor and protect a global network of IBAs for conservation of the world's birds and associated diversity.
➤ Flora:
The green cover is thickly spread throughout the reserve.
A mixture of Southern dry broadleaf teak forests and tropical mixed deciduous forests is present.
Shrubs, climbers and trees are also frequently present. Some of them are unique varieties and possess medicinal and healing properties.
Bamboo plantations are also present nearby the water banks.
➤ Fauna:
Mammals:

These include - sloth bear, jackal, nilgai, wild dog etc.

Birds:

This comprises peafowl, magpie robin, pintail, drongo, unia, myna etc.
Independent Environment Regulator
The Supreme Court (SC) recently asked the government to clarify why a "Independent Environment Regulator" was not established to oversee green clearances.
Key Points
➤ SC's Order:
SC had ordered a national environment regulatory body setting under the Environment (Protection) Act, 1986 to ensure independent oversight of green clearances way back in Lafarge Umiam Mining Private Limited v. Union of India case (2011), commonly known as the Lafarge mining case.
➤ Envisaged Functions of the Regulator:
Appraisal and Approval:

The regulator will carry out independent, objective and transparent appraisal and approval of projects for environmental clearances.

Monitoring and Implementation:

It will also monitor the implementation of the conditions laid down in the clearances and impose penalties on polluters. While exercising such powers, the regulator will ensure the National Forest Policy, 1988 is duly implemented.
➤ Current Issues:
Related to Environment Impact Assessment (2006):
Lack of Capacity:

The environmental clearance at the national level is overseen by an Expert Appraisal Committee (EAC), which functions on an ad- hoc basis, without much regulatory capacity.
The state-level appraisal committees overseeing the clearance also function without much regulatory support.
The committees function as per the Environment Impact Assessment (EIA) Notification 2006.

Lack of Expertise:

ON MANY OCCASIONS, the EAC has been questioned for lack of expertise of its members and chairpersons.

Lack of Proper Legislation:

EAC and the state-level committees are toothless due to the lack of effective legislative power and supporting institutional capacity.

Multiplicity of Regulations and Increasing Cost:

There are too many clearances for the same thing; none of them seem to be working for the environment or protecting the rights of communities. Worse, they are adding to the burden of industry in terms of high transaction costs.
Forest clearance under Section 2 of the Forest (Conservation) Act, 1980.
Coastal clearance under the Coastal Regulation Zone Notification, 2011.
Wildlife clearance under the Wildlife Protection Act, 1972.
This multiplicity of regulations and regulatory authorities help unscrupulous elements in the industry and the government.
➤ Need:
Unbiased Decision Making:

Lack of an independent body to oversee the entire environmental regulatory process could lead to a possible political interest in the decision-making.

Proper Compliance:

The major concerns regarding EIA norms, such as compliance monitoring and ex-post regularisation, could be tackled with proper standard-setting by a regulator.

Capacity and Independence:

The present environmental regulation institutional mechanism in India, which lies with pollution control boards at the state and central level, lacks regulatory capacity and independence.

Preventing Regulatory Delays:

Cutting down on regulatory delays is also important. This may be possible with the help of a credible independent regulator. But an optimum level of rigour in the regulatory process and standards is important for environmental protection.
➤ Temporary Solution:
As per the SC till an Independent Regulator was put in place, the Environment Ministry should prepare a panel of accredited institutions from which alone the project proponent should obtain the Rapid Environmental Impact Assessment (EIA).