DIRECTIONS (Q. No.1): Each question contains statements given in two columns, which have to be matched. The statements in Column-I are labelled A, B, C and D, while the statements in Column-II are labelled p, q, r, s and t. Any given statement in Column-I can have correct matching with ONE OR MORE statement(s) in Column-II. The appropriate bubbles corresponding to the answers to these questions have to be darkened as illustrated in the following example :
If the correct matches are A-p, s and t; B-q and r; C-p and q; and D-s then the correct darkening of bubbles will look like the given.

Q.1. Match each of the compounds in Column I with its characteristic reaction(s) in Column II.
Column I Column II
(A) CH3CH2 CH2CN (p) Reduction with Pd–C/H2
(B) CH3 CH2 OCOCH3 (q) Reduction with SnCl2/HCl
(C) CH3–CH= CH–CH2OH (r) Development of foul smell on treatment with chloroform and alcoholic KOH
(D) CH3CH2CH2CH2NH2 (s) Reduction with diisobutylaluminium hydride(DIBAL-H)
(t) Alkaline hydrolysis
Ans. (A)– p, q, s, t; (B) – s, t; (C) – p; (D) – r
Solution.




DIRECTIONS (Q. No. 2) : Match the four starting materials (P, Q, R, S) given in List-I with the corresponding reaction schemes (I, II, III, IV) provided in List-II and select the correct answer using the code given below the lists.
Q.2. List - I List - II

1. Scheme I
(i) KMnO4,


(iii) SOCl2 (iv) NH3 ? —————————————→ C7H6N2O3

2. Scheme II
(ii) Sn/HCl (ii) CH3COCl (iii) conc. H2SO4 (iv) HNO3 (v) dil. H2SO4,
heat (vi)

? ———————————→C6H6N2O2

3. Scheme III
(i) red hot iron, 873 K
(ii) fuming HNO3, H2SO4, heat
(iii) H2S.NH3
(iv) NaNO2,H2SO4
(v) hydrolysis ? ——————→ C6H5NO3

4. Scheme IV
(i) conc. H2SO4, 60°C
(ii) conc. HNO3, conc. H2SO4
(iii) dil. H2SO4, heat ?——————→C6H5NO4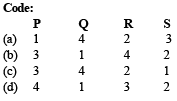 Ans. (c)
Solution.