Direction : question contains statements given in two columns, which have to be matched. The statements in Column-I are labelled A, B, C and D, while the statements in Column-II are labelled p, q, r, s and t.
Q.
Match the reactions in Columns I with nature of the reactions/type of the products in Column II. Indicate your answer by darkening the appropriate bubbles of the 4 × 4 matrix given in the ORS.
Column I
Column II
(p) redox reaction
(q) one of the products has trigonal planar structure
(r) dimeric bridged tetrahedral metal ion
(s) disproportionation
Ans: A - p, s); (B - r); (C - p, q); (D - p).
Solution : A→ p, s; The reaction is redox reaction because the O.N. of O in

is – 0.5 and that in O2 is zero. In

is –1.0. It
involves reduction oxidation reaction. Since here a part of molecule is oxidised and a part is reduced so it is disproportionation.
B → r; The structure of

is given below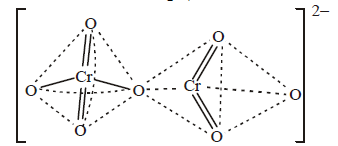 [NOTE : In any solution dichromate ions and chromate ions exist in equilibrium. In alkali solution, dichromate ions are converted into chromate ions and on acidification chromate ions are converted back into dichromate ion.]
C → p, q; The reaction is

In involves change in O.N of Mn

to
+ 2(in Mn2+), So Mn is reduced and NO2– is oxidised to

it is a redox reaction. The structure of

it is a redox reaction.
– (one of the products is trigonal planar)
D → p, It is a redox reaction
Direction : questions have matching lists. The codes for the lists have choices (a), (b), (c) and (d) out of which ONLY ONE is correct.
Q.
An aqueous solution of X is added slowly to an aqueous solution of Y as shown in List I. The variation in conductivity of these reactions is given in List II. Match list I with List II and select the correct answer using the code given below the lists : (JEE Adv. 2013)
List I
List II
1. Conductivity decreases and then increases
2. Conductivity decreases and then does not change much
3. Conductivity increases and then does not change much
4. Conductivity does not change much and then increases
Codes: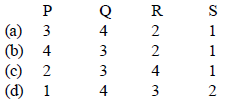 Ans: a
Solution : (a)
(p)


Initially conductivity increases because on neutralisation ions are created. After that it becomes practically constant because X alone can
not form ions.
Q.

Number of ions in the solution remains constant as only AgNO3 precipitated as AgI. Thereafter conductance increases due to increase in number
of ions.
(R) Initially conductance decreases due to the decrease in the number of

ions as OH– is getting replaced by CH3COO– which has poorer conductivity
thereafter it slowly increases due to the increase in number of H+ ions.
(S) Initially it decreases due to decrease in H+ ions and then increases due to the increase in OH– ions.
Q.
The standard reduction potential data at 25°C is given below : (JEE Adv. 2013)
E°(Fe3+, Fe2+) = + 0.77 V; E°(Fe2+, Fe) = – 0.44 V; E°(Cu2+, Cu) = + 0.34 V; E°(Cu+, Cu) = + 0.52 V
E°[O2(g) + 4H+ + 4e– → 2H2O] = + 1.23 V; E°[O2(g) + 2H2O + 4e– → 4OH–] = + 0.40 V
E°(Cr3+, Cr) = – 0.74 V; E°(Cr2+, Cr) = – 0.91 V

Match E° of the redox pair in List I with the values given in List II and select the correct answer using the code given below the lists :
List I
List II
1. – 0.18 V
2. – 0.4 V
3. – 0.04 V
4. – 0.83 V
Codes :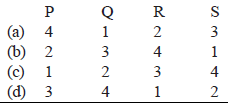 Ans: d
Solution :








– 0.74V, n = 3
x × 1 + 2 × (– 0.91) = 3 × (– 0.74)
x – 1.82 = – 2.22 ⇒ x = – 0.4V