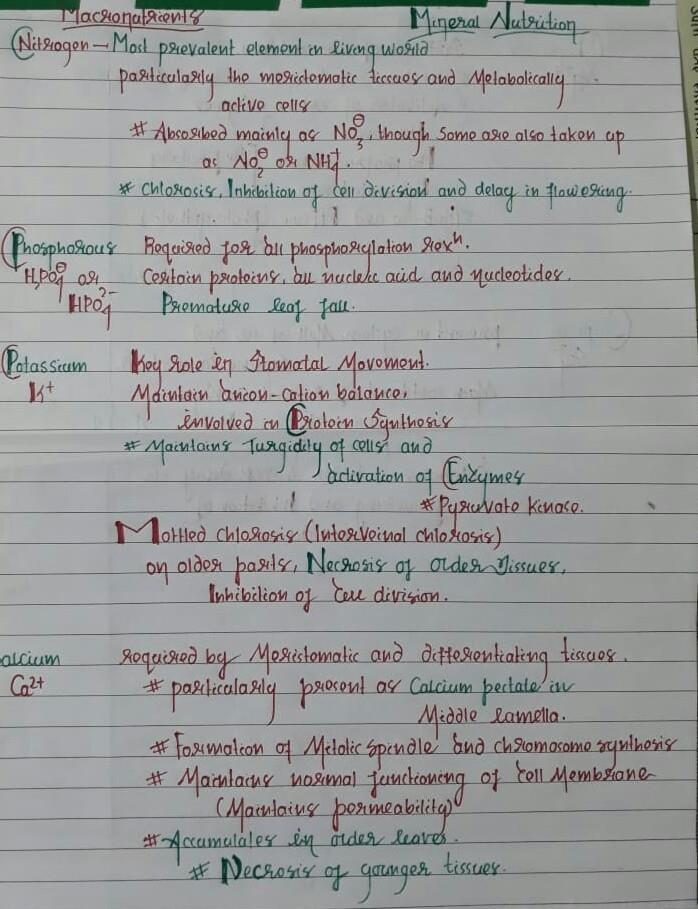 Mineral nutrition in plants
Every living organisms need carbohydrates, proteins, fats, water, and minerals to live. Similarly, plants need
nutrients for growth and development.
Methods to study the mineral requirement of plants
• Hydroponics is a technique in which plants are grown in nutrient solution instead of soil. This
technique is used at the time of commercial production of vegetables. It is also used to study the
mineral deficiency diseases in plants.
• Aeroponics is the technique in which nutrients are sprayed suspended in the air.
Essential mineral elements
Different plants have different mineral requirements. There is criterion for the essentiality of an element. It
includes-
• The element must be necessary for normal growth and reproduction. In the absence of that element the
plants will not be able to complete its life cycle.
• The requirement of the element must be specific, and it should not be replaceable by any another
element.
• The element must be directly involved in the metabolism of the plant.
The mineral elements needed by the plant is divided into- macronutrients and micronutrients
Macronutrients:
These elements are needed by the plants in large quantities. It includes carbon, hydrogen, oxygen, nitrogen,
phosphorous, sulphur, potassium, calcium and magnesium. Carbon, hydrogen and oxygen are obtained mainly
from CO2 and H2O. Others are absorbed from the soil as mineral nutrition.
Micronutrients
These are the nutrients that are needed by the plants in small quantity. It includes iron, manganese, copper,
molybdenum, zinc, boron, chlorine and nickel.
Essential elements are grouped in different categories based on their diverse functions such as-
• Essential elements such as carbon, hydrogen, oxygen and nitrogen serves as components of various
biomolecules such as amino acids, lipids and hence structural elements of cells
• Essential elements are major components of chemical compounds related to energy such as magnesium
ion in chlorophyll and phosphorous in ATP.
• Essential elements also influence enzyme action by acting as activator and inhibitor of certain
enzymes. For example, Mg2+ activates both ribulose bisphosphate carboxylase oxygenase and
phosphoenol pyruvate carboxylase. Both of these are essential in carbon fixation. Zn2+ activates
alcohol dehydrogenase and Mo is essential for nitrogenase activity during nitrogen metabolism.
• Some essential elements control osmolarity of a cell. Potassium ions control the opening and closing
of stomata.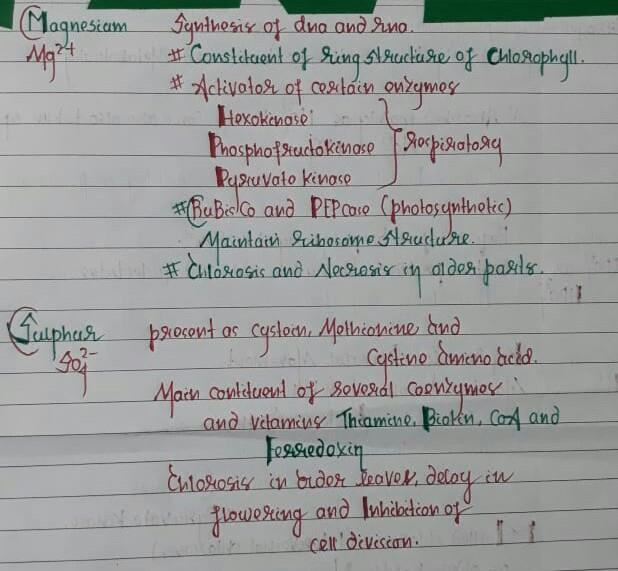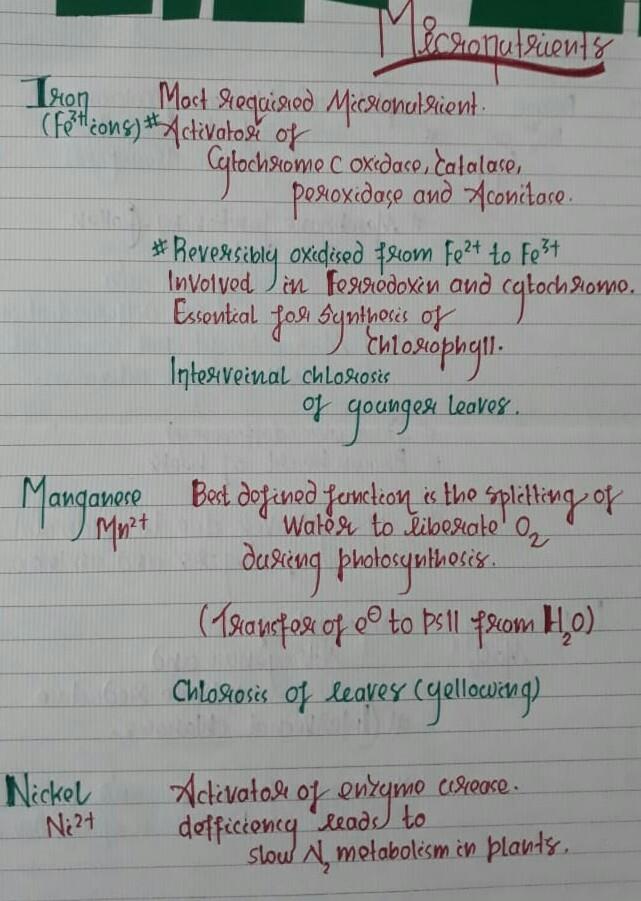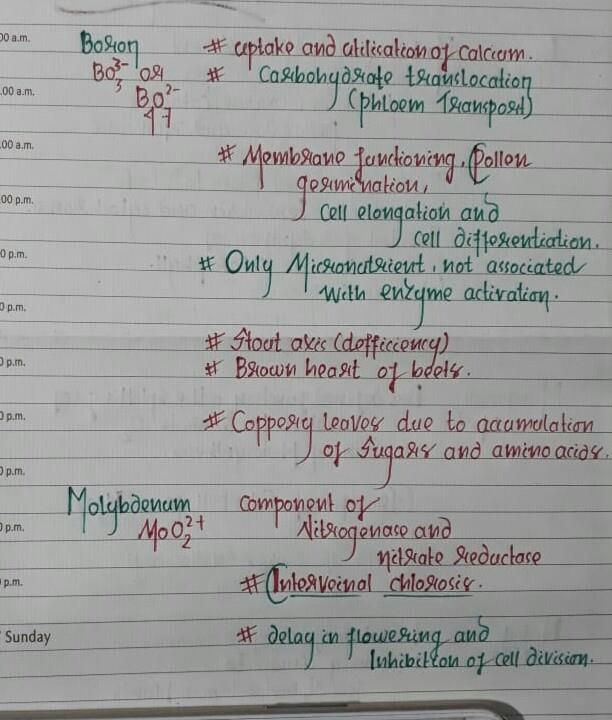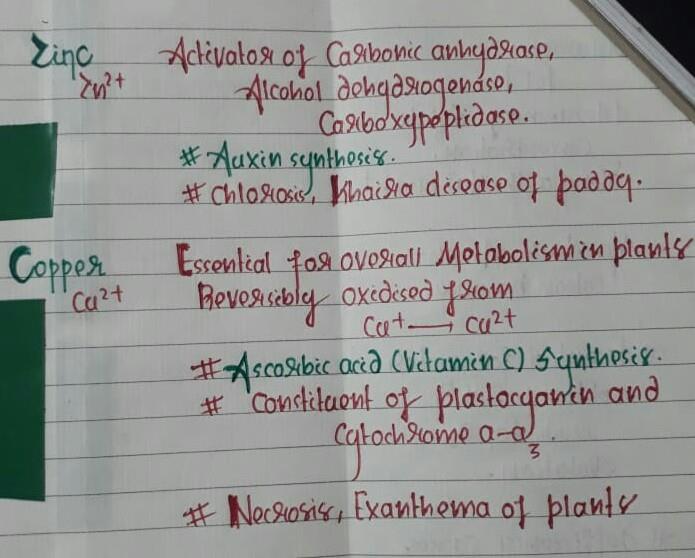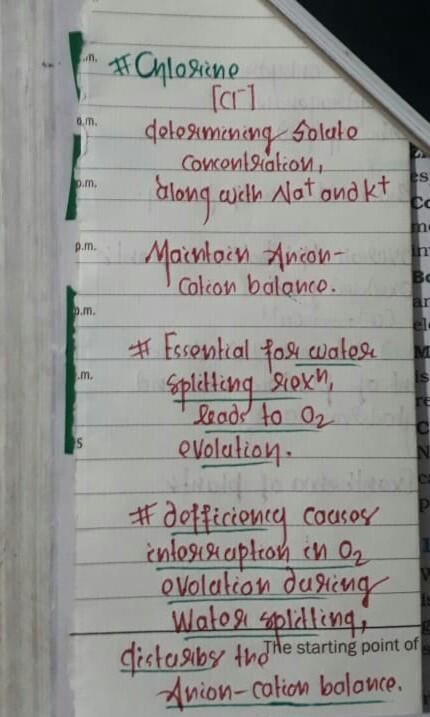 Biological nitrogen fixation occurs in presence of nitrogen fixing bacteria such as Rhizobium. The
prokaryotes that fixes nitrogen biologically are known as diazotrophs. Rhizobium lives in symbiotic
association with the roots of the leguminous plants. The enzyme that fixes nitrogen biologically is
known as nitrogenase. Nitrogen fixing bacteria can be free living as well as symbiotic. Examples of
free-living nitrogen-fixing aerobic microbes are Azotobacter, Rhodospirillum, Anabaena and Nostoc
etc.
Rhizobium lives in symbiotic association with the leguminous plants such as pea, beans, clover, alfalfa,
etc. Nitrogen fixation involves characteristic nodule formation. Nodule formation begins with the
interaction of Rhizobium with the roots of the plants. These plants release certain chemicals that attract
the bacteria towards the roots of the plants. The Rhizobium secrets root hair curling factor that helps
the bacteria to further invade the roots. Nitrogenase enzyme that catalyses nitrogen fixation is sensitive
to oxygen. Oxygen is therefore scavenged by the enzyme leghemoglobin (belonging to hemoglobin
family) during nitrogen fixation.