INTRODUCTION
To perform various functions of the body, energy is required, which is obtained from food. The process of conversion of complex food material in to simple and diffusible forms by hydrolysis is termed as Digestion.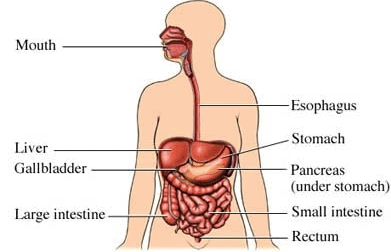 Fig: Digestive system
The alimentary canal is tubular structure which extends from mouth to anus. It develops from ectoderm & endoderm.
Ectoderm– up to hard palate
Endoderm– from soft palate to rectum
Ectoderm– from anal canal to Anus
• The alimentary canal is divided into following parts–
(i) Mouth and Buccopharyngeal cavity
(ii) Oesophagus
(iii) Stomach
1. Mouth and Buccopharyngeal Cavity: Mouth is a horizontal transverse slit like aperture which is surrounded by upper and lower lip, a specific muscle is associated with lip called orbicularis oris muscle.
a. Sebaceous glands are found on the outer part of lip. Serous glands are found on the inner part of lip. Serous glands is the modification of mucus glands. Its secretory substance is watery.
b. In Rabbit a small cleft is found in the middle part of upper lip, such type of lip is called as Hare lip.
c. Mouth opens into Buccopharyngeal cavity, this cavity is divided into two parts.
(i) Buccal vestibule: The space between the gums and cheeks where the food is stored temporarily for some time.It is a peripheral part.
(ii) Oral cavity: It is inner & central part which is surrounded by upper and lower jaw. Lined by stratified squamous epithelium. It is inner and central part. Upper Jaw is Fixed and Lower Jaw is Movable.
The roof of oral cavity is called as Palate.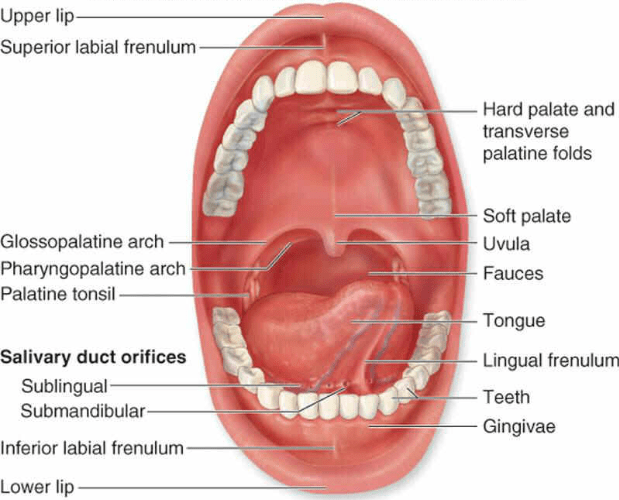 Fig: Mouth
PALATE IS DIFFERENTIATED INTO TWO PARTS
1. Hard Palate:
(i) It is the anterior part of the palate. It is made up of Maxilla and palatine bone in human. But in Rabbit it is made of Pre-maxilla, maxilla, palatine bone.
(ii) On the ventral surface of hard palate, some projection or transverse ridges are present which are called as palatine rugae.
(iii) These rugae prevent slip out of the food from buccal cavity during mastication.
(iv) These rugae are well developed in carnivorous animals.
(v) In rabbit, one pair opening of Nasopalatine duct is present at the anterior part of hard palate, these connect the buccal cavity to the Nasal passage. In Rabbit some olfactory receptor are also found in nasopalatine duct which are called as Jacobson's organ. It makes them aware of the smell of food while chewing.
2. Soft Palate:
(i) It is the posterior part of palate. It is made up of involuntary muscle fibrous connective tissues and mucous epithelium. (Stratified squamous epithelium)
(ii) The posterior out growth of soft palate which hangs down in the form of finger like process called as Uvula or Velum palati. On the dorsal side of Uvula internal nasal pores are present.Uvula or Velum palati covers the opening of internal nasal pores during ingestion of food, so food particle can not move inside nasal chamber.
(iii) One pair of large lymph node is present on the posterolateral surface of soft palate, called as Palatine tonsil or Tonsils.
(iv) Soft palate is situated in the pharynx and is divided into two parts.
(v) Upper part of pharynx is called Nasopharynx which is related to the nasal chamber. The lower part of pharynx is called oropharynx which is related to the oral cavity. One pair of openings of Eustachian tube is present in the nasopharynx. This Eustachian tube is related to the middle ear, It maintain air pressure.
(vi) Oropharynx and nasopharynx are the common path for the air and food.

TONGUE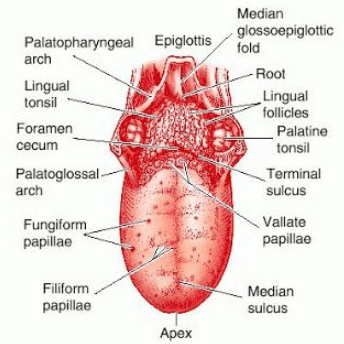 Fig: Tongue
(i) On the floor of oral cavity a muscular, flat, fleshy plate like structure is present which is called tongue. The anterior part of tongue is free while posterior part of Tongue is connected to the Hyoid bone.
(ii) The surface of tongue is connected to the floor of buccal cavity through a very flexible membrane/ligamentous fold called as frenulum linguae
(iii) On the dorsal surface of tongue, it is divided into two unequal parts by a V shaped sulcus, called as sulcus terminalis.
The two limbs of the 'V' meet at a median pit named Foramen Caecum.
It is divided into two parts.
Two type of muscles are present in tongue:
1. Extrinsic muscle
(i) It is found on outer and superficial part of tongue.
(ii) It helps in outward and inward movement of tongue.
2. Intrinsic muscle
(i) It is situated in the deep part of tongue.
(ii) It help in the change of shape of tongue.