Summary
One last Friday morning, the poetess was driving from her parents' home to the Cochin airport. Her mother was sitting beside her in the car. She suddenly had a look at her mother. She found that her mother was dozing with her open mouth. Her face was as pale as that of a corpse. The poet painfully realized that her mother is not going to live long. This painful thought haunted her. But soon she tried to put it off by looking out of the car window. She saw the young trees running past them. She looked at the merry children coming out of their homes. As she saw life and vitality in the outside world, the painful thought passed away from her mind.
After reaching the airport, she went through the security check. Her mother was standing outside a few yards away. After the security check, she looked at her mother again. Her face was pale white like a late winter's moon. She felt the old familiar ache of childhood in her heart which is usually felt by a child due to the fear of separation from his/ her mother. But she contained herself and kept on smiling in order to conceal her emotions. She spoke no word to her mother.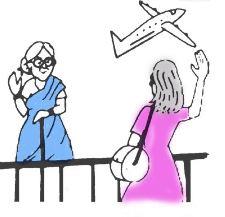 All that she said was, "See you soon, Amma" and bade good bye to her mother with a hope to see her again.
Main points
1. Poetess travelling to Cochin airport with her mother in a car.
2. Looks at the wan, pale face of her dozing mother.
3. Old fear of loosing her mother returns.
4. Sprinting trees and merry children provide the contrast and relief.
5. After the security check the old familiar ache returns.
6. Tries to hide her emotions by smiling.
7. Bids good bye to her mother with a hope to see her again.