SHORT ANSWER TYPE QUESTIONS
Q.1. Write true (T) or false (F):
(a) Whittaker proposed five kingdom classification.
(b) Monera is divided into Archaebacteria-and Eubacteria.
(c) Starting from Class, Species comes before the Genus.
(d) Anabaena belongs to the kingdom Monera.
(e) Blue-green algae belongs to the kingdom Protista.
(f) All prokaryotes are classified under Monera.
Ans: (a) T
(b) T
(c) F
(d) T
(e) F
(f) T

Q.2. Fill in the blanks:
(a) Fungi shows_____mode of nutrition.
(b) Cell wall of fungi is made up of_____.
(c) Association between blue-green algae and fungi is called as____.
(d) Chemical nature of chitin is_____.
(e)____has smallest number of organisms with maximum number of similar characters
(f) Plants without well-differentiated stem, root and leaf are kept in______.(g)_____are called as amphibians of the plant kingdom.
Ans: (a) saprophytic
(b) chitin
(c) lichen
(d) carbohydrate
(e) Species
(f) thallophyta
(g) Bryophyte

Q.3. You are provided with the seeds of gram, wheat, rice, pumpkin, maize and pea. Classify them whether they are monocot or dicot.
Ans:



Q.4. Match items of column (A) with items of column (B)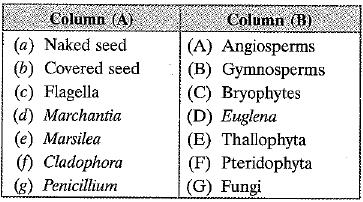 Ans: (a) → B;
(b) → A;
(c) → D;
(d) → C;
(e) → F;
(f) → E;
(g) → G

Q.5. Match items of column (A) with items of column (B)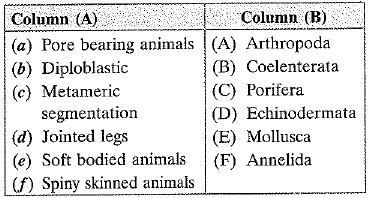 Ans: (a) → C;
(b) → B;
(c) → F;
(d) → A;
(e) → E;
(f) → D

Q.6. Classify the following organisms based on the absence/presence of true coelom (i.e., acoelomate, pseudocoelomate and coelomate)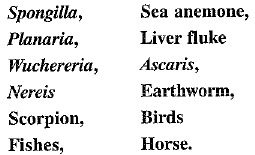 Ans: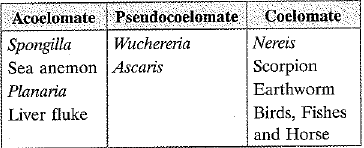 Q.7. Endoskeleton of fishes are made up of cartilage and bone; classify the following fishes as cartilagenous or bony.



Ans:




Q.8. Classify the following based on number of chambers in their heart.
Rohu, Scoliodon, Frog, Salamander, Flying lizard, King cobra, Crocodile, Ostrich, Pigeon, Bat, Whale
Ans: Rohu, Scoliodon: 2-Chambered
Frog, Salamander, Flying lizard, King cobra: 3-Chambered
Crocodile, Ostrich, Pigeon, Bat, Whale: 4-Chambered

Q.9. Classify Rohu, Scoliodon, Flying lizard, King Cobra, Frog, Salamander, Ostrich, Pigeon, Bat, Crocodile and Whale into the cold blooded/ warm blooded animals.
Ans: Cold-blooded animals — Rohu, Scoliodon, frog, Salamander, Flying Lizard, King Cobra, Crocodile
Warm-blooded animals — Ostrich, Pigeon, Bat, Whale

Q.10. Name two egg laying mammals.
Ans: (a) Duck-billed Platypus
(b) Echidna

Q.11. Fill in the blanks:
(a) Five kingdom classification of livingorganisms is given by_______.
(b) Basic smallest unit of classification is__________.
(c) Prokaryotes are grouped in Kingdom__________.
(d) Paramecium is a protista because of its_________.
(e) Fungi do not contain________ .
(f) A fungus______can be seen without microscope.
(g) Common fungi used in preparing the bread is______.
(h) Algae and fungi form symbiotic association called______.
Ans: (a) Robert Whittaker
(b) Species
(c) Monera
(d) Eukaryotic unicellular organisms
(e) Chlorophyll
(f) Mushroom
(g) Yeast
(h) Lichens

Q.12. Give True (T) and False (F):
(a) Gymnosperms differ from Angiosperms in having covered seed.
(b) Non-flowering plants are called Cryptogamae.
(c) Bryophytes have conducting tissue.
(d) Funaria is a moss.
(e) Compound leaves are found in many ferns.
(f) Seeds contain embryo.
Ans: (a) F
(b) T
(c) F
(d) T
(e) T
(f) T

Q.13. Give examples for the following:
(a) Bilateral, dorsiventral symmetry is found in _________.
(b) Worms causing disease elephantiasis is________.
(c) Open circulatory system is found in________.
where coelomic cavity is filled with blood.
(d)______are known to have pseudocoelom.
Ans: (a) Liver fluke
(b) Filarial worm (Wuchereria)
(c) Arthropods
(d) Nematodes (Roundworms)

Q.14. Label a, b, c and d given in figure. Give the function of b.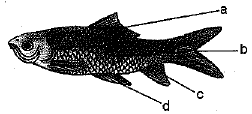 Ans: a - Dorsal fin
b - Caudal fin
c - Anal fin
d - Pelvic fin
Function of Caudal fin— It helps in streamlined movement in water.

Q.15. Fill in the boxes given in figure with appropriate characteristics/plant group (s).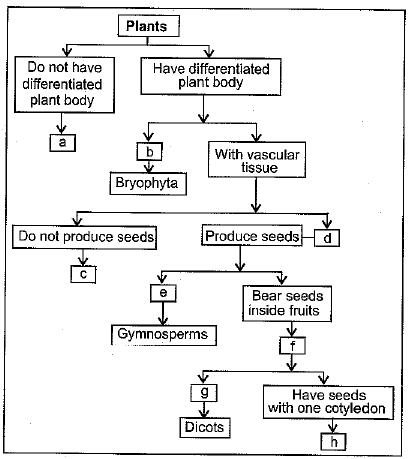 Ans:
a - Thallophyta
b - Without specialised vascular tissue
c - Pteridophyta
d - Phanerogams
e - Bear naked seeds
f - Angiosperms
g - Have seeds with two cotyledons
h - Monocots
LONG ANSWER TYPE QUESTIONS
Q.16. Write names of few thallophytes. Draw a labelled diagram of Spirogyra.
Ans: Uloihrix, Spirogyra, Cladophora and Chara are the examples of Thallophyta.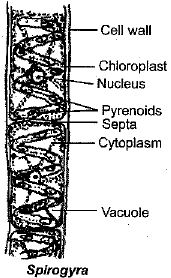 Q.17. Thallophvta, bryophyta and pteridophyta are called as 'Cryptogams'. Gymnosperms and Angiosperms are called as 'phanerogams'. Discuss why? Draw one example of Gymnosperm.
Ans: The thallophyta, bryophyta and pteridophyta are called as 'Cryptogams' because the reproductive organs of these groups are inconspicuous or hidden and do not bear flowers or seeds. Gymnosperms and angiosperms are called 'Phanerogams' 'as they have conspicuous reproductive organs with seeds containing an embryo with stored food, which serves for the initial growth of the embryo during germination.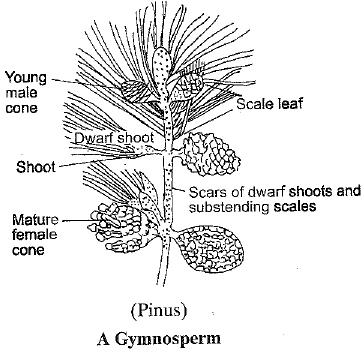 Q.18. Define the terms and give one example of each.
(a) Bilateral symmetry
(b) Coelom
(c) Triploblastic
Ans: (a) Bilateral symmetry is a type of symmetry in which appendages and organs of the body are paired in which the left and right halves of the body have the same design, e.g. liver fluke.
(b) Coelom is mesoderm lined fluid fille internal body cavity between visceral organs and body wall in which well develope organs can be accommodated, e.g. butterfly
(c) Triploblastic are animals having three laye: of cells from which differentiated tissue can be made. e.er starfish.

Q.19. You are given leech, Nereis, Scolopendra, prawn and scorpion; and all have segmented body organisation. Will you classify them in one group? If no, give the important characters based on which you will separate these organisms into different groups.
Ans: All organisms given in the question do not belong to same group. Leech and Nereis belong to Phylum Annelida because they have metamerically segmented body, i.e. body is divided into many segments internally by septa, closed circulatory system and unjointed appendages. Body segments are lined up one after the other from head to tail. But Scolopendra, Prawn and Scorpion belong to Phylum Arthropoda and they have jointed appendages and open circulatory system.

Q.20. Which organism is more complex and evolved among Bacteria, Mushroom and Mango tree? Give reasons.
Ans: Mango tree because it has:
(a) vascular tissues
(b) differentiated sporophyte
(c) embryo stage
(d) seeds present inside fruit.
But bacteria are prokaryotic. Mushroom is eukaryotic but without any differentiation of root, stem and leaves, absence of vascular tissue and embryo stage.

Q.21. Differentiate between flying lizard and bird. Draw the diagram.
Ans: Differences: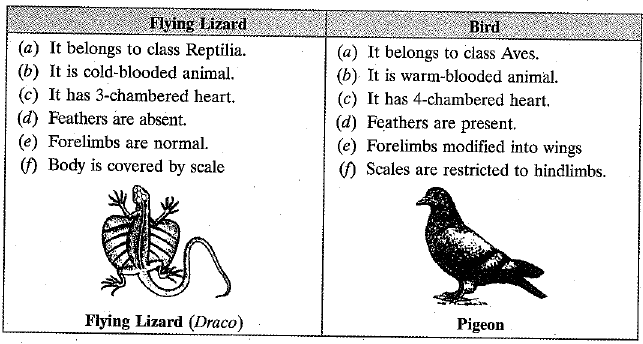 Q.22. List out some common features in cat, rat and bat.
Ans: Bat, rat and cat belong to Class Mammalia and'have following common features:
(a) Mammary glands are present.
(b) External pinnae are present.
(c) Viviparous animals.
(d) Notochord present at some stage of life cycle.
(e) Warm-blooded animal.
(f) Four-chambered heart is present.
(g) Skin covered with hair and with sweat and oil glands
(h) All the three mammals produce live young ones.

Q.23. Why do we keep both snake and turtle in the same class?
Ans: We keep both snake and turtle in the same class because both are:
(a) cold-blooded.
(b) have scales.
(c) breathe through lungs.
(d) have three chambered heart.
(e) lay eggs with tough covering.