Ques 1: Different contexts, different challenges
Cartoons: Each of these cartoons represents a challenge to democracy. Please describe what that challenge is. Also place it in one of the three categories mentioned in the first section.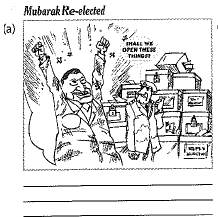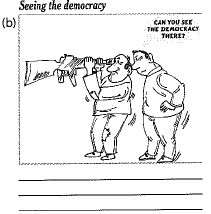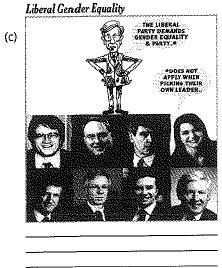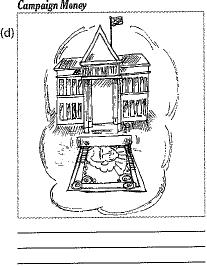 Ans. (a) Mubarak Re-elected
The cartoon wants to convey that Mubarak has won but the ballot boxes still remain closed and therefore not counted. This is a foundational challenge, where free and fair election has not been conducted.
(b) Seeing the democracy
The cartoon wants to convey that democracy cannot be established through the barrel of a gun. This is a foundational challenge, where muscle power and weapons cannot be used to establish effective democracy.
(c) Liberal Gender Equality
The cartoon conveys hypocrisy of Liberal party that wants genders equality but does not follow it within its own organisation. This shows the challenge of expansion, whereby women do not have equal stake in decision making bodies.
(d) Campaign Money
The cartoon conveys that money gives you access to the White House, i.e., Political Power, The challenge is deepening of democracy whereby rich people have easier access to political power.

Q.2. Different types of Challenges
Now that you have noted down all these challenges, let us group these together into some broad categories. Given below are some spheres or sites of democratic politics. You may place against each of these the specific challenges that, you noted for one or more countries or cartoons in the previous section. In addition to that, write one item for India for each of these spheres. In case you find that some challenges do not fit into any of the categories given below, you can create new categories and put some items under that.
Ans.




Q.3. Let us group these again, this time by the nature of these challenges as per the classification suggested in the first section. For each of these categories, find at least one example from India as well.
Ans.