Ques 1: Name three causes of Tsunami and explain its impact.
Ans: Causes of Tsunami: Tsunami is most frequently caused by underwater earthquake but it can also be caused by underwater volcanic eruption or landslides. It can also be caused by meteorites and other impacts on the ocean surface, but such incidents are very rare.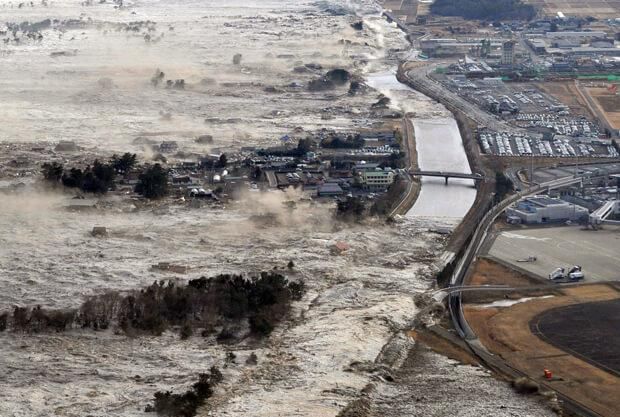 Fig: Tsunami
Impact of Tsunami: In spite of not being very frequent, tsunami is very terrifying and has been responsible for great loss of life and extensive damage. Tsunamis caused by nearby earthquakes may reach the coast within minutes. When the waves enter shallow water, they may rise to several feet, striking the coast with devastating force.
Over the past 3,500 years, there have been 279 fatal tsunamis and more than 6,00,000 deaths. The worst catastrophe in history happened on 26 December, 2004 in Indonesia, which killed 2,28,000 people in 12 countries around Indian Ocean and the damage that happened was up to 10 billion dollars.

Ques 2: Explain two different ways of detecting Tsunami.
Ans: Two different ways of detecting Tsunami are:
i. Satellite Technology: People can be warned of tsunamis originating out of tsunamigenic earthquake with the help of 'tsunami detectors'. The warning time depends upon the distance of the epicentre from the coastline. These tsunami detectors, called tsunameters are linked to land by submarine cables and are deployed upto 50 kilometres out at sea. These transmit warning of buoys on the sea surface and relay it to satellites.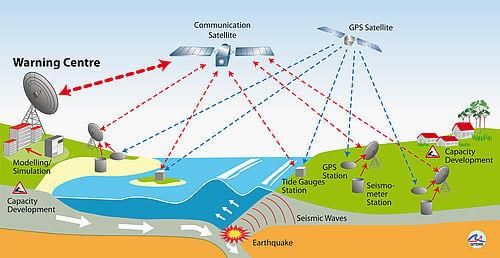 Fig: Detecting Tsunami
ii. Coastal tidal gauge: This can detect a tsunami nearer to the shore. Tsunami detectors are placed in the sea about 50 km from the shore. They are connected to the land through the cables. These detectors can only identify tsunamis closer to the sea.

Ques 3: State two preparedness measures each in pre, during and post tsunami scenario.
Ans: Preparedness measures before a tsunami:
(i) Plan evacuation routes from home, school, workplace or any other frequently visited place. Practice these evacuation routes to avoid any confusion when the tsunami strikes.
(ii) Have disaster supply kit ready at hand.
(iii) Develop an emergency communication plan with family members, in case family members get separated from one another.

Measures to be taken during a tsunami:
(i) Evacuate your house along with your family as soon as you hear a tsunami warning. Move in an orderly and calm manner to a safe elevated area.
(ii) Take your disaster supply kit with you, which contains all the necessary items.
(iii) Update yourself about the present situation through radio and television from time-to-time.

Measures to be taken after a tsunami:
i. Continue using a radio or television for updated emergency information. The tsunami may have damaged roads, bridges, or other places that may be unsafe.
ii. Check yourself for injuries and get first aid if necessary before helping injured or trapped persons. If someone needs to be rescued, call professionals with the right equipment to help.