Question 5 : Mohit Glass Ltd. issued 20,000 shares of Rs 100 each at Rs 110 per share, payable Rs 30 on application, Rs 40 on allotment (including Premium), Rs 20 on first call and Rs 20 on final call. The applications were received for 24,000 shares and allotted 20,000 shares and reject 4,000 shares and amount returned thereon. The money was duly received. Give journal entries.
Answer :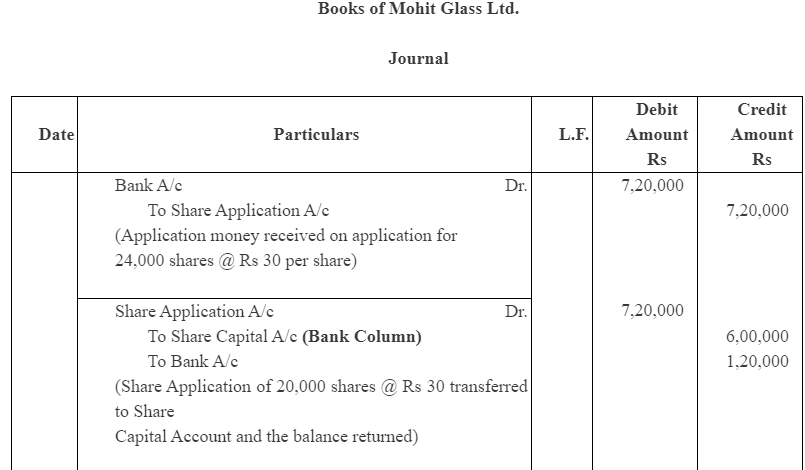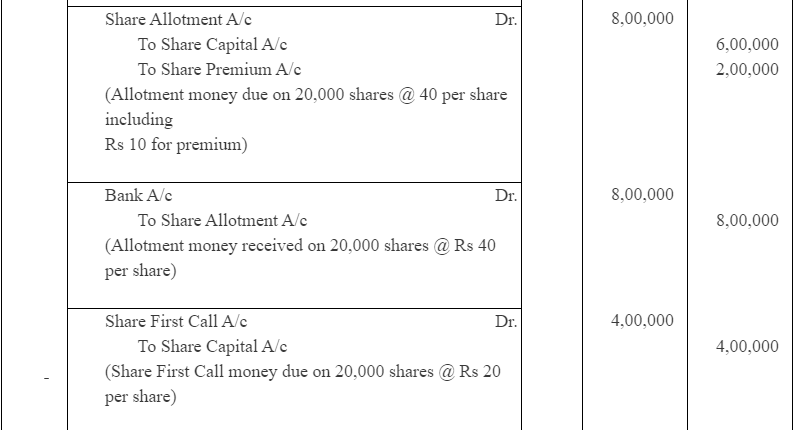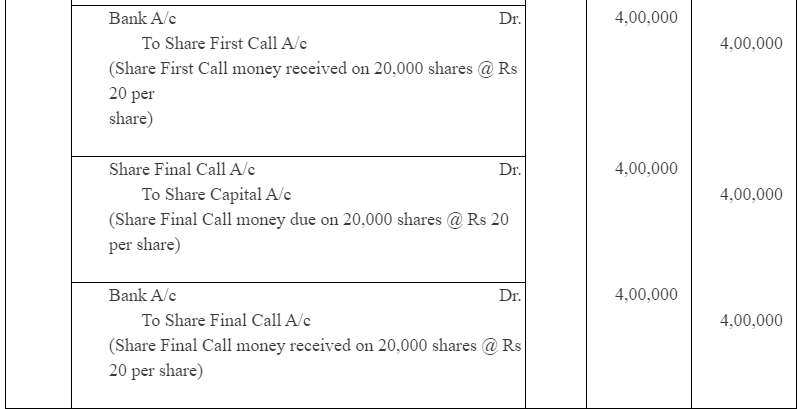 Question 6 : A limited company offered for subscription of 1,00,000 equity shares of Rs 10 each at a premium of Rs 2 per share. 2,00,000. 10% Preference shares of Rs 10 each at par.
The amount on share was payable as under :

All the shares were fully subscribed, called-up and paid.
Record these transactions in the journal and cash book of the company:
Answer :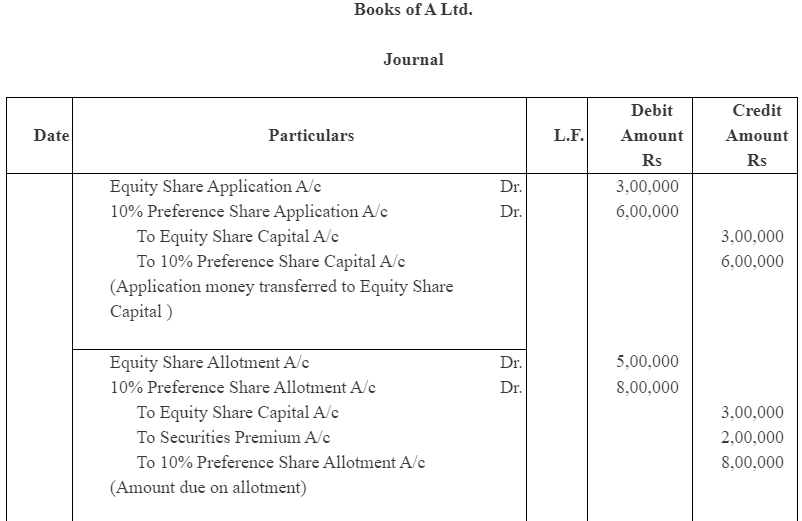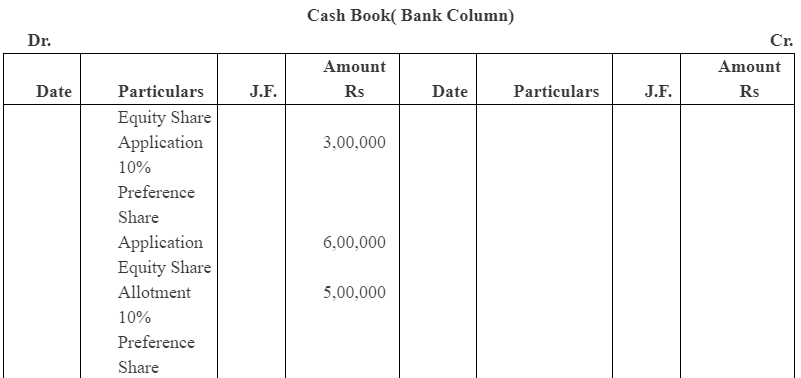 Question 7 : Eastern Company Limited, having an authorised capital of Rs 10,00,000 in shares of Rs 10 each, issued 50,000 shares at a premium of Rs 3 per share payable as follows :
Applications were received for 60,000 shares and the directors allotted the shares as follows:
(a) Applicants for 40,000 shares received shares, in full.
(b) Applicants for 15,000 shares received an allotment of 8,000 shares.
(c) Applicants for 500 shares received 200 shares on allotment, excess money being returned.
All amounts due on allotment were received.
The first call was duly made and the money was received with the exception of the call due on 100 shares.
Give journal and cash book entries to record these transactions of the company. Also prepare the Balance Sheet of the company.
Answer :
Note: In order to solve this question, applicants of category C has been assumed as 5000 instead of 500 and allotment to the applicants of this category has been taken as 2000 in place of 200.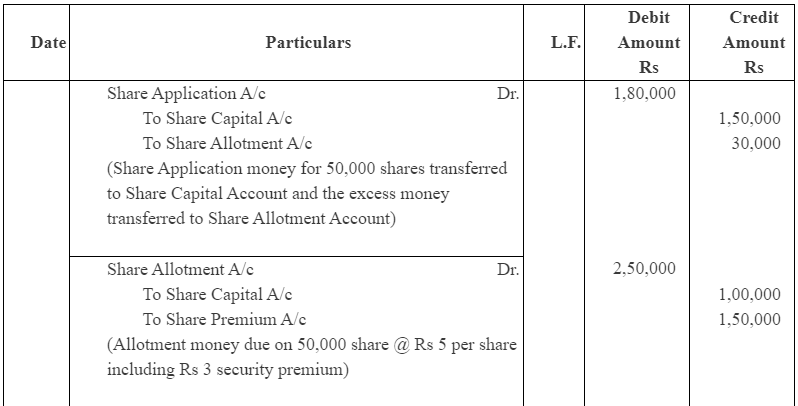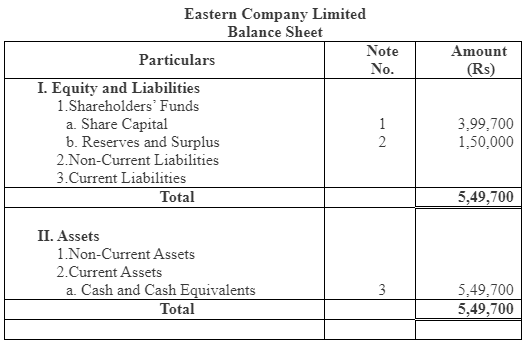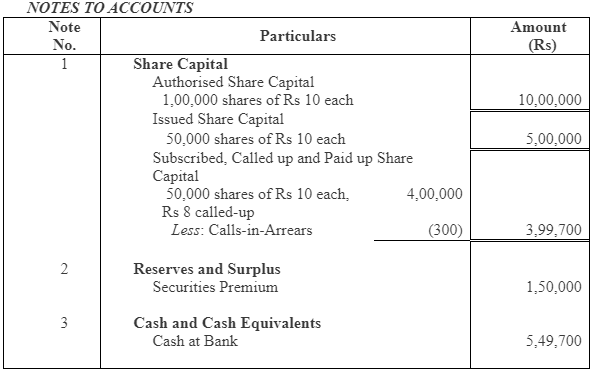 Question 8 : Sumit Machine Ltd issued 50,000 shares of Rs 100 each at discount of 5%. The shares were payable Rs 25 on application, Rs 40 on allotment and Rs 30 on first and final call. The issue were fully subscribed and money were duly received except the final call on 400 shares. The discount was adjusted on allotment. Give journal entries and prepare balance sheet.
Answer :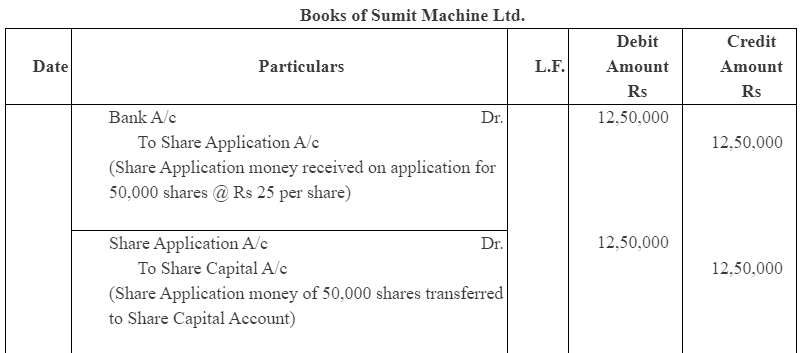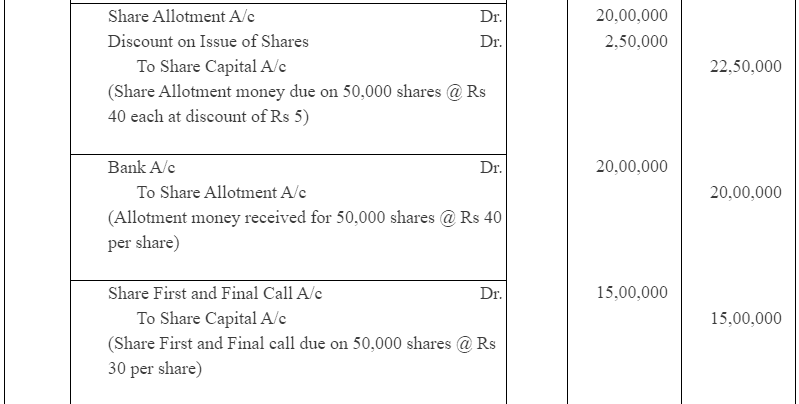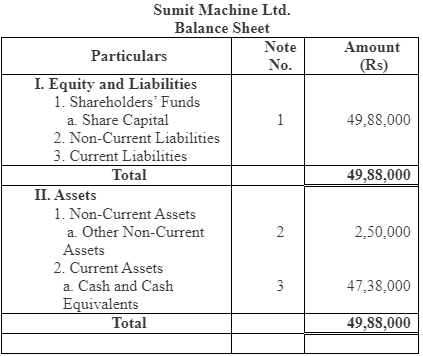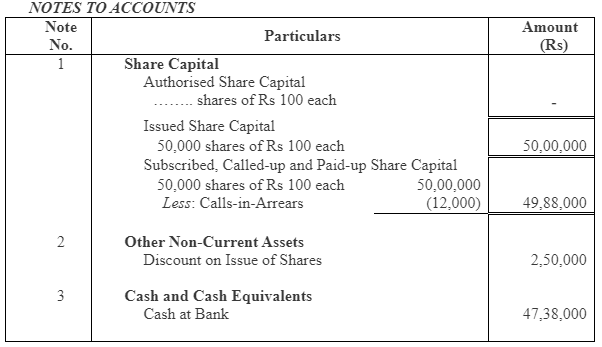 Question 9: Kumar Ltd purchases assets of Rs 6,30,000 from Bhanu Oil Ltd. Kumar Ltd. issued equity share of Rs 100 each fully paid in consideration. What journal entries will be made, if the share are issued, (a) at par, (b) at discount of 10 % and (c) at premium of 20%.
Answer :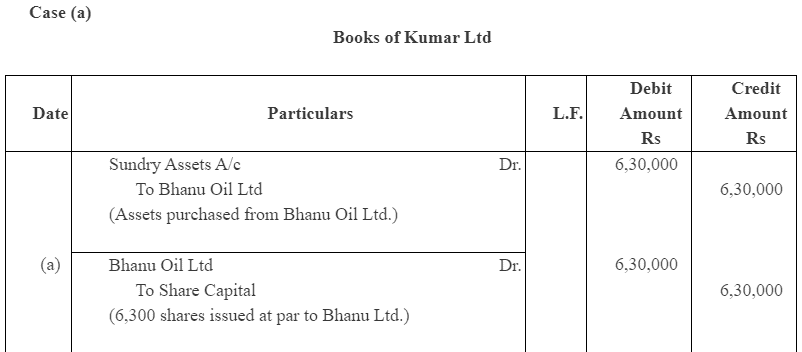 No. of Shares issued of at par = (Amount payable over /Face Value)
6,300 Shares= {6,30,000/ 100})
Case (b)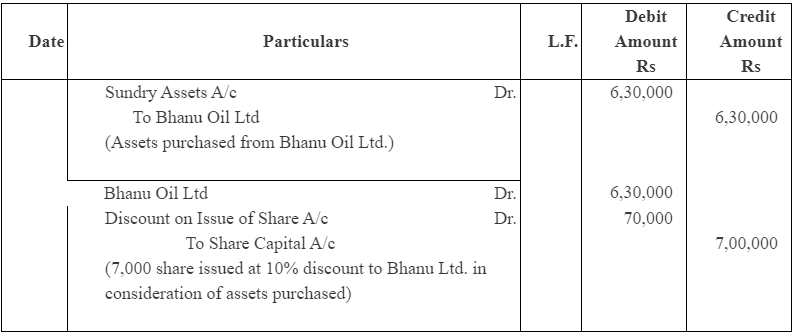 No. of Shares issued of at par =

7,000 Shares = ;

Case (c)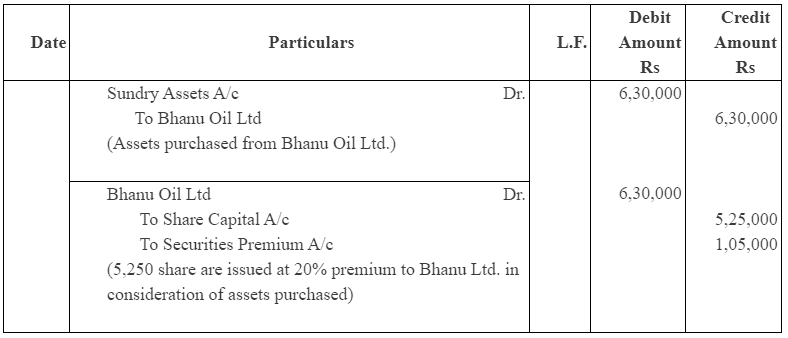 No. of Shares issued of at par =


Question 10 : Bansal Heavy machine Ltd purchased machine worth Rs 3,20,000 from Handa Trader. Payment was made as Rs 50,000 cash and remaining amount by issue of equity share of the face value of Rs 100 each fully paid at an issue price of Rs 90 each. Give journal entries to record the above transaction.
Answer :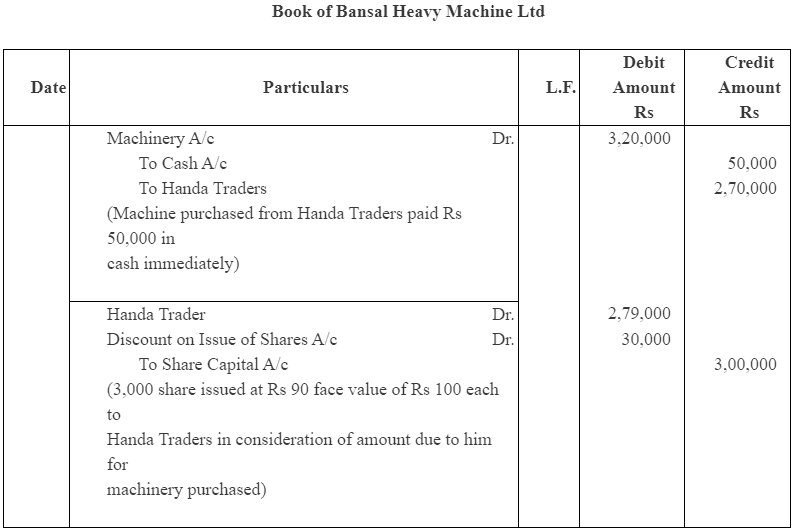 Working Notes:-
1. Number of share issued


Question 11 : Naman Ltd issued 20,000 shares of Rs 100 each, payable Rs 25 on application, Rs 30 on allotment , Rs 25 on first call and The balance on final call. All money duly received except Anubha, who holding 200 shares did not pay allotment and calls money and Kumkum, who holding 100 shares did not pay both the calls. The directors forfeited shares of Anubha and kumkum.
Give journal entries.
Answer: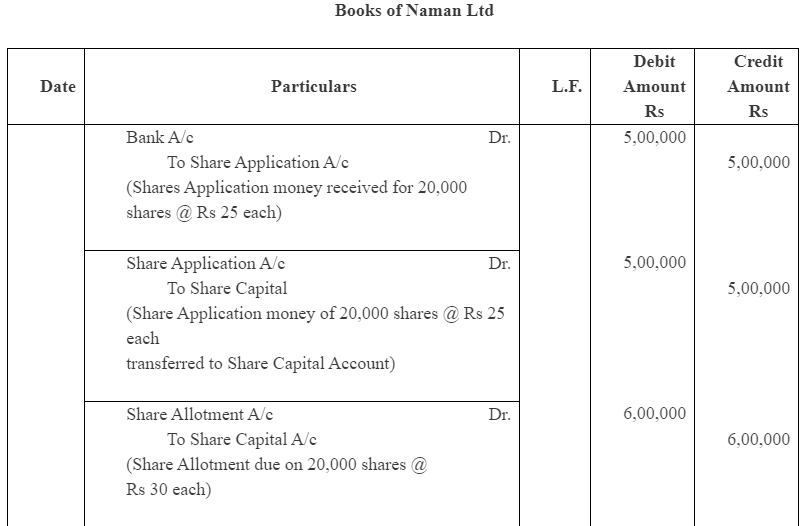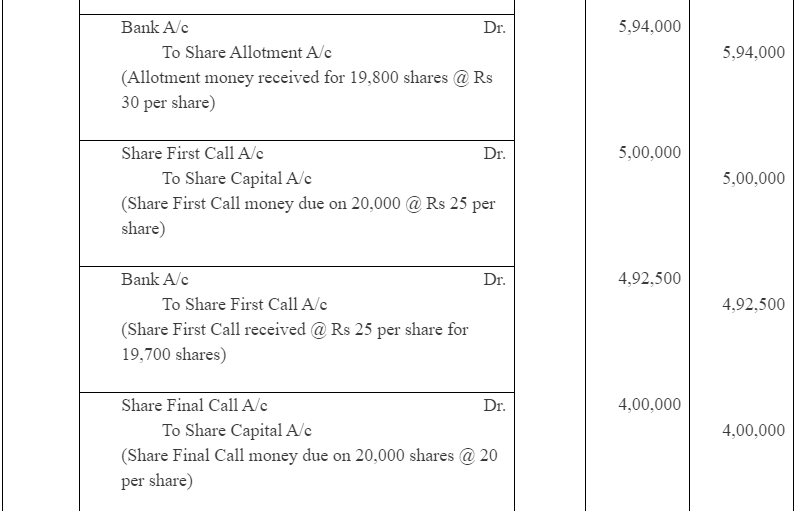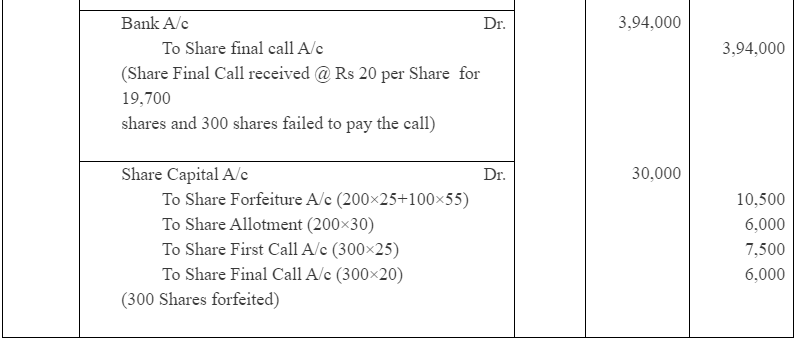 Alternatively this question can be solved by debiting Calls in Arrears Account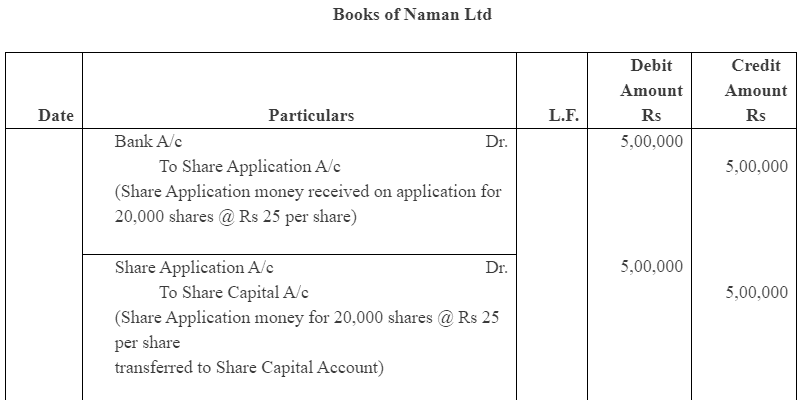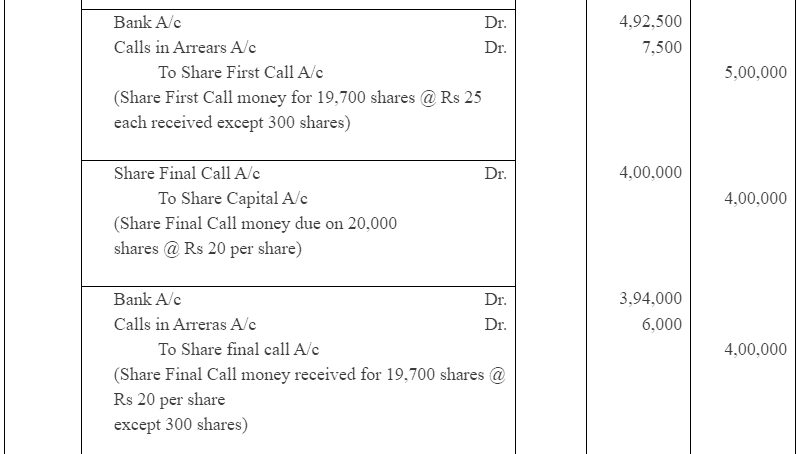 Working Note:
1. Forfeited Amount