NCERT Solution - Poem 5 : THE LAZY FROG, Class 5, English

1. What did the frog do all the day?
Ans. He slept conveniently all day on a log.
2. Besides lazy; what other word can you think of to describe the frog?
Ans. How he behaved with his mother, when a lady frog walked by.
3. Complete the sentences with reference to the poem.
(i) When the frog's mother called him, he pretended to
Ans. He heard of hearing.
(ii) When a lady frog hops by, he does not even
Ans. Open one eye.
4. Did you like the frog's behaviour?
Ans. No, I do not like the frog's behaviour.
5. Refer to the poem and understand. The frog loved to laze and lie around all day. He did not like to do any work at all. Now make true sentences about yourself! Write about the people you like, a game you play, a hobby, a habit you have. You may use the following clues.
(a) I love ________
Ans. I love to help my mother.
(b) I like _________
Ans. I like to play cricket on holiday.
(c) I don't mind ________
Ans. I don't mind washing my clothes.
(d) I don't like _____
Ans. I don't like bursting crackers on Diwali.
(e) I hate ______
Ans. I hate telling lies.
6. Add one more matching word to each pair.
Ans.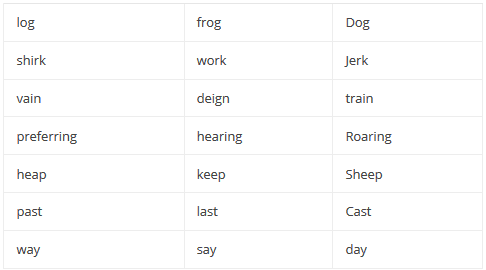 ---
7. What kind of words are they?
Ans. They are rhyming words.