1. What is self ? How does the Indian notion of self differ from the Western notion?
Answer: Self-refers to the totality of an individual's conscious experiences, ideas, thoughts, and feelings with regard to herself or himself.
The Indian notion of self and the Western notion of self-differ from each other by a number of important features. The most import distinction is the way the boundary is drawn between the self and the other. In the Western view, this boundary appears to be relatively fixed, on the other hand, the Indian view of self is charge by the shifting nature of this boundary. Thus, our self at one moment of time expands to fuse with the cosmos or include the others. But at the next moment, it seems to be completely withdrawn from it and focused fully on individual self (e.g., our personal needs or goals).
The Western view seems to hold clear dichotomies between self and other, man and nature, subjective and objective while the Indian view does not make such clear dichotomies.
In the Western culture, the self and the group exist as two different entities with clearly defined boundaries i.e. individual members of the group maintain their individuality while in the Indian culture, the self is generally not separated from one's own group; rather both remain in a state of harmonious co-existence.
In Western culture, on the other hand, they often remain at a distance. That is why many Western cultures are charact as individualistic, whereas many Asian cultures are characterized as collectivistic.


2. What is meant by delay of gratification? Wh is it considered important for adult development?
Answer: Delay of gratification also known as self-control is a practice which means learning to delay or defer the more pleasurable or fun-loving needs and rewarding later.
It is considered important for adult development because any situations of life require resistance to situational pressures and control over ourselves. Human beings can control their behavior the way they want which is possible through what is commonly known as 'willpower'. Delay or defer the satisfaction of certain needs or practicing self-control play a key role in the fulfillment of long-term goals.
Indian cultural tradition provides us with certain effective mechanisms (e.g. fasting in vrata or Roza and non-attachment with worldly things) for developing self-control. A number of psychological techniques of self-control have been suggested which are:
(i) Observation of own behavior: This provides us with necessary information that may be used to change, modify, or strengthen certain aspects of self.
(ii) Self-instruction: It is another important technique. We often instruct ourselves to do something and behave the way we want to. Such instructions are quite effective in self-regulation.
(iii) Self-reinforcement: It involves rewarding behaviors that have pleasant outcomes. For example, you may go to see a movie with friends, if you have done well in an examination. These techniques have been tried out and found quite effective with respect to self-regulation and self-control.

3. How do you define personality? Wh are the main approaches to the study of personality?
Answer: Personality refers to psychophysical characteristics of a person that is relatively stable across situations and over time and make her or him unique. It also define our existence and the ways in which our experiences are organized and show up in our behavior.
A number of approaches and theories have been developed to understand and explain personality. Main approaches to the study of personality are:

(i) The type approach
(ii) The trait approach
(iii) The interactional approach
(iv) Psychodynamic approach
(v) Post frendian approach
(vi) Behavioural approach
(vii) Cultural approach
(viii) Humanistic approach

4. What is trait approach to personality? Ho does it differ from type approach?
Answer : Trait approach is very similar to our common experience in everyday life. These theories are mainly concerned with the description or characterization of basic components of personality. It tries to discover the 'building blocks' of personality. Human beings display a wide range of variations in psychological attributes, yet it is possible to club them into the smaller number of personality traits. For example, when we come to know that a person is sociable, we assume that s/he will not only be cooperative, friendly and helping but also engage in behaviors that involve other social components. Thus, the trait approach attempts to identify the primary characteristics of people. A trait is
considered as a relatively enduring attribute or quality on which one individual differs from another. They include a range of possible behaviors that are activated according to the demands of the situation.
The type approaches attempts to comprehend human personality by examining certain broad patterns in the observed behavioral characteristics of individuals while the trait approach focuses on the specific psychological attributes along which individuals tend to differ inconsistent and stable ways.
Each behavioral pattern of type approach refers to one type in which individuals are placed in terms of the similarity of their behavioral characteristics with that pattern while in trait approach refers to the degree of presence or absence of the concerned behavioral quality on which individuals can be rated.
5. How does Freud explain the structure of personality?
Answer : According to Freud's theory, there are three primary structural elements of personality which are id, ego, and superego. They reside in the unconscious as forces and they can be inferred from the ways people behave.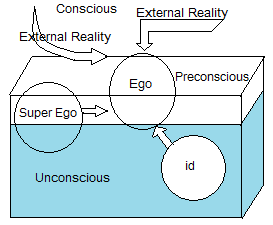 (i) Id: It is the source of a person's instinctual energy. It deals with the immediate gratification of primitive needs, sexual desires, and aggressive impulses. It works on the pleasure principle, which assumes that people seek pleasure and try to avoid pain. Freud considered much of a person's instinctual energy to be sexual, and the rest as aggressive. Id does not care for moral values, society, or other individuals.
(ii) Ego: It grows out of id, and seeks to satisfy an individual's instinctual needs in accordance with reality. It works by the reality principle and often directs the id towards more appropriate ways of behaving. The ego is patient, reasonable, and works by the reality principle.
(iii) Superego: The best way to characterize the superego is to think of it as the moral branch of mental functioning. The superego tells the id and the ego whether gratification in a particular instance is ethical. It helps control the id by internalizing the parental authority through the process of socialization.
Thus, in terms of individual functioning, Freud thought of the unconscious as being composed of three competing forces. In some people, the id is stronger than the superego; in others, it is the superego. The relative strength of the id, ego, and superego determines each person's stability. Freud also assumed that id is energized by two instinctual forces, called life instinct and death instinct. He paid less attention to the death instinct and focused more on the life (or sexual) instinct. The instinctual life force that energizes the id is called libido. It works on the pleasure principle and seeks immediate gratification.

6. How would Horney's explanation of depression be different from that of Alfred Adler?
Answer : Horney was another disciple of Freud who developed a theory that deviated from basic Freudian principles. She adopted a more optimistic view of human life with emphasis on human growth and self- actualization. Horney's major contribution lies in her challenge to Freud's treatment of women as inferior. According to her, each sex has attributes to be admired by the other, and neither sex can be viewed as superior or inferior. She countered that women were more likely to be affected by social and cultural factors than by biological factors. She argued that psychological disorders were caused by disturbed interpersonal relationship during childhood. When parents' behavior toward a child is indifferent, discouraging, and erratic, the child feels insecure and a feeling called basic anxiety results. Deep resentment toward parents or basic hostility occurs due to this anxiety. By showing excessive dominance or indifference, or by providing too much or too little approval, parents can generate among children feelings of isolation and helplessness which interfere with their healthy development.
In contrast to that, Adler's theory is known as individual psychology. His basic assumption is that human behavior is purposeful and goal-directed. Each one of us has the capacity to choose and create. Our personal goals are the sources of our motivation. The goals that provide us with security and help us in overcoming the feelings of inadequacy are important in our personality development. In Adler's view, every individual suffers from the feelings of inadequacy and guilt, i.e. inferiority complex, which arise from childhood. Overcoming this complex is essential for optimal personality development.