Ques 1. What are the other breeds of dogs?
Ans: Other breeds are – Terrier, German Shepherd, Bulldog, Spaniel, Golden Retriever, Greyhound, etc.
Ques 2. Match the words with their explanations.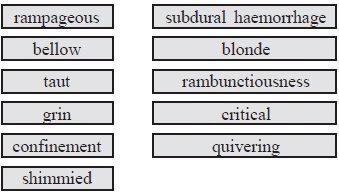 Ans: (a) This is the other word for trembling. quivering.
(b) This is used for a smile, grin.
(c) You call a person this if he/she has pale gold coloured hair, blonde.
(d) This is a quality which relates to high energy and noise, rambunctiousness.
(e) This is related to dancing or moving in a way that involves shaking your hips and shoulders, shimmied.
(f) This is to express a tendency to show violent and wild behaviour often causing damage, rampageous.
(g) We use it for a condition which is serious, uncertain and dangerous, critical.
(h) This is a state in which one is forced to stay in a closed space, confinement.
(i) This is a medical condition involving bleeding in the brain, subdural haemorrhage.
(j) It is a loud, deep shout to show anger, bellow.
(k) This is a condition when the rope or leash is stretched tightly taut.
Ques 3. Based on your reading of the story answer the following questions by choosing the correct option.
(a) With reference to Hooper, the author says,
"Everything was going for him." What does it imply?
(i) He had everything that a man aspires for.
(ii) People admired him.
(iii) He did what he wanted.
(iv) He was capable of playing games.
Ans: (i) He had everything that a man aspires for.
(b) Duke never jumped on Chuck again because
_____________
(i) Duke was paralyzed and unable to jump.
(ii) Chuck was angry with Duke for jumping at him.
(iii) Duke realized that Chuck was not well and could not balance himself.
(iv) Marcy did not allow Duke to come near Chuck.
Ans: (iii) Duke realized that Chuck was not well and could not balance himself.
(c) The author says that Duke 'knew his job'. The job was _____________
(i) to look after Chuck.
(ii) to get Chuck on his feet.
(iii) to humour Chuck.
(iv) to guard the house.
Ans: (ii) to get Chuck on his feet.
(d) "_______ even Duke's presence didn't reach Chuck". Why?
(i) Duke was locked in his kennel and Chuck couldn't see him.
(ii) Duke hid himslef behind the bedpost.
(iii) Duke had come to know that Hooper was not well.
(iv) Hooper was lost in his own grief and pain.
Ans: (iv) Hooper was lost in his own grief and pain.
Ques 4. Answer the following questions briefly.
(a) In 1953, Hooper was a favoured young man. Explain.
Ans: Hooper was fortunate in every way. He was healthy, tall, happy and satisfied with life. Professionally, he was in the top slot, working as Zonal Sales Manager of a chemical company.
(b) They said that they would create a desk-job for Hooper at headquarters.
(i) Who are they?
Ans: 'They' refers to the people from Hooper's chemical company who paid a visit to the hospital.
(ii) Why did they decide to do this?
Ans: Hooper remained on the critical-list for a month. There was no improvement. He could only breathe and see. So out of sympathy, the company people made this offer.
(c) What special qualities made Duke an extraordinary dog?
Ans: Duke was not only faithful and loyal but he was also gifted with extraordinary powers of intuition, foresight, and in-depth understanding of human psychology. He knew exactly how he could accomplish the impossible task of making Chuck walk.
(d) What problems did Chuck present when he returned to the company headquarters?
Ans: Hooper was not totally fit and yet wanted to join his work. The company people did not know how to handle Hooper. Seeing his positive spirit and enthusiasm, nobody in the company had the courage to tell him that he would not be able to handle his old job that required 24 hour agility and movement. They found him a misfit for his old job.
(e) Why do you think Charles Hooper's appointment as Assistant National Sales Manager is considered to be a tribute to Duke?
Ans: The manner in which Duke helped Charles Hooper to get over his handicap proved that objectives can be realized, if planned step by step. Dogged determination, ability and perseverance in little measures, one by one, can achieve the impossible. So, in the promotion of Charles Hooper, it was an acknowledgment on the part of the company to recognize the contribution made by Duke.
Ques 5. Following dates were important in Charles Hooper's life in some way. Complete the table by relating the description with the correct dates.
Ans: