NCERT TEXTBOOK QUESTIONS SOLVED

Q. 1. Indicate whether the following statements are True (T) or False (F).
(a) Unicellular organisms have one-celled body.
(b) Muscle cells are branched.
(c) The basic living unit of an organism is an organ.
(d) Amoeba has irregular shape.
Ans. (a) True (b) True
(c) False (d) True.

Q. 2. Make a sketch of the human nerve cell. What function do nerve cells perform?
Ans.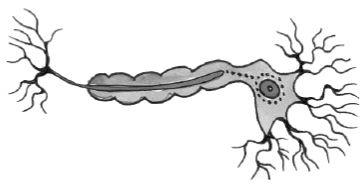 Fig. 8.4 Nerve cell.
Function: (i) Nerve cells help in the transfer of messages from various body parts to brain and from brain to various parts of the body.
(ii) They help also in the coordination of the functions of the organs of the body.

Q. 3. Write short notes on the following: (a) Cytoplasm (b) Nucleus of a cell.
Ans. (a) Cytoplasm: It is a jellylike substance which is present between nucleus and cell membrane. There are various other organelles present in the cytoplasm. It is made up of carbohydrates, proteins and water.
(b) Nucleus of a Cell: Nucleus is spherical, dense structure situated commonly in the centre of the cell. Nuclear membrane separates the nucleus from cytoplasm. It contains genetic materials like RNA and DNA. Nuclear membrane allows the transfer of materials in the nucleus and cytoplasm. It also contains the threadlike structures called chromosomes which are genetic material. Nucleus controls the various functions of the cell.

Q. 4. Which part of the cell contains organelles?
Ans. Cytoplasm.

Q. 5. Make sketches of animal and plant cell. State three differences between them.
Ans.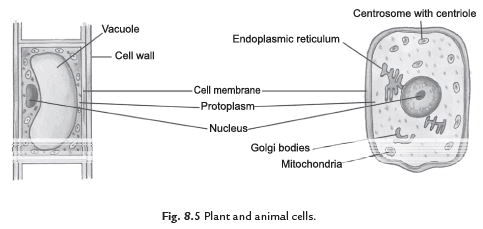 Differences:
| | |
| --- | --- |
| Plant Cell | Animal Cell |
| (i) Cell wall is present. | (i) Cell wall is absent. |
| (ii) Chloroplast is present. | (ii) Chloroplast is absent. |
| (iii) It has no centrosome. | (iii) Centrosome is present the nucleus near the nucleus |
| (iv) Vacuoles are large or may be single and large as in an onion cell. | (iv) Vacuoles are much smaller as in cheek cells. |

Q. 6. State the difference between eukaryotes and prokaryotes.
Ans. Eukaryotes have a well designed nucleus and organelles covered with membranes while prokaryotes do not have a well designed nuclear membrane.

Q. 7. Where are chromosomes found in a cell? State their function.
Ans. Chromosomes are situated in the nucleus of a cell. They carry characteristics of parent cells to the daughter cells.

Q. 8. 'Cells are the basic structural units of living organisms'. Explain.
Ans. Many cell units form many tissues and tissues form an organ. The organs combine to form a complete body. In this way, cell is the structural unit of an organism. Cells perform all the basic functions of an organism. So they are also functional unit of living beings.

Q. 9. Explain why chloroplasts are found only in plant cells.
Ans. Photosynthesis is the main process in plants. Photosynthesis takes place in presence of chlorophyll which is found in chloroplasts. So chloroplasts are found only in plant cells.