Q.1. Prepare a narrative on the following topics:
(i) A story you heard from your grandparents or parents
Grandparents are master story tellers. Like others my grandfather told me a story of hunting. He started describing how bravely, he with his friends entered a dense forest and shot a rhino with his rifle. He portrayed himself as the bravest person among all his friends. And I was the only scapegoat to believe all his ludicrous stories.
(ii) Mimicry of different cartoons
Cartoons are undoubtedly a part of childhood. It has certain good and bad impact on children's mind. Mimicry of different cartoon characters leads to a negative impact on children. They observe them and try to make mimicry out of it.
(iii) Collection of animal sounds
It is amazing to hear animal sounds. Animals communicate with their own kind by making sounds. Children identifies with the sound of different animals and try to mimic them. Animals have their own languages and they communicate with their own kind by making sounds.

Q.2. (i) Match the following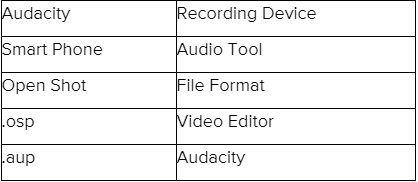 Q.3. Identify whether the following statements are True or False
(i) MP3 is the format in which video files can be saved.
False
(ii) Blender is a video editing software.
True
(iii) Audacity is a free and open source digital audio editor.
True
(iv) Open Shot is a software used for audio editing.
False
(v) Music files can be imported in Audacity to prepare audio resource
True