Page No 49:
Ques 1: Why was it so crowded at the door of the coach?
Ans: It was so crowded at the door of the coach because when train stopped at the station, many people started getting off the train. At the same time, people who were standing on the platform started pushing the passengers and trying to put their luggage inside the train. All this activity was done through one door at the same time. This caused the door of coach to be crowded.

Ques 2:Have you ever travelled in a train? When?
Ans:
Disclaimer: The answer may vary from student to student based on their experiences. It is highly recommended that they prepare the answer on their own.

Ques 3: What food would you like to take with you when you travel? Why
Ans:
Disclaimer: This question requires the students to use their own experiences and observances. Keeping this in mind, it is strongly recommended that the students prepare the solutions on their own.

Ques 4:What does the ticket-checker do?
Ans: The ticket-checker checks the tickets of the passengers and whether the passengers are sitting on their proper seats or not.

Ques 5: How will you recognise the ticket-checker?
Ans: A ticket checker wears a black coat and black trousers. He has a badge on his coat. He carries a list of passengers with their allotted seat number. He asks the passengers to show their tickets and also collects the fine from those who travel without ticket.


Page No 51:
Ques 1: What did Omana see from the window?
Ans: From the window, Omana saw many fields, villages and the setting Sun. All these things seemed to be running in the opposite direction due to the fast speed of the train.

Ques 2:What are some of the things that are sold at Railway stations?
Ans:Some of the things that are sold at railway stations are water, milk, tea and eatable items, such as namkeen, batata vada, puri- shaak, etc.
Page No 52:
Ques 1: Why do you think there was no water in the bathroom of the train? Discuss.
Ans: There was no water in the bathroom of the train either because the passengers had used it up or because the water has been wasted due to leaky taps.

Ques 2: Imagine that you are going on a long train journey. What are the things that you will take with you to help pass the time?
Ans: The things that help us pass the time on a long train journey are story books, games, such as ludo, playing cards, etc.

Ques 3: Can you recognise who are these people shown in the picture? What work do they do? Discuss.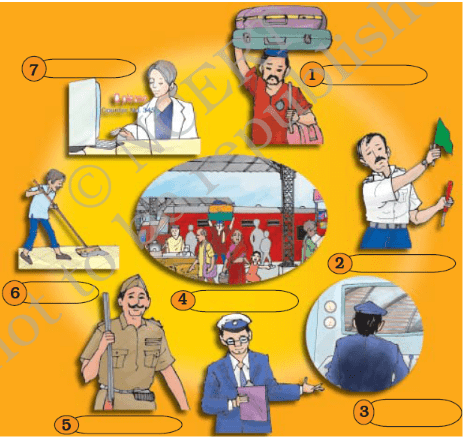 Ans: 1. Coolie 2. Signal man or guard 3. Train driver 4. Ticket collector or ticket checker 5. Policeman 6. Sweeper 7. Ticket vendor