In-Text Questions Solved
Q.1. What do you think would happen if the government withdraws from the task of supplying water?
Ans. The crisis of water will take more acute form. The poor would be the worst sufferers. They could not buy water at high price from private companies.

Q.2. Do you think it is important to conserve resources like water and electricity, and to use more public transport?
Ans. It is important to conserve water as it is a scarce resource. The actual amount of freshwater available for human consumption is very low in comparison to the total water on the planet. Electricity also needs to be conserved due to the costs associated with its production and finite resources that are employed for its production. It is also important to use public transport more often in order to conserve fuel.

Q.3. Do you think that lack of access to proper sanitation facilities affects peoples' lives? How?
Ans. It will directly affect the health of the people. They will become the victims of several diseases such a diarrhoea, dysentery, etc. A person with ill-health would not be able to work efficiently. Hence, it is important to make available proper sanitation facilities to all.

Q.4. Why do you think that this would impact women and girls more acutely?
Ans. Lack of adequate sanitation would have an adverse affect women and girls in particular. Women and girls don't only have different physical needs from men but they even have larger requirements for privacy when using toilets and when bathing. Inaccessible toilets and bathrooms make them more vulnerable to rape and other forms of gender-based violence. Moreover, women and girls who defecate in the open, especially in the bush, face the risk of animal attacks. Women and girls don't need toilets and bathrooms only for defecation but they also need it for the sake of privacy and dignity when menstruating.
NCERT Textbook Questions Solved
Q.1. Why do you think there are so few cases of private water supply in the world?
Ans. Water is a basic necessity. Hence, universal access to safe drinking water is necessary for a standard quality of life. It needs to be provided to everyone – either free of charge or at affordable rates. But, as private companies work towards the singular goal of maximising profits, there was a steep rise in the price of water in cases where the responsibility for water supply was handed over to private companies. This made water unaffordable for many. Cities saw huge protests with riots breaking out at various places. This forced the government to take back the service from private hands. Therefore, only a few cases of private water supply exists in the world.

Q.2. Do you think water in Chennai is available and affordable by all? Discuss.
Ans. No, water in Chennai is not available and affordable by all. Municipal supply meets only about half the needs of the people of the city, on an average. There are areas which get water more regularly than others. Those areas that are close to the storage point get more water whereas colonies farther away receive less water.
The poor are the worst victims of the shortfalls in water supply. The middle-class people manage water through a variety of private means such as digging borewells, buying water from tankers and using bottled water for drinking. But the poor have to face the problem because unlike wealthy and middle-class people they do not have money to buy bottled water, or to dig borewells.

Q.3. How is the sale of water by farmers to water dealers in Chennai affecting the local people? Do you think local people can object to such exploitation of groundwater? Can the government do anything in this regard?
Ans. The sale of water by farmers to water dealers in Chennai has badly affected the local people. They have to face acute water crisis in their life. Their agriculture suffers, because they fail to manage water for irrigation.
Local people can object to such exploitation of groundwater, because its levels have dropped drastically.
The government can do much in this regard. It can ban private companies from entering in towns and villages. It can punish those farmers who are indulged in selling of water to private companies for money.

Q.4. Why are most of the private hospitals and private schools located in major cities and not in towns or rural areas?
Ans. Because of the following reasons:
In major cities life is fast. People could not wait for hours together standing in long queues as they have to do in government hospitals.
They can afford it as they have money to spend.
City people are more ambitious.
They expect better facilities in private hospitals and private schools.
In private schools, infrastructural facilities are more.

Q.5. Do you think the distribution of public facilities in our country is adequate and fair? Give an example of your own to explain.
Ans. While there is no doubt that public facilities should be made available to all, in reality, we see that there is a great shortage of such facilities. The distribution of public facilities in our country is neither adequate nor fair. For example, the Delhites avail all public facilities like healthcare and sanitation, water, electricity, schools, colleges and public transport. But if we go to places a few kilometers away such as Mathura or Aligarh, people have to face grave crises for these facilities. Water shortages and electricity cut-offs are part of the normal routine of life in those places. Public transport is also not properly developed. Compared to the metros and large cities, towns and villages are under-provided. Compared to wealthy localities, the poorer localities are under-serviced. Handing over these facilities to private companies is not an answer. The important fact is that every citizen of the country has a right to these facilities, which should be provided to all in an equitable manner.

Q.6. Take some of the public facilities in your area, such as water, electricity, etc. Is there scope to improve these? What in your opinion should be done? Complete the table.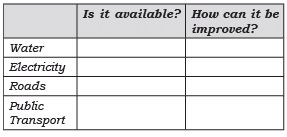 Ans.

Q.7. Are the above public facilities shared equally by all the people in your area? Elaborate.
Ans. No, the above-mentioned facilities are not shared equally in the areas. Water supply is not shared equally by all the people. The slum dwellers have to manage with a single water tap, where each house in a middle-class locality has a separate connection for water. While people of middle-class homes buy water from tankers to meet their needs, those in slums cannot afford it. However, other facilities, like electricity, road and public transport are shared equally by all.

Q.8. Data on some of the public facilities are collected as part of the Census. Discuss with your teacher when and how the Census is conducted.
Ans. The census is conducted every 10 years. It counts the entire population of the country. It also collects detailed information about the people living in India—their age, schooling, the work they do, etc. This information is used to measure several things such as the number of literate people and the ratio of males and females.

Q.9. Private educational institutions– schools, colleges, universities, technical
and vocational training institutes are coming up in our country in a big way. On the other hand, educational institutes run by the government are becoming relatively less important. What do you think would be the impact of this? Discuss.
Ans. Education is a basic need and there should be universal access to education. But, as the main motive of private education institutes is earning profits, they charge high fees which are affordable only by the affluent section of the society. Thus, the right to quality education is only fulfilled for the rich class. Similarly, if government education institutes are not up to the mark, then weaker sections are again deprived of quality education. This, in turn, results in the disparity of quality education between the rich and the poor.