Quick Recap
The Summer of the Beautiful White Horse is written by William Saroyan. The story is about two Armenian boys – Aram and Mourad who belong to the Garoghlanaian family. Their tribe is known for their honesty.

They are poor and can hardly earn money for food. They both long to ride a horse. Mourad had stolen a horse from a farmer a month ago.

One early morning, he brought it to the window of Aram and asked him to come along for a ride. They rode the horse for many days. When Aram gets to know the horse is stolen, he gets shocked but discounts the stealing in his mind.

One day the owner of the horse, John Byro, comes to his house to complain about his missing horse to Uncle Khosrove.

One day on their way back to hide the horse on the deserted vineyard, they meet the owner and feel guilty at the end. The next morning, they returned the horse back to the owner's barn.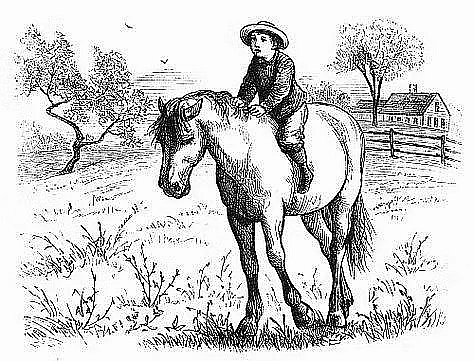 Question 1: You will probably agree that this story does not have a breathless adventure and exciting action. Then what in your opinion makes it interesting?
Answer:
The story 'The Summer of the Beautiful White Horse' is a tale told from the viewpoint of a nine-year old boy. At that age, imagination is rich and one can romanticise even insignificant actions. To such a person the world is full of excellence and glory and life is delightful and a mysterious dream. For the young poor boy, a ride on a beautiful white horse is a dream fulfilled. He had been always longing to ride and his cherished dream is realised when his cousin Mourad offers him a chance to ride on horseback—first with him and then alone. Riding the stolen horse and hiding it safely are great feats of adventure for the two boys.
Though the story line is thin, we eagerly follow the course of action taken by the boys till they return the horse to its rightful owner. The story provides us a peep into child psychology. For boys who are crazy about horses, stealing a horse for a ride is not stealing. Though they enjoy the thrill of riding, they are conscious of their family pride. The Garoghlanian family is well-known for honesty and trust. They would neither steal nor take advantage of anybody in the world. Another point of interest is characterization. The delineation of the common traits of uncle Khosrove and cousin Mourad is superb. The story also contains many purple passages full of pictorial description. All these heighten its appeal to the reader.
Question 2: Did the boys return the horse because they were conscience-stricken or because they were afraid?
Answer: The story gives no indication that the boys were afraid of anyone or anything. Hence the return of the horse was not directed by fear. Secondly, they were not at all conscience-stricken. They did not feel any pangs of repentance or remorse at their action of stealing a horse solely for the purpose of riding it. The narrator makes it amply clear when he asserts that stealing a horse for a ride was not the same thing as stealing something else, such as money. For him, it wasn't stealing at all as he and Mourad were so crazy about horses. In his opinion, it would become stealing only when they offered to sell the horse, which he knew they would never do. The last phrase gives a clue to their mental make up.
Mourad had the horse for over a month when farmer John Byro visited the narrator's house. They retained it for two weeks more. Mourad outrightly rejected the narrator's suggestion of keeping the horse any longer. It was his family pride that would not let him steal. He decided that the horse must go back to its true owner. The meeting with John Byro proved conclusive. He praised their family for its honesty. He trusted the boys as he knew their parents. Hence in order to uphold the family tradition and reputation, the boys returned the horse to its rightful owner.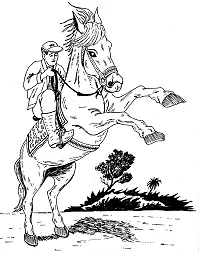 Question 3: "One day back there in the good old days when I was nine and the world was full of every imaginable kind of magnificence, and life was still a delightful and mysterious dream..." The story begins in a mood of nostalgia. Can you narrate some incidents from your childhood that might make an interesting story?
Answer: We are a small happy family consisting of three members. Luckily, we shared a common hobby of traveling. We were in the lap of the Himalayas, somewhere near Ranikhet in the Garhwal range, when suddenly my parents suggested that I should study in a residential school there. I seemed extremely elated with the fantastic idea. Years later, when I was in Grade 7, my parents started searching for a good boarding school where they could put me in for my further studies. I don't have words that could describe my exact feeling at that point in time. I was very happy as well as equally scared at the very thought of living separately from my family. I knew very well by then that this would be a final farewell from my home and my family. Further studies, college, and now in a job, I have always gone back home on vacations and had a very great time, but I have always been very aware deep inside that I was a boarder and had to leave within a few days. I never knew where the towel was hung, when the milkman came, when my mother sat down to have her evening tea, nothing. I did not even find it necessary to know all these minor details because I knew one thing for sure, I was a guest for merely a week so why bother!
Question 4: The story revolves around characters who belong to a tribe in Armenia. Mourad and Aram are members of the Garoghlanian family. Now locate Armenia and Assyria on the atlas and prepare a write-up on the Garoghlanian tribes. You may write about people, their names, traits, geographical and economic features as suggested in the story.
Answer: Here are a few words to describe the Garoghlanian tribes:
This entire concept of the existence of this tribe is said to be fictitious. It's said to be formed by William Saroyan in his book "My name is Aram" (1940). The Garoghlanian tribe is Armenian. The culture of these people, known for their honesty, is at the heart of the story. Hospitality is also an important function in the Armenian culture. Social gatherings revolve around large amounts of food. The religion of most Armenian people is Christianity, which is structured around the forgiveness of sins and focuses on the spirit of Tolerance.
Frequently Asked Questions
Question 1: To which tribe did Mourad and Aram belong? Which traits of the tribe are highlighted in the story 'The Summer of the Beautiful White Horse'?
Answer: Mourad and Aram belonged to the Garoghlanian tribe. The Garoghlanians were extremely poor but they were known for honesty for centuries. They were proud first, honest next and believed in doing the right deeds. No one of their tribe would ever steal. Everyone trusted them.
Question 2: What are the unique traits of the Garoghlanian tribe?
Answer: The unique traits of the Garoghlanian tribe were that they were extremely poor but still they were 1 famous for their honesty for centuries. They were proud as well as honest; they believed in doing the right deeds. No one of their tribe would ever steal. They were trustworthy.
Question 3: Why was Aram delighted and frightened at the same time when he saw his cousin Mourad on a beautiful white horse?
Answer: Aram was delighted because of the beautiful white horse. He wanted to ride. He was delighted and frightened by 'the pious stillness and humour' in Mourad and the horse. This means that he was frightened because Mourad was on a horse which he could never have bought.
Question 4:
"I have an understanding with a horse."
"Horses understand me."
"I have a way with a horse. "
How do you think, had Mourad developed an understanding with the horse and what was the result?
Mourad had been quite tender and affectionate towards the horse. He would put his arms around it, press his nose into the horse's nose and pat it. It was not easy to tame someone else's horse and get it to behave nicely. At first, it wanted to run wild. Gradually, Mourad was able to control the horse and do what he wanted. Even John Byro, the rightful owner, admitted that the horse had become better-tempered and stronger than ever.
Question 5: How did uncle Khosrove react to John Byro's complaint about the steal of his horse?
John Byro was sad that his white horse had been stolen last month and it was missing even then. Instead of showing any sympathy, uncle Khosrove became very irritated and shouted: "It's no harm. What is the loss of a horse?… What is this crying over a horse?"
Question 6: Why did farmer John Byro stalk out of the house, slamming the screen door?
Farmer John Byro visited the narrator's house. He was homesick, sad and lonely. His horse had been stolen for over a month. Instead of showing any sympathy or concern for his loss, uncle Khosrove repeated his catchword: "It's no harm. Pay no attention to it". When John Byro talked about the cost of horse, uncle Khosrove commented: "I spit on money." This was too much for John Byro to bear and so he left the house in disgust.