Q.1. An alkene on ozonolysis gives methanal as one of the product. Its structure is: (2020)
A:



B:



C:



D:



Ans: A



Q.2. The most suitable reagent for the following conversion, is : (2019)



A: Na/liquid NH3
B: H2, Pd/C, quinoline
C: Zn/HCl
D: Hg2+/H+, H2O
Ans: B




Q.3. An alkene "A" on reaction with O3 and Zn–H2O gives propanone and ethanal in equimolar ratio. Addition of HCl to alkene "A" gives "B" as the major product. The structure of product "B" is: (2019)
A:


B:


C:


D:


Ans: C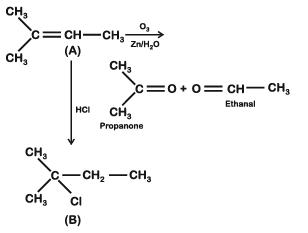 Q.4. Among the following, the reaction that proceeds through an electrophilic substitution, is: (2019)
A:


B:


C: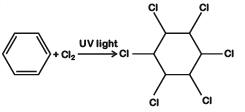 D:


Ans: B



Generation of electrophile: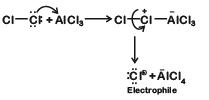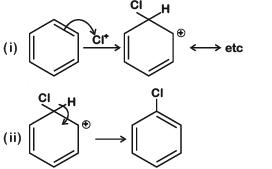 Q.5. The compound C7H8 undergoes the followin greactions : The product 'C' is (2018)



A: m-bromotoluene
B: o-bromotoluene
C: 3-bromo-2,4,6-trichlorotoluene
D: p-bromotoluene
Ans: A




Q.6. Which one is the correct order of acidity ? (2017)
A:


B:


C:


D:


Ans: A
Acidic strength ∝ Electronegativity of Carbon ∝ % s−character
Correct order of acidic strength




Q.7. Predict the correct intermediate and product in the following reaction : (2017)



A:


B:


C:


D:


Ans: C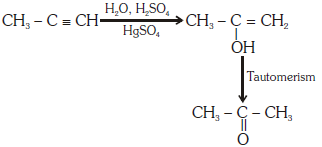 Q.8. The pair of electron in the given carbanion,



is present in which of the following orbitals? (2016)
A: sp
B: 2p
C: sp3
D: sp2
Ans:




Q.9. In the reaction (2016)



A: X=2-butyne; Y= 3-hexyne
B: X=1-butyne; Y =3-hexyne
C: X=1-butyne ;Y = 2-hexyne
D: X=2-butyne;Y=2-hexyne
Ans: B
NaNH2/liq.NH3 behaves as a base, so it abstracts a proton from acetylene to form acetylide anion followed by alkylation to give compound (X) i.e 1-butyne (X) further reacts with NaNH2/Liq NH3 followed by alkylation with ethyl bromide yields 3-hexyne (Y).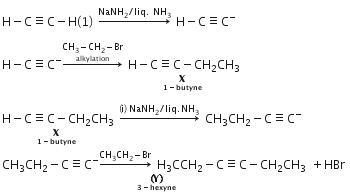 Q.10. Consider the nitration of benzene using mixed conc. H2SO4 and HNO3 . If a larger amount of KHSO4 is added to the mixture the rate of nitration will be : (2016)
A: Doubled
B: Faster
C: Slower
D: Unchanged
Ans: C
In the nitration of benzene in the presence of conc. H2SO4 and HNO3, benzene is formed.
HNO3 +H2SO4


If a large amount of KHSO4 is added to this mixture more HSO4- ion furnishes and hence the concentration of electrophile decreases, rate of electrophilic aromatic reaction slows down.

Q.11. Given



The enthalpy of hydrogenation of these compounds will be in the order as : (2015)
A: II > I > III
B: I > II > III
C: III > II > I
D: II > III > I
Ans: C
Higher is the stability, lower is the enthalpy of hydrogenation.
(I) is most stable due to aromatic character. Hence it has lowest enthalpy of hydrogenation.
(III) is least stable as no resonance is present. Hence, it has highest enthalpy of hydrogenation.
Thus, the decreasing order of the enthalpy of hydrogenation is III > II > I.

Q.12. A single compound of the structure



is obtainable from ozonolysis of which of the following cyclic compounds ? (2015)
A:


B:


C:


D:


Ans: B



Q.13. The reaction of C6H5CH = CHCH3 with HBr produces : (2015)
A:


B:


C:


D:


Ans: B




Q.14. Identity Z in the sequence of reactions (2014)



A: CH3 (CH2)4 −O−CH3
B: CH3CH2 −CH(CH3) −O−CH2CH3
C: CH3 − (CH2)3 −O−CH2CH3
D:(CH3)2CH2 −O−CH2CH3
Ans: C




Q.15. Which of the following organic compounds has same hybridization as its combustion product (CO2)? (2014)
A:Ethene
B: Ethanol
C: Ethane
D: Ethyne
Ans: D
HC ≡ CH and O = C = O both have sp−hybridised carbon

Q.16. What products are formed when the following compound is treated with Br2 in the presence of FeBr3? (2014)



A: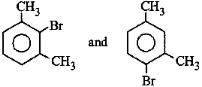 B:


C:


D:


Ans: D
-CH3 group is o,p-directing. Because of crowding, no substitution occurs at the carbon atom between the two -CH3 groups in m-Xylene, even though two -CH3 groups activate that position.