Q.1. Match List-1 with List-II (2021)


Choose the correct answer from the options given below.
(a) (a)-(iv), (b)-(iii), (c)-(i), (d)-(ii)
(b) (a)-(iii), (b)-(ii), (c)-(iv), (d)-(i)
(c) (a)-(i), (b)-(ii), (c)-(iii), (d)-(iv)
(d) (a)-(ii), (b)-(iii), (c)-(iv), (d)-(i)
Ans: A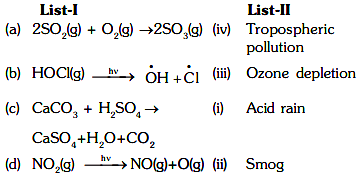 Q.2. The incorrect statement about carbon monoxide is- (2020)
(a) It reduces the oxygen-carrying ability of blood.
(b) The carboxyhaemoglobin (haemoglobin bound to CO) is less stable than oxyhaemoglobin.
(c) It is produced due to incomplete combustion.
(d) It forms carboxyhaemoglobin.
Ans: B
Carboxyhaemoglobin (symbol COHb or HbCO) is a stable complex of carbon monoxide and haemoglobin (Hb) that forms in red blood cells upon contact with carbon monoxide (CO).
The CO-hemoglobin complex is far more stable than O2 -hemoglobin (oxyhemoglobin)
Hence statement B is incorrect.

Q.3. Which of the following statement is NOT true about acid rain ? (2020)
(a) It is due to reaction of SO2, NO2 and CO2 with rain water
(b) Causes no damage to monuments like Taj Mahal.
(c) It is harmful to plants.
(d) Its pH is less than 5.6
Ans: B
Taj mahal yellow coloration is one of the raising issue, one of the prominent reason is acid rain. The Taj mahal is made up of marble i.e CaCO3 , rest you can relate with displacement reaction that may occur with sulphuric and nitric acids, etc.

Q.4. Among the following, the one that is not a greenhouse gas is: (2019)
(a) Sulphur dioxide
(b) Nitrous oxide
(c) Methane
(d) Ozone
Ans: A
The primary greenhouse gases present around us are carbon dioxide, methane, nitrous oxide, ozone and water vapours etc. Thus, the gas which is not green house gas from the options given to us is Sulphur dioxide.

Q.5. Which oxide of nitrogen is not a common pollutant introduced into the atmosphere both due to natural and human activity ? (2018)
A: N2O5
B: NO2
C: N2O
D: NO
Ans: A
Nitrous oxide (N2O) occurs naturally in environment.
In automobile engine, when fossil is burnt dinitrogen & dioxygen combine to yield NO & NO2.

Q.6. Which of the following is a sink for CO ? (2017)
A: Microorganisms present in the soil
B: Oceans
C: Plants
D: Haemoglobin
Ans: A
Microorganisms present in the soil.

Q.7. Which one of the following is not a common component of Photochemical Smog? (2014)
A: Peroxyacetyl nitrate
B: Chloroflurocarbons
C: Ozone
D: Acrolein
Ans: D
Common components of Photochemical smog are peroxyacetyl nitrate, chlorofluorocarbons and ozone etc.