Q.1. Identify the wrong statement with reference to immunity : (2020)
(a) Active immunity is quick and gives full response
(b) Foetus receives some antibodies from mother, it is an example for passive immunity
(c) When exposed to antigen (living or dead) antibodies are produced in the host's body. It is called "Active immunity"
(d) When ready made antibodies are directly given , it is called "Passive immunity".
Ans. (a)
Active immunity is slow and takes time to give its full effective response. Foetus receiving some antibodies from their mother, through the placenta during pregnancy is an example of passive immunity. Active immunity is the immunity in which when host is exposed to antigens either living or dead, antibodies produces in the host body. In passive immunity readymade antibodies are directly given to protect the body against foreign agents.

Q.2. Match the following diseases with the causative organism and select the correct option. (2020)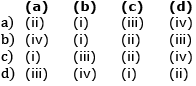 Ans. (d)
Salmonella typhi is a pathogenic bacterium which causes typhoidfever in human beings. Bacteria like Streptococcus pneumoniae and Haemophilus influenzae are responsible for the disease pneumoniain humans which infects the alveoli (air filled sacs) of the lungs. Wuchereria the filarial worms cause a slowly developing chronic inflammation Plasmodium are responsible for different types of malaria.

Q.3. The infectious stage of plamodium that enters the human body is : (2020)
(a) Female gametocytes
(b) Male gametocytes
(c) Trophozoites
(d) Sporozoites
Ans. (d)
The life cycle of plasmodium that infect humans follows three stages: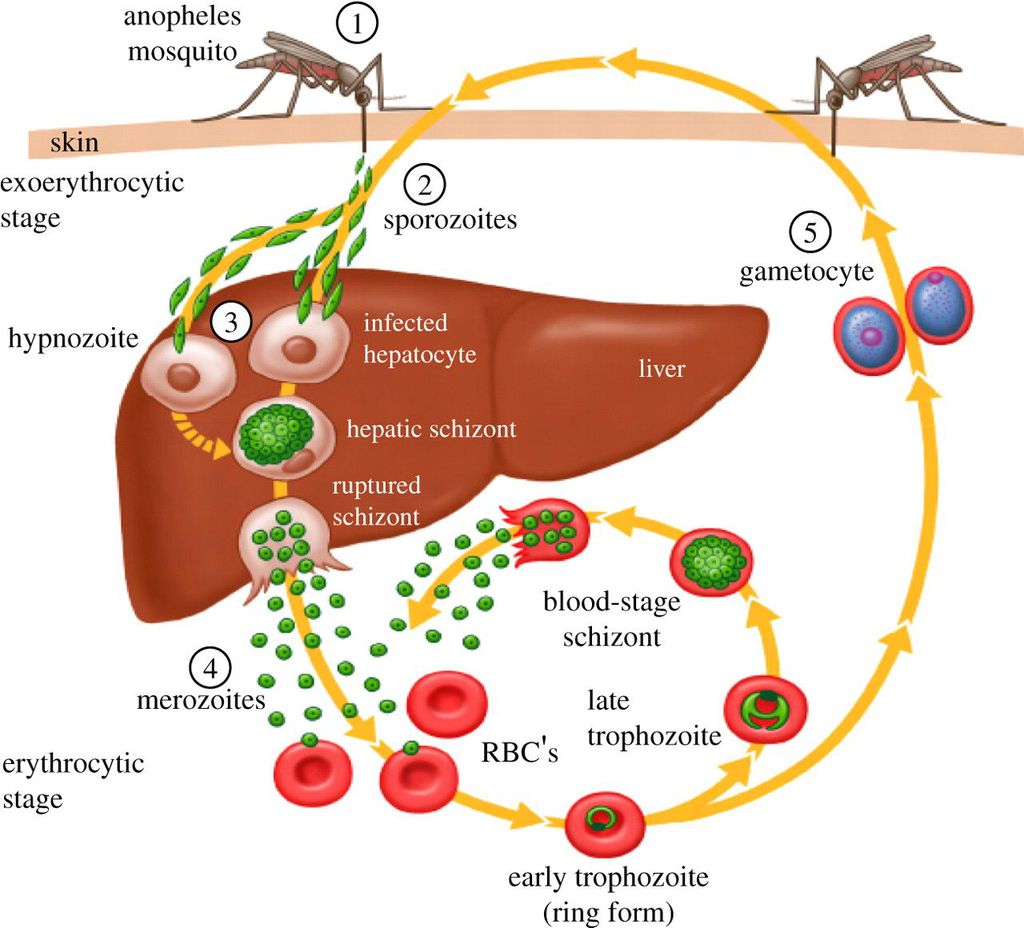 Life Cycle of Plasmodium(i) infection of a human with sporozoites ; (ii) asexual reproduction and (iii) sexual reproduction. The two first take place exclusively into the human body, while the third one starts in the human body and is completed into the mosquito organism. The human infection begins when an infected female anopheles mosquito bites a person and injects infected with sporozites saliva into the blood circulation i.e., the first life stage of plasmodium (stage of infection).
Q.4. Which of the following immune response is responsible for rejection of kidney graft? (2019)
(a) Cell-mediated immune response
(b) Auto-immune response
(c) Humoral immune response
(d) Inflammatory immune response
Ans: (a)
Transplantation of tissue/organ often fails due to non-acceptance by the patient's body therefore, tissue matching and blood group matching are essential before undertaking any graft/transplant. When the immune system recognises the protein in the transplanted tissue or organ as foreign, it initiates cellular immunity. As a result of this, there is a rejection of transplanted organs. To suppress the immune response during transplantation, histocompatibility antigen and immunosuppressants play an important role.

Q.5. Colostrum, the yellowish fluid, secreted by mother during the initial days of lactation is very essential to impart immunity to the new bom infants because it contains (2019)
(a) Immunoglobulin A
(b) Natural killer cells
(c) Monocytes
(d) Macrophages
Ans: (a)
Colostrum (Mother's first milk) rich in immunoglobulin A(IgA) antibodies are passed to newborn through the breast feed and provides natural passive immunity.

Q.6. Identify the correct pair representing the causative agent of typhoid fever and the confirmatory test for typhoid. (2019)
(a) Salmonella typhi / Widal test
(b) Plasmodium vivax / UTI test
(c) Streptococcus pneumoniae / Widal test
(d) Salmonella typhi / Anthrone test
Ans: (a)
Typhoid is caused by bacteria Salmonella typhi, transmitted through fecal oral route. It results in high fever, abdominal pain and frequent stools and is confirmed by Widal test.

Q.7. Drug called 'Heroin' is synthesised by (2019)
(a) Nitration of morphine
(b) Methylation of morphine
(c) Acetylation of morphine
(d) Glycosylation of morphine
Ans: (c)
Heroin is chemically diacetylmorphinc which is white, odourless, billej crystalline compound. It is obtained by acetylation of morphine, extracted from latex of poppy plant.

Q.8. Which part of poppy plant is used to obtain the drug "smack"? (2018)
(a) Flowers
(b) Latex
(c) Roots
(d) Leaves
Ans: (b)
Smack (Heroin) is chemically diacetyknorphine which is a white, odourless, bitter, crystalline compound. This is obtained by acetylation of morphine, extracted from the latex of poppy plant (Papciver somnifenim).

Q.9. Which of the following is not an autoimmune disease? (2018)
(a) Psoriasis
(b) Rheumatoid arthritis
(c) Alzheimer's disease
(d) Vitiligo
Ans: (c)
Autoimmune diseases are certain unrelated disorders caused by inflammation and destruction of tissues by the body's own immune response. These disorders include acquired hemolytic anaemia, pernicious anaemia, rheumatoid arthritis, myasthenia gravis, psoriasis, vitiligo, etc.Alzheimer's disease is a chronic neurodegenerative irreversible, progressive brain disorder that slowly destroys memory and thinking skills.

Q.10. In which disease does mosquito transmitted pathogen cause chronic inflammation of lymphatic vessels? (2018)
(a) Elephantiasis
(b) Ascariasis
(c) Ringworm disease
(d) Amocbiasis
Ans: (a)
Elephantiasis is caused by the parasitic filarial worm, Wuchereria bancrofti which is transmitted from an infected person to a healthy person via the bite of mosquito (especially Culex). It is characterised by gross enlargement ot the skin and underlying connective tissues caused by lymphatic obstruction of lymph vessels by these worms which prevent drainage of lymph from the surrounding tissues. The parts commonly affected are legs but scrotum, breasts and vulva may also be involved.

Q.11. Transplantation of tissucs/organs fails often due to non-acceptance by the patient's body. Which type of immune response is responsible for such rejections? (2017)
(a) Cell-mediated immune response
(b) Hormonal immune response
(c) Physiological immune response
(d) Autoimmune response
Ans: (a)

Q.12. MALT constitutes about_________ percent of the lymphoid tissue in human body. (2017)
(a) 20%
(b) 70%
(c) 10%
(d) 50%
Ans: (d)
MALT are significant aggregations of lymphoid tissues which are seen in relation to the mucosa of the major tracts like respiratory, alimentary canal and urinogenital tracts. It constitutes about 50 percent of the lymphoid tissue in human body.

Q.13. Which of the following sets of diseases is caused by bacteria? (2016)
(a) Cholera and tetanus
(b) Typhoid and smallpox
(c) Tetanus and mumps
(d) Herpes and influenza
Ans: (a)
Cholera is caused by bacterium Vibrio cholerae. tetanus is caused by bacterium Clostridium tetaiii, typhoid is caused by bacterium Salmonella typhi, small pox is caused by Variola virus, mumps is caused by Paramyxo virus. Herpes is caused by Heipis simplex virus and influenza is caused by Orthomyxovirus.

Q.14. Which of the following is correct regarding AIDS causative agent HIV? (2016)
(a) HIV is enveloped virus containing one molecule of single-stranded RNA and one molecule of reverse transcriptase.
(b) HIV is enveloped virus that contains two identical molecules of single-stranded RNA and two molecules of reverse transcriptase.
(c) HIV is unenveloped retrovirus.
(d) HIV docs not escape but attacks the acquired immune response.
Ans: (b,d)
HIV is spherical virus with a diameter of about 90-120 nm. Its genome consists of a single- stranded RNA filament segmented into two identical filaments and associated with reverse transcriptase enzymes. The envelope consists of a lipid bilayer derived from host cell membrane and projecting knob like glycoprotein spikes. It contains two protein coats. HIV is a retrovirus that attacks helper T cells. 'Without an adequate supply of helper cells, the immune system cannot signal B cells to produce antibodies to kill intected cells, thus body becomes susceptible to infections. This immune deficiency is described by the name acquired immune deficiency syndrome or AIDS.

Q.15. Antivenom injection contains preformed antibodies while polio drops that are administered into the body contain (2016)
(a) Gamma globulin
(b) Attenuated pathogens
(c) Activated pathogens
(d) Harvested antibodies
Ans: (b)
The Sabin vaccine or trivalent 'oral polio vaccine' consists of attenuated viral strains.

Q.16. Which of the following sUilcmcnts is not true lor cancer cells in relation to mutations? (2016)
(a) Mutations inactivate the cell control.
(b) Mutations inhibit production of lelomerasc.
(c) Mutations in prolo-oncogcncs accelerate the cell cycle.
(d) Mutations destroy lelomerasc inhibitor.
Ans: (b)

Q.17. In higher vertebrates, the immune system can distinguish self-cells and non-self. If this properly is lost line to genetic abnormality and it attacks self-cells, then it leads to (2016)
(a) Autoimmune disease
(b) Active immunity
(c) Allergic response
(d) Graft rejection
Ans: (a)
Autoimmunity is a disorder of the body's defence mechanisms in which an immune response is elicited against its own tissues, which sre thereby damaged or destroyed. Autoimmunity may be caused due to genetic or environmental factors.