Q.1. Which of the following is not an attribute of a population? (2020)
(a) Mortality
(b) Species interaction
(c) Sex ratio
(d) Natality
Ans. (b)
Solution.
Species interaction refers to direct and indirect interrelationship between different organisms, while on the other hand population attributes include population size, population density, population spacing, and age structure. Mortality is the ratio of deaths in an area to the population of that area; expressed per 1000 per year.
Sex ratio is the ratio of males to females in a population.

Q.2. Carnivorous animals lions and leopards, occupy the same niche but lions predate mostly larger animals and leopards take smaller ones. This mechanism of competition is referred to as (2019)
(a) Character displacement
(b) Altruism
(c) Resource partitioning
(d) Competitive exclusion.
Ans. (c)

Q.3. Between which among the following, the relationship is not an example of commensalism? (2019)
(a) Orchid and the tree on which it grows
(b) Cattle Egret and grazing cattle
(c) Sea Anemone and Clown fish
(d) Female wasp and fig species
Ans. (d)

Q.4. Niche is (2018)
(a) All the biological factors in the organism's environment
(b) The physical space where an organism lives
(c) The range of temperature that the organism needs to live
(d) The functional role played by the organism where it lives
Ans. (d)
Solution.
Niche is specific part of habitat occupied by individuals of a species which is circumscribed by its range of tolerance, range of movement, microclimate, etc. Hence, niche refers to the functional role played by the organism where it lives.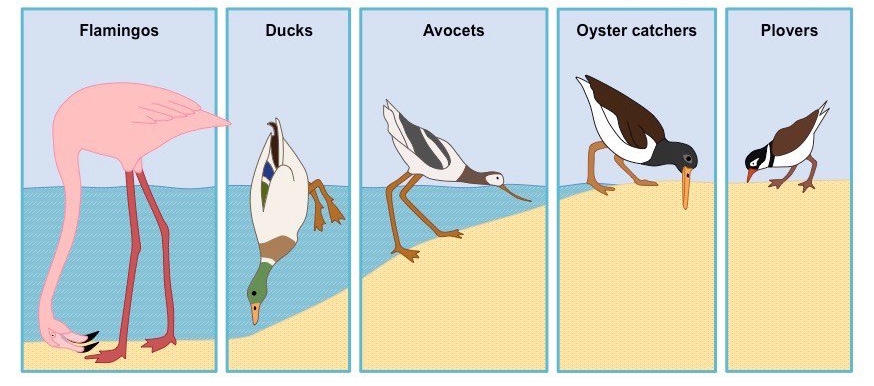 Organisms and their NicheQ.5. Natality refers to (2018)
(a) Death rate
(b) Birth rate
(c) Number of individuals leaving the habitat
(d) Number of individuals entering a habitat
Ans. (b)
Solution.
Natality refers to the number of births during a given period in the population that are added to the initial density. Death rate or mortality is the number of deaths in the population during a given time period. Immigration is the number of individuals entering a habitat. Emigration is the number of individuals of the population that left the habitat and had gone elsewhere during a time period.

Q.6. Pneumatophores occur in (2018)
(a) Halophytes
(b) Free-floating hydrophytes
(c) Carnivorous plants
(d) Submerged hydrophytes
Ans. (a)
Solution.
Pneumatophores are breathing or respiratory roots which are found in plants growing in mangroves or water logged soil or saline swamps. Such plants are called halophytes.

Q.7. Which one of the following plants shows a very close relationship with a species of moth, where none of the two can complete its life cycle without the other? (2018)
(a) Hydrilla
(b) Yucca
(c) Banana
(d) Viola
Ans. (b)
Solution.
Yucca has an obligate mutualism with a species of moth, i.e., Pronuba. The only pollinator of this plant is the Yucca moth. The Yucca moth is likewise dependent upon the Yucca plant as Yucca moth caterpillars need to cat Yucca seed only or starve.

Q.8. In a growing population of a country, (2018)
(a) Pre-reproductive individuals are more than the reproductive individuals
(b) Reproductive individuals are less than the post-reproductive individuals
(c) Reproductive and pre-reproductive individuals are equal in number
(d) Pre-reproductive individuals are less than the reproductive individuals
Ans. (a)
Solution.
In a population where the number of pre-reproductive individuals or the younger individual is larger than the reproductive individuals, the population will increase.

Q.9. Which one of the following population interactions is widely used in medical science for the production of antibiotics? (2018)
(a) Commensalism
(b) Mutualism
(c) Parasitism
(d) Amensalism
Ans. (d)
Solution.
Amensalism is a relationship between organisms of different species in which an organism does not allow other organism to grow or live near it. Inhibition is achieved through the secretion of chemicals called allochemics. Antibiotics are a kind of allochemics produced by some microbes which in small concentrations can kill or retard growth of harmful microbes without adversely affecting the host.

Q.10. Asymptote in a logistic growth curve is obtained when (2017)
(a) K = N
(b) K > N
(c) K < N
(d) the value of 'r' approaches zero.
Ans. (a)
Solution.
Asymptote in a logistic growth curve is obtained when population density (N) reaches the carrying capacity (K), i.e., N = K.

Q.11. Plants which produce characteristic pneumatophores and show vivipary belong to
(a) Halophytes
(b) Psammophytes
(c) Hydrophytes
(d) Mesophytes
Ans. (a)
Solution.
Presence of pneumatophores, i.e., small negatively geotropic vertical roots and vivipary or seed germination while attached to plant are adaptations of halophytes, i.e., plants growing in saline habitat.

Q.12. Presence of plants arranged into well defined vertical layers depending on their height can be seen best in (2017)
(a) Tropical rainforest
(b) Grassland
(c) Temperate forest
(d) Tropical savannah.
Ans. (a)

Q.13. Mycorrhizae are the example of (2017)
(a) Amensalism
(b) Antibiosis
(c) Mutualism
(d) Fungistasis.
Ans. (c)
Solution.
Mycorrhiza is a mutualistic interaction between a fungus and roots of higher plants.

Q.14. Which of the following is correct for r-selected species? (2016)
(a) Large number of progeny with small size
(b) Large number of progeny with large size
(c) Small number of progeny with small size
(d) Small number of progeny with large size
Ans. (a)
Solution.
Organisms that are r-selected(r-strategists) able to colonise a habitat rapidly, utilising the food and other resources before other organisms are established and begin to compete. The r-strategists tend to be relatively small organisms with short life spans (e.g., bacteria) and often live in temporary or unstable environments; characteristically their survival depends on their ability to produce large numbers of off spring rather than on their ability to compete.

Q.15. If '+' sign is assigned to beneficial interaction, '-' sign to detrimental and 'O'sign to neutral interaction, then the population interaction requesented by '+' '-' refers to (2016)
(a) Mutualism
(b) Amensalism
(c) Commensalism
(d) Parasitism
Ans. (d)
Solution.
Parasitism is an association in which one organism (the parasite) lives on (ectoparasitism) or in (endoparasitism) the body of another organism (host), from which it obtains its nutrients. This association is beneficial for the parasites as they get continuous supply of nutrients from their host and are able to rapidly multiply their numbers. But it is detrimental for the host organism as parasitic infection leads to various complications and diseases in the host body may also be fatal to the host under certain circumstances.

Q.16. The principle of competitive exclusion was stated by
(a) C. Darwin
(b) G.f. Gause
(c) Mae Arthur
(d) Verhulst and Pearl
Ans. (b)
Solution.
Two or more species with closely similar niche requirements cannot exist indefinitely in the same area as sooner or later they come into competition for possession of it. This is called as Cause's competitive exclusion principle, which states that an ecological niche cannot be simultaneously and completely occupied by established populations of more than one species. Two species can live in same habitat but not in the same niche. More similar the two niches are, severe the competition is.

Q.17. It is much easier for a small animal to run uphill than for a large animal, because (2016)
(a) Small animals have a lower O2 requirement
(b) The efficiency of muscles in large animals is less than in the small animals
(c) It is easier to carry a small body weight
(d) Smaller animals have a higher metabolic rate
Ans. (d)
Solution.
The small animals have smaller surface area to body volume ratio. They have higher metabolic rates than larger animals. Therefore, it is much easier for small animals to move uphill than large animals.

Q.18. When does the growth rate of a population following the logistic model equal zero? The logistic model is given as dN/dt = rN(1-N/K) (2016)
(a) When N/K equals zero
(b) When death rate is greater than birth rate
(c) When N/K is exactly one
(d) When N nears the carrying capacity of habitat.
Ans. (c)

Q.19. Gause's principle of competitive exclusion states that (2016)
(a) No two species can occupy the same niche indefinitely for the same limiting resources
(b) Larger organisms exclude smaller ones through competition
(c) More abundant species will exclude the less abundant species through competition
(d) Competition for the same resources exclude species having different food preferences
Ans. (a)