Q.1. Diadelphous is found in (2021)
(a) Pea
(b) Citrus
(c) China rose
(d) Lily
Ans. (a)
Solution. The stamens may be united into one bunch or one bundle (monoadelphous) as in china rose, or two bundles (diadelphous) as in pea, or into more than two bundles (polyadelphous) as in citrus.

Q.2. Diadelphous stamens are found in: (2021)
(a) Pea
(b) China rose and citrus
(c) China rose
(d) Citrus
Ans. (a)
Solution. The stamens may be united into one bunch or one bundle (monoadelphous) as in china rose, or two bundles (diadelphous) as in pea, or into more than two bundles (polyadelphous) as in citrus.

Q.3. Match Column-I with Column-II (2021)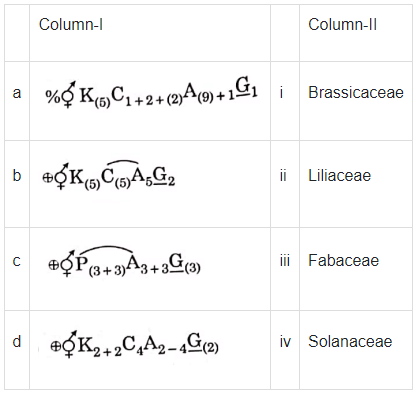 Select the correct answer from the options given below.
(a) (b) (c) (d)
(a) (ii) (iii) (iv) (i)
(b) (iv) (ii) (i) (iii)
(c) (iii) (iv) (ii) (i)
(d) (i) (ii) (iii) (iv)
Ans. (c)
Solution.
Floral formula: K(5) C1+2+(2) A(9)+1 G1
Floral Formula:
Floral Formula: Br P(3+3) A3+3 G(3)
Q.4. The roots that originate from the base of the stem are: (2020)
(a) Prop roots
(b) Lateral roots
(c) Fibrous roots
(d) Primary roots
Ans. (c)
Solution. Roots that originate from the base of stem constitute the fibrous root system as seen in the monocots example wheat plant.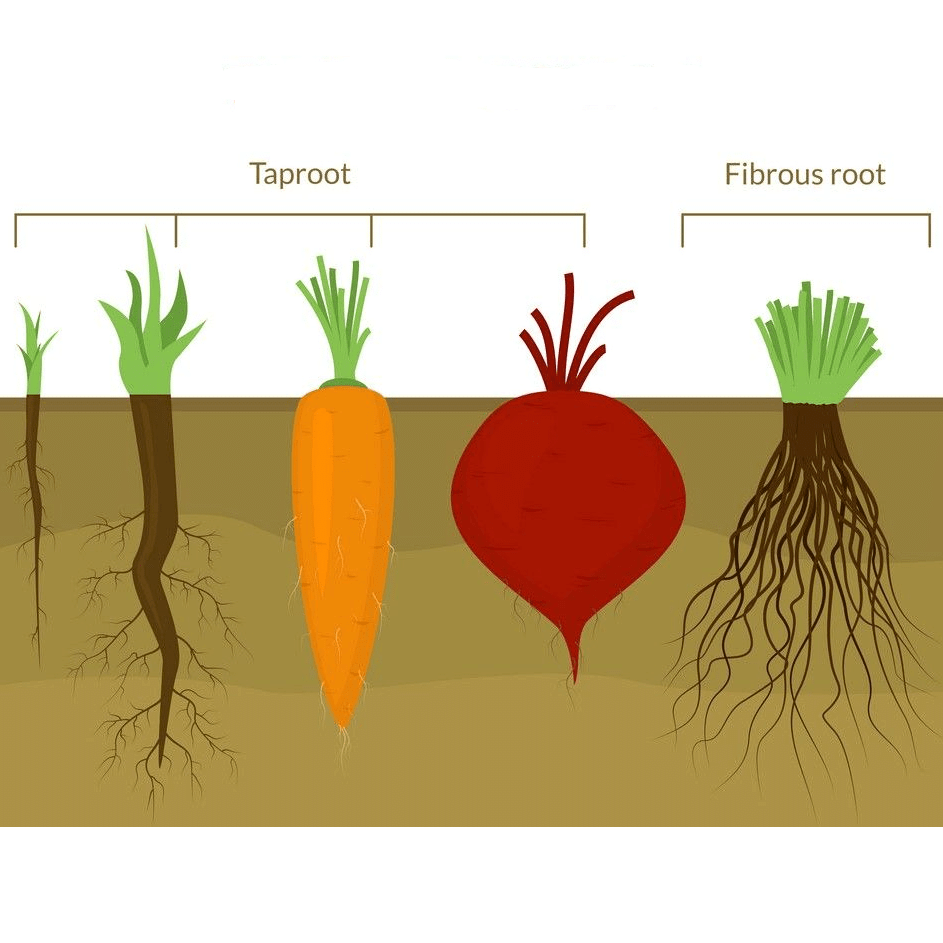 Q.5. Secondary metabolites such as nicotine, strychnine and caffeine are produced by plants for their (2020)
(a) defence action
(b) effect on reproduction
(c) nutritive value
(d) growth response
Ans. (a)
Solution. Secondary plant metabolites are several chemical compounds produced by the plant cell through metabolic pathways obtained from the primary metabolic pathways. Primary metabolites include small molecules such as sugars, amino acids, tricarboxylic acids, or Krebs cycle intermediates, proteins, nucleic acids and polysaccharides. Many secondary metabolites are toxic or repellant to herbivores and microbes and help defend plants producing them.
Secondary metabolism produces a large number of specialized compounds that do not aid in the growth and development of plants but are required for the plant to survive in its environment.

Q.6. Placentation in which ovules develop on the inner wall of the ovary or in peripheral part, is (2019)
(a) Free central
(b) Basal
(c) Axile
(d) Parictal
Ans. (d)
Solution.
Parietal placentation is found in compound or syncarpous ovary. There are two or more longitudinal placentae or files of ovules attached to the ovary wall. The ovary is usually unilocular but becomes falsely two or more locular due to ingrowth of placentae or formation of false septa.

Q.7. Match the placental types (Column-I) with their examples (Column-II). (2019)
Column-I
Column-II
(A) Basal

(i) Mustard
(B)

Axile
(ii) China rose
(C) Parietal
(iii) Dianthus
(D)

Free central

(iv)

Sunflower
Choose the correct answer from the following options:
(a) (A)-(ii), (B)-(iii), (C)-(iv), (D)-(i)
(b) (A)-(i), (B)-(ii), (C)-(iii), (D)-(iv)
(c) (A)-(iv), (B)-(ii), (C)-(i), (D)-(iii)
(d) (A)-(iii) (B)-(iv), (C)-(i), (D)-(ii)
Ans. (c)

Q.8. Sweet potato is a modified (2018)
(a) Stem
(b) Adventitious root
(c) Tap root
(d) Rhizome
Ans. (b)
Solution.
Sweet potato (Ipomoea batatas) is swollen single root tuber that does not assume a definite shape. It is a modified adventitious root for storage of food.

Q.9. Coconut fruit is a (2017)
(a) Berry
(b) Nut
(c) Capsule
(d) Drupe
Ans. (d)
Solution.
Coconut fruit is fibrous drupe with a fibrous mesocarp.

Q.10. In Bougainvillea, thorns are the modifications of (2017)
(a) Adventitious root
(b) Stem
(c) Leaf
(d) Stipules
Ans. (b)

Q.11. The morphological nature of the edible part of coconut is (2017)
(a) Cotyledon
(b) Endosperm
(c) Pericarp
(d) Perisperm
Ans. (b)

Q.12. The term 'polyadelphous' is related to (2016)
(a) Gynoecium
(b) Androecium
(c) Corolla
(d) Calyx
Ans. (b)
Solution.
Polyadelphous condition represents cohesion of stamens. In this condition stamens of a flower are fused by their filaments only to form many groups, e.g., Citrus.

Q.13. How many plants among Indigofera, Sesbania, Salvia, Allium, Aloe, mustard, groundnut, radish, gram and turnip have stamens different lengths in their flowers? (2016)
(a) Three
(b) Four
(c) Five
(d) Six
Ans. (b)

Q.14. Radial symmetry is found in the flowers of (2016)
(a) Brassica
(b) Trifolium
(c) Pisum
(d) Cassia
Ans. (a)
Solution.
The flowers of Brassica are radially symmetrical whereas flowers of Trifolium, Pisum and Cassia are zygomorphic.

Q.15. Free central placentation is found in (2016)
(a) Dianthus
(b) Argemone
(c) Brassica
(d) Citrus
Ans. (a)
Solution.
Free central placentation is found in Dianthus. Parietal placentation is present in Argemone and Brassica whereas Citrus has axile placentation in ovary.

Q.16. Which of the following is not a stem modification? (2016)
(a) Tendrils of cucumber
(b) Flattened structures of Opuntia
(c) Pitcher of Nepenthes
(d) Thoms of citrus
Ans. (c)
Solution.
Pitcher of Nepenthes is a modification of leaf. In Nepenthes, the pitchers are meant for catching and digesting insects. The lamina is modified into pitcher. The leaf apex gives rise to a coloured lid for attracting the insects.

Q.17. Stems modified into flat green organs performing the functions of leaves are known as (2016)
(a) Phylloclades
(b) Scales
(c) Cladodes
(d) Phyllodes
Ans. (a)
Solution.
Phylloclades are flattened green stems which have taken over the function of photosynthesis while cladodes are only the branches of stem that are modified to take over the function of leaves. Cladodes may not be flattened as in Ruscus aculeatus, cladodes are leaf-like with spiny tip whereas in Asparagus, they are slightly flattened, fleshy, straight or curved, pointed structures which develop in clusters in the nil of scale leaves.

Q.18. Cotyledon of maize grain is called (2016)
(a) Coleoptile
(b) Scutellum
(c) Plumule
(d) Coleorhiza
Ans. (b)

Q.19. Tricarpellary, syncarpous gynoecium is found in flowers of (2016)
(a) Fabaceae
(b) Poaceae
(c) Liliaceae
(d) Solanaceae
Ans. (c)
Solution.
Members of Liliaceae possess tricarpellary, syncarpous gynoecium with superior ovary. The ovary is trilocular with two to many ovules in each loculus.

Q.20. The standard petal of a papilionaceous corolla is also called (2016)
(a) Vexillum
(b) Corona
(c) Carina
(d) Pappus
Ans. (a)
Solution.
The posterior large bilobed petal of a papilionaceous corolla is called standard or vexillum It overlaps the two smaller lateral petals known as wings or alae.