Our planet is made of natural components. The natural components in the environment are called natural resources. These resources are the basis of life on earth and can be consumed directly or indirectly.

Fig: Natural Resources
Definition: The resources found in the natural environment, that are developed without the intervention of humans are called natural resources. Air, sunlight, water, soil, stone, plants, animals and fossil fuels are the examples.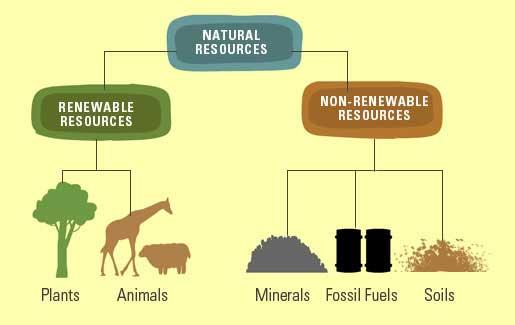 Fig: Types of Resources
What are the different types?
Based on the availability are two types of natural resources:
Renewable – Resources that are available in infinite quantity and can be used repeatedly are called renewable resources. Example: Forest, wind, water etc.
Non Renewable- There are resources that are limited in nature due to non renewal property and will extinct in the future are called non-renewable resources. Some of the examples include : Fossil fuels, minerals etc.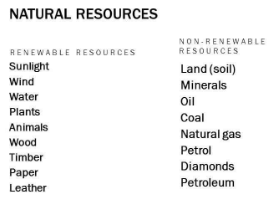 Difference between Renewable and Non-renewable resources:
Renewable resource

Non-renewable resource

It can be renewed as it is available in infinite quantity

Once completely consumed,

it cannot be renewed due to limited stock

Sustainable by nature

Exhaustible by nature

Low cost and environment friendly

High cost and less environment friendly

Biodegradable and infinite in nature

Minerals and man made products

Top 5 natural resources are:
Air: Clean air is important for all the plants, animals, humans to survive on this planet. So it is necessary to take measures to reduce air pollution.
Water: 70% of earth is covered in water and only 2 % of that is fresh water.Initiative to educate and regulate the use of water should be taken.
Soil: Soil is composed of various particles and nutrients. It helps plants grow
Iron: It is made from silica and is used to build strong weapons, transportation and buildings
Forests: As the population increases, the demand for housing and construction projects also increases. Forests provide clean air and preserve the ecology of the world
Some of the non-renewable natural resources are:
Fossil fuels: Natural resources like Coal, natural gas and petroleum can be over s
omeday i.e. they are exhaustible. It takes millions of years for a dead organism to get converted into fuels. They are consumed with a much faster rate than the rate by which it is formed. The excess burning of fossil fuels leads to air pollution as it gives out carbon dioxide which is a greenhouse gas.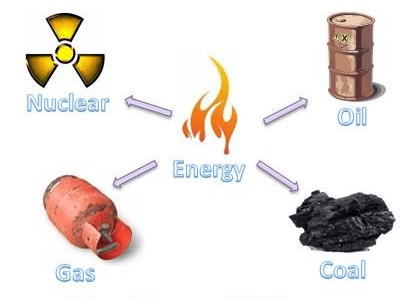 Fig: Non-renewable resources
Water: A very less amount of freshwater is present on earth and also out of that some are portable i.e. it can be used for drinking. Because of the change in climate, there is a change in the rainfall pattern as well as the

melting of ice

is also dropped in winter these all factors results in lowering the amount of this natural resource.
Air: For the proper existence of living beings we need clean air. But because of many reasons the air gets polluted and affects the health of living beings.
Conservation of Natural Resources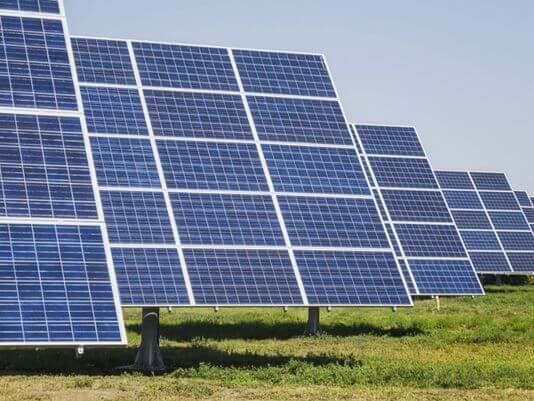 Fig: Conservation of Natural Resources
It is very important that these natural resources are conserved as they are getting exhausted at an alarming rate. Apart from that, it is having an adverse effect on the environment which is indirectly causing harm to living beings. By following the below tips, we can conserve the natural resources:
Minimize the use of vehicles
Use water sparingly and do not waste water.