Nature and Dynamics of Internet
Internet
Internet is a large network with the ability to send and receive Files from one computer to another. The three main defining characteristics of the Internet are y
1. Interoperable
Interoperable means that the standards allow communication across networks. This does not limit the access of information to a proprietary site, location, machine or brand name.
2. Packet switched
Connections are not FIXED from point to point for the duration of the transmission. A telephone call is circuit switched-which means a dedicated path is established to transmit your entire conversation. When data is sent packet switched over the Internet - it transmits a small part of the data, verifies it is correct, then sends more information toward the destination. Packet switched networks do not require all of the information to be delivered through the same path. By not dedicating the path for the duration of the connection, this method allows more connections to be sending information across the same space or allows for standing resources.
3. Data Network
Internet is a network that carries data information (digital- computer) instead of voice information (analog - telephone). There are many instances where these "definitions" of data and voice are starting to overlap. Computers connecting to regular phone lines are technically carrying data over a voice line and in some progressive parts of the country digital phone lines are starting to make appearances.
Characteristics of the Internet
Various characteristics of Internet are:
Internet is a product of the public sector

It has been ignored by telephone industry. Disruptive technology (packet switching) was not appreciated by established industry. A disruptive innovation is one that introduces a very different package of attributes to a marketplace than the ones that mainstream customers historically have valued. Firms that are close to their customers often discount these new technologies.

Internet is a single standard.

Internet is a Public property.

There is no central command in Internet.

Internet access and resources are not equal around world

Internet is dynamic (always changing)

Quantity of Information, over Internet is continuously increasing. It contain a lot of good and interesting quality information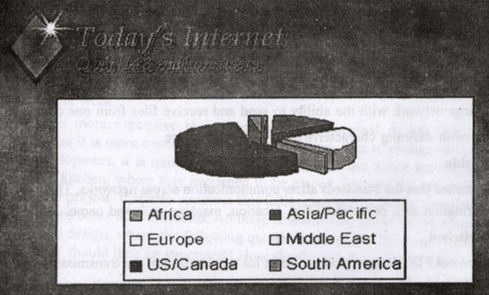 Use of the Internet
The Internet has been a boom for many people, businesses have sprung up and their owners have managed to make a living from them, some more than others. The Internet has also taken away the contact we used to have with shop assistants, we no longer see shopping as a personal experience and I think this is a real shame. You can't ask questions, you can't see the goods you are buying and you don't get a feel for the person you are dealing with. Internet is so important as it provide global span, convergence of technologies and spur for innovation. Various functions provided by Internet are email, research, telephony, radio and broadcasting, e-commerce etc.
Reasons of popularity of Internet are:
Affect of Internet over Productivity
We can use standard supply and demand analysis to discuss the effects of the Internet over productivity. As Internet supports:"
Internet supports more transparent and exposed economy as in Internet:
Buyers and sellers can compare prices.

It cuts out middlemen

It reduces transaction costs

Reduces barriers to entry:
Since the Internet reduces transaction costs, it reduces the optimal size of firms, which lowers barriers to entry
Internet Allows better supply-chain management and makes possible tighter inventory control as:
Demand may increase because of increased wealth

Lower costs leads to a rightward shift in the supply curve, lower prices and higher output.

By boosting productivity, Internet can restrain the beginning of inflation.