Tissues in Plants and Animals Introduction
Every organism, whether its body is unicellular or multicellular, is capable of performing all vital functions such as respiration, ingestion, excretion and reproduction.
In multicellular organisms, because of the increase in body size, it is difficult for each cell to efficiently cope with the vast variety of the physiological needs of the organism. So cells group together to perform definite functions.
A group of cells of the same type or of a mixed type having a common origin and performing similar functions are called tissues.
Classification of Plant Tissues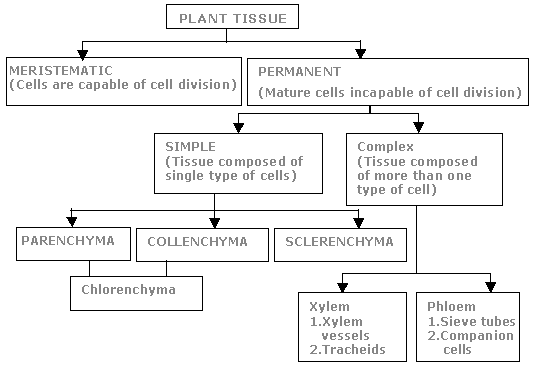 Meristematic Tissues (Meristems)
These are composed of cells that are dividing continuously
The cells are spherical, oval, polygonal or rectangular.
The cell wall is thin and made up of cellulose.
The cells are closely arranged without inter-cellular spaces.
Cytoplasm is abundant and nuclei are large.
Vacuoles are absent and if present, very few.
Occurrence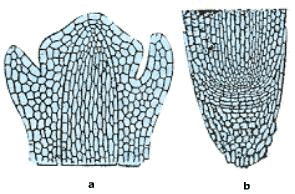 Found in growing tips of root and shoot.
Found in the vascular cambium of dicot trees just beneath the bark. They are responsible for the increase in diameter of the stem.
Function
The main function of meristematic tissue is to continuously form a number of new cells and help in growth sections through
(a) stem apex and
(b) root tip showing meristematic tissue