Why Do We Celebrate Festivals?
Festivals are fun. They are celebrated all over the world. Festivals bring everyone together—both young and old.
Types of Festivals
Festivals are either religious or national. Festivals celebrated by the entire country together are called national festivals. In India, the following national festivals are celebrated.
Independence Day
It is celebrated on August 15, every year. It was on this day, that India gained freedom from the British rule in 1947. On this day, the Prime Minister of India gives a speech at the Red Fort in Delhi and also unfurls the National Flag.
Republic Day
It is celebrated on January 26, every year. On this day, a grand parade is held. The parade starts from the Raisina Hills, in the neighbourhood of the majestic Rashtrapati Bhawan. It passes along the Raj path and ends at India Gate. There is a march past by the Army, Navy and Air Force. The parade also includes colourful floats and lively performances by school children. The parade ends with the flypast of the Air Force planes and showering of flowers on the people present at India Gate.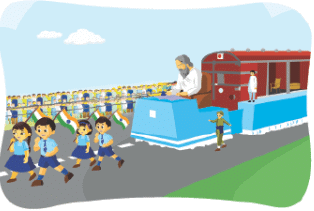 Gandhi Jayanti
Mahatma Gandhi was born on October 2. His birthday is celebrated as Gandhi Jayanti. Prayer meetings are held on this day. Gandhiji is called The Father of our Nation. He led the freedom movement in India. He believed in peace, truth and non-violence.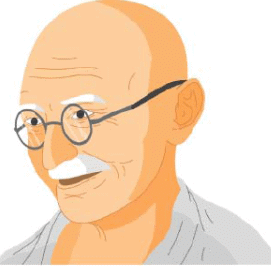 People all over the world follow different religions and celebrate many festivals. Apart from the national festivals, there are a number of religious festivals that are celebrated in our country.
Holi
It is also called the festival of colours. People play with colours and water, and enjoy the festival. Some people make gujiya in their homes on this occasion.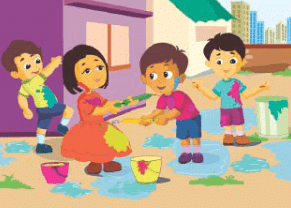 Diwali
It is also called the festival of lights. People decorate their houses with lights and diyas. People offer prayers at home and in temples. Friends and relatives visit each other and exchange gifts and sweets. The houses are cleaned and everyone wears new clothes.
Eid
It is celebrated after the holy month of Ramzan. Ramzan is the month of fasting. On this day, people wear new clothes and everyone offers prayers, at their holy place. They embrace each other and say Eid Mubarak. The children are given special gifts called eidi. Delicious and special dishes like sewain are prepared on this day. Clothes and money are given to the poor on this day.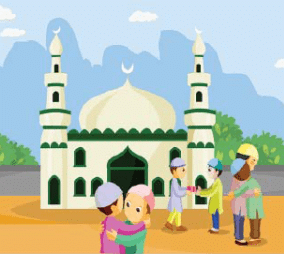 Christmas
It is celebrated all over the world on December 25. People decorate their homes with lights. They pray in the church. Christmas songs, called carols, are sung and everybody in the family gets a gift. People decorate their Christmas trees at home and prepare delicious dishes, especially the Christmas cakes and puddings.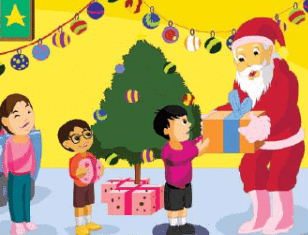 Gurupurab
It is celebrated with great devotion in honour of the Sikh gurus. Prayers are offered in the holy place called the gurdwara. People sing hymns from the Guru Granth Sahib which is the holy book of the Sikhs. Thousands of people are given food (langar) at the gurdwaras. This festival is also called Prakash Parv. Early in the morning, people go about singing hymns or prayers.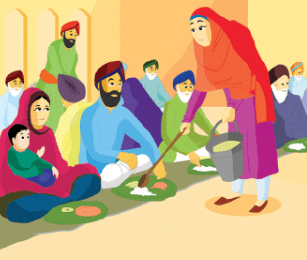 Bihu
This is a harvest festival celebrated in Assam. In this festival, Bihu songs and dances are performed.
Baisakhi
This is a harvest festival celebrated on April 13, every year. Sikhs celebrate their new year on Baisakhi. Dances like bhangra are performed on this festival.
Onam
It is the main festival celebrated in Kerala for a period of ten days. Houses are decorated with rangolis that are made from flowers. A sweet dish named payasam is prepared in every house on this occasion. Boat races are organised on this festival.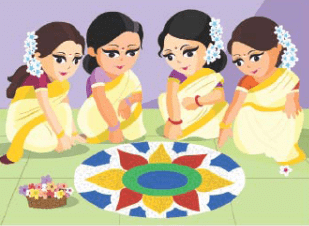 Pongal
The main festival of Tamil Nadu is Pongal. It is celebrated in the month of January. It is celebrated for three days. People prepare the Pongal by boiling rice, milk and jaggery together in a pot.
Apart from these festivals, there are other religious festivals, as well, that are celebrated in our country. The Parsis celebrate Navroz. Buddha Jayanti, Mahavir Jayanti, Teej, Navratri, Lohri are some of the other festivals that are celebrated all over India.
Now I Konw
People all over the world celebrate festivals.
Festivals are of two main types—religious and national.
Festivals add joy to our lives.They bring friends and families close to each other.
In India, we celebrate Diwali, Holi, Eid, Gandhi Jayanti, Republic Day, Pongal, etc.