QUICK CONCEPT REVIEW
In this chapter we shall learn some more things related to food. As we already know that by having a contaminated and spoiled food we can fall ill. In this chapter we shall learn how the food gets spoils and how we can prevent our food from getting spoiled.
Historical preview
WHAT DO WE MEAN BY SPOILED FOOD?
Spoilage of food is a state of deterioration of food in which the food no longer remains suitable for human consumption. So the spoiled food means that the food can no longer be taken as it has got very much deteriorated.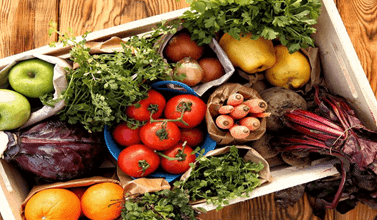 Fig: Healthy Food
WHEN AND HOW DOES THE FOOD GET SPOILED?
The food gets spoiled because of the attack of microorganisms depend upon food and they feast on the food when it is not attended. Worms, insects and bugs also spoil. One of the major causes of food spoilage is the storage of food in warm places.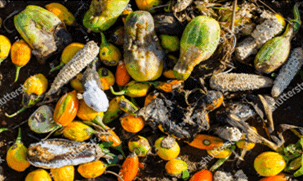 Fig: Spoiled food
HOW DO WE KNOW THAT THE FOOD HAS SPOILED?
As soon as there is change in colour, flavor, odor and appearance, the food has started to get spoiled. The first thing which comes to our notice is the change in colour or the appearance of the food. The food either gets softer or harder than its normal state. For example, the fruits kept unattended for a few days will become softer. There is also a foul smell from a rotten food.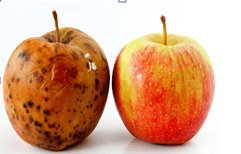 Fig: A spoiled apple starts changing its colour.
Some food items such as biscuits, pickles, cooked vegetables and boiled milk, etc., take some time to get spoiled as compared to uncooked vegetables and flesh, unattended fruits and milk. When we keep the food in a warm place for a long time there is growth of food spoiling micro-organisms at a faster rate. That is why the food kept in the refrigerator does not get spoiled very soon, as the temperature inside it is lower.
HOW CAN THE FOOD BE PRESERVED?
By taking some simple precautions we can save our food against spoiling. Some of these are:
The major cause of the food spoilage is its improper storage. If we keep the food and vegetables in warm place they will spoil quickly. So whenever we bring such things we should properly keep them in the refrigerator because low temperature slows down the growth of food spoiling bacteria.

Food like cereals, pulses and grains, etc., should be kept in airtight containers.

We should never keep the food at a dirty place.

We should keep on checking our refrigerator from time to time.

If one of the food items gets spoiled, we should immediately separate it from other food items as it can spoil rest of them too.

The seed inside a peach contains an almond-like nut which holds a popcorn gives off a toxic, lung-damaging gas when cooked.

Cherries ease inflammation and gout; and they may even help prevent arthritis.
Apart from these there are other techniques also which are used at homes and food manufacturing companies to prevent food spoilage. These are;
Refrigeration: It is the most popular way of preserving the food as discussed above.
Fig: Refrigeration
Canning: In this method the food is boiled to kill any bacteria and then is sealed into a container.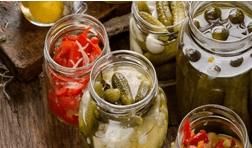 Fig: Canning
Dehydration: Dehydration means to take out the water from the food item. Most of the bacteria will die when dehydrated. But it changes the taste and texture of the food a bit.
Pickling: Fruits and vegetables can be prevented through this method even for years. The acid used in this technique stops the bacterial growth.
Chemical Preservation: It is one of the commercial methods used by the food manufacturing companies to prevent the food using nitrates, sorbic acid and sulphites, etc.
These are the things which we can keep in mind while we are at home. But when we are travelling we have to
preserve our food from heat and moisture.
PACKING FOOD WHILE TRAVELLING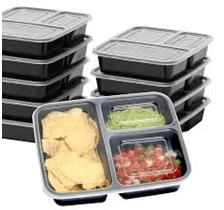 Fig: Packed food
Here are a few precautions which should be taken:
Always pack the eatables properly.

We should pack the food in airtight tiffin.

Vacuum sealing can also be used to protect the food from moisture.

Never pack rotten and old eatables. They can get spoiled and can also spoil other foods.

Pack different foods separately.

Before packing fruits wash them properly and pack after drying them
WHY IS THERE A NEED TO PRESERVE FOOD?
We need to preserve food for the following reasons:
By preventing our food from spoilage we can save a lot of food from getting wasted.

If we keep our food properly and do not let it get spoiled, we cannot fall due to spoiled food.

By preserving the food in a proper way we can preserve the nutritional value of food.
WHERE DOES THE FOOD COME FROM?
In earlier classes you have read about how a farmer grows the seeds and then he irrigates the fields. But till now we have discussed the farmers who give us vegetables and grains. There are a few more types of farmers such as:
Dairy farmers: These farmers raise female cattle, goats and other milk giving animals. The milk/ then is transported to different places.

Poultry farmers; they raise chickens, ducks and turkeys for meat and eggs.

Field farmers: These are the farmers who grow vegetables, fruits, pulses and grains.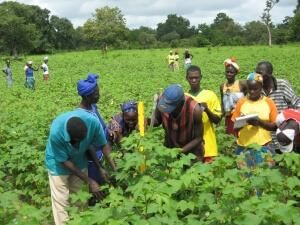 Fig: Farmers engaged in cultivation
Not all the farmers own their fields. Only some of the farmers work on their own lands. The rest of the farmers we see in different places are the ones kept by original owners to cultivate their lands. Due to high costs of land and the materials used in agriculture all the farmers cannot afford their own lands.