Our Home
We all need food, clothes, shelter and water to live. Early man lived in caves to protect himself from wild animals, heat, cold, rain, storms and dust. Animals, too, live in their homes to protect themselves.
Materials used to make houses
Houses are made of different materials:
Houses that are made of bricks and cement are known as pucca houses.
Some houses are made of mud, bamboo and straw. They are called kachcha houses. They are not as strong as pucca houses. They are found mostly in villages. They are called huts.
Different types of houses
The big houses in the cities are called bungalows. A bungalow has many rooms and a small garden. It can be single storeyed or double-storeyed.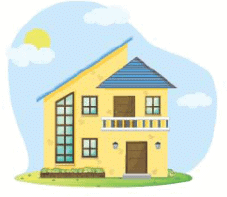 Modern cities also have tall buildings known as multi-storeyed apartments. These apartments have limited rooms.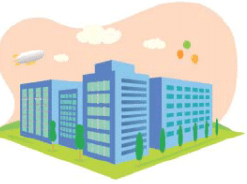 These buildings have flat roofs. Many families can live in one such building. Places which are close to a water source or receive heavy rainfall have houses on stilts. These houses are built on bamboo poles. Some houses are mobile, that is, they can move from one place to another.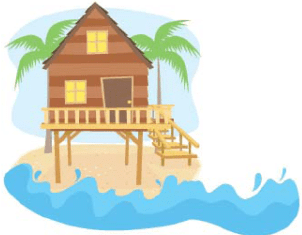 Such houses have wheels and are attached behind a van or a mini truck. A caravan is a house that moves on wheels. In Jammu and Kashmir, there are houses which float on water. These are called houseboats. Igloos can be seen in places where the climate is extremely cold. Igloos are houses made of snow. Tents are houses that can be carried from one place to another.
What a good house should have
A house must have enough space, sunlight and air.
Houses should be kept clean.
Now I know
We need houses to protect ourselves from heat, cold, rain and dust.
Houses are of many types such as bungalows, apartments, caravans, houseboats, igloos and tents.
Different materials like cement, bricks, straw, mud, bamboo and wood are used for making houses.
Sunlight, space and air are essential for a good house.