We live on a planet called earth. Our earth is unique in many ways. Earth has various landforms and water bodies. More than half of the Earth is covered with water. Earth is surrounded by a thin blanket of air. Living things need land, water and air to live.
Landforms on Earth
We live on land. Earth has different landforms like plains, hills, valleys, mountains, plateaus, islands and deserts.
➤ Plains
Flat lands are called plains. Most people live on plains. Plains are ideal for growing crops as many rivers flow through them. Cities and towns are usually built in the plains. Plains are generally hot in summer and cool in winter.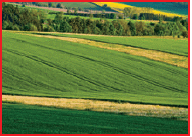 Plains
➤ Hills
A high piece of land is called a hill. They usually have fine weather; hence they are suitable for cultivating fruits, tea, coffee and spices.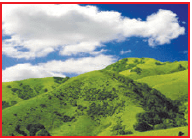 Hills
➤ Mountains
High hills are called mountains. They are usually very cold. The tip of a mountain is called its peak. Many rivers originate in the mountains.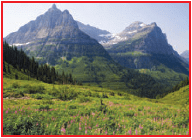 ➤ Valley
Valleys are the lowlands between the hills or mountains. They usually have rivers flowing through them.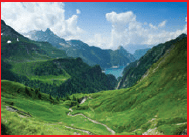 ➤ Plateau
Plateau is the land higher than a plain but flat at the top. The flat top is called a tableland.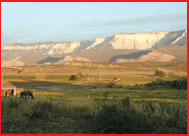 ➤ Island
An island is a piece of land surrounded by water on all sides.
➤ Desert
A large area of dry land covered with sand is called a desert. There is shortage of water in deserts, that is why only a few plants like cactus grow there. Camel is a useful animal for travelling in deserts as it is adapted to walk in the hot sand and can stay without water for
many days.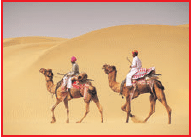 Water Bodies on Earth
A large part of the Earth is covered by water. Oceans, seas, lakes and streams are all water bodies.
A large water body is called a sea. Big seas are called oceans. In summer, the snow on the mountains melt into water and run down in the form of a stream. When many streams join together, they make a river. All rivers move towards the seas and the oceans. A lake is a large area of water surrounded by land. A pond is a comparatively small water body.
Rain is the most important and purest source of water on earth. We can get water by digging wells. Rainwater fills the ponds, lakes and rivers as well.

Air
Earth is surrounded by a layer of air. All living things need air to live. Earth is the only planet which has life. Without air, life is not possible on earth.